Join Eileen Crane, Founding Winemaker & CEO of Domaine Carneros in exploring the Far East aboard Silversea's newest ship Silver Muse to experience "hanami", the Japanese tradition of welcoming spring on this cherry blossom viewing, wonderful circumnavigation of Japan. The sky bursts with color, blossoms fill the sky and the delicate aroma imbues the air. Embrace not only the pristine natural beauty of Mount Hakkoda from afar but after a cable car ride to the summit, enjoy the splendid view from 4,000 feet altitude. Locally named Golden Week, there is simply no better time to discover the land of the rising sun. Whatever your daytime choice, luxury is redefined on Silversea's new 596 guest Silver Muse with delightful exclusive activities lead by Eileen Crane. Eileen will be selecting some of her favorite Domaine Carneros "bubbles" and Pinot Noir vintages to share amidst the stunning beauty of Asia with you.  Guests wishing to participate in all Domaine Carneros events must book through MmMmTravel. Anyone making their reservation elsewhere (including directly with Silversea) will not be included in all events with Eileen Crane.
Exclusive Offers:
Far More in the Far East:

 Book by 

November 30, 2018

 and enjoy 

Free Roundtrip Economy Class Air 

from select US airports or Upgrade to Business Class Air Round-trip from $4,999 per person; 

O

ne night 

Included

 Pre Cruise & Post Cruise Hotel stay with

transfers;

 

and a

t least 

One

 

Free Shore Excursion in every port.*

Early Booking Bonus: Book and pay in full by October 31, 2018 and save 10%!
Cruise Highlights:
Enjoy receptions featuring Domaine Carneros wines and participate in multiple Domaine Carneros wine dinners hosted by Eileen Crane, Founding Winemaker & CEO of Domaine Carneros.
Savor a complimentary Domaine Carneros 6-course wine paired dinner in La Dame by Relais & Châteaux, sponsored by MmMmTravel.
Added shipboard credit for guests paying with unbranded American Express Platinum or Centurion cards

All-suite Cruise Includes:
Complimentary Beverages in-suite and throughout the ship – select wines, champagne, premium spirits, specialty coffees and soft drinks, plus your own tailored mini-bar
Onboard gratuities always included in your fare
Spacious suites – most with private verandas
Personalized service – nearly one crew member for every guest
Butler service in every suite – all guests are pampered equally
Open-seating dining options – dine when and with whomever you please
Diversity of dining venues – casual, romantic, regional delicacies, and gourmet cuisine inspired by Relais & Châteaux
In-suite dining and 24-hour room service – always complimentary, always available
Sophisticated entertainment from live music to production shows
Enrichment lecturers, acclaimed chefs and destination consultants
Complimentary transportation into town in most ports
Free WiFi throughout the ship (daily limit applies)
2019 Date
Port
Arrive
Depart

April 28-29

1-night Pre Cruise Silversea Hotel & transfers in Tokyo with the Far More in the Far East
Air package when booked by November 30, 2018  (hotel tba)*

April 29, M

TOKYO, JAPAN

Embark

Overnight

Domaine Carneros Welcome Reception & Dinner*

April 30, Tu

TOKYO, JAPAN

7PM

May 1, W

DAY AT SEA


Domaine Carneros Wine Tasting followed by casual private lunch*

May 2, Th

KAGOSHIMA, JAPAN

9AM

5PM

May 3, F

KARATSU, JAPAN

9AM

7PM

May 4, Sa

BUSAN, REPUBLIC OF KOREA

7AM

11:59PM

May 5, Su

DAY AT SEA
Domaine Carneros 6-course Wine
Dinner in La Dame by Relais & Chateaux*

May 6, M

MAIZURU, JAPAN

7AM

Overnight

May 7, Tu
MAIZURU, JAPAN

11:59PM

May 8, W
DAY AT SEA

May 9, Th

AOMORI, JAPAN

8AM

10PM

May 10, F

HAKODATE, JAPAN

8AM

6PM

May 11, Sa

DAY AT SEA


Domaine Carneros Farewell Reception & Dinner*

May 12, Su

TOKYO, JAPAN

Disembark AM

May 12-13

1-night Post Cruise Silversea Hotel & transfers in Tokyo with the Far More in the Far East
Air package when booked by November 30, 2018  (hotel tba)*
*Events, times, locations subject to final confirmation once aboard ship.  All events are complimentary to you as a guest of  Domaine Carneros and MmMmTravel. Finalized Guest Itinerary will be mailed with cruise documents. Guests must book through MmMmTravel to participate in all Domaine Carneros events. Silversea is still finalizing their pre & post cruise hotel options included in the "Far More in the Far East" program, hotel details will be made available to guests at a later date.
Please Note: This cruise is currently sold out and is accepting Waitlist reservations. To make a Waitlist Reservation or inquire about availability, contact MmMmTravel at (831) 659-0151 or Cruises@MmMmTravel.com.
All Inclusive Pricing includes "Far More in the Far East" & 10% Early Booking Savings: Pricing includes the "Far More in the Far East" Package amenities including Free Roundtrip Economy Class Air or Business Class Air Roundtrip from $4,999 per person from select US airports, Included 1-night Pre & Post cruise Hotels and hotel transfers, and at least One Free Shore Excursion in every port if booked by November 30, 2018. Pricing also includes the Early Booking Bonus 10% savings for guests that pay in full by October 31, 2018. Guests opting out of Silversea's airfare program will not be entitled to any amenities included in the "Far More in the Far East" package and will instead receive cruise-only pricing.
Cruise Only Pricing with 10% Early Booking Savings: Pricing includes the Early Booking Bonus 10% savings for guests that pay in full by October 31, 2018. Pricing is cruise only and does not include the "Far More in the Far East Program" nor Silversea airfare, a pre or post cruise hotel stay, transfers or shore excursions.    
Suite Category
All-Inclusive Pricing
with 10% savings
Cruise Only Fares
with 10% savings
Owner's Suite (2-Bedroom)
Waitlist
Waitlist
Grand Suite (2-Bedroom)
Waitlist
Waitlist
Royal Suite (2-Bedroom)
Waitlist
Waitlist
Owner's Suite (1-Bedroom)
Waitlist
Waitlist
Grand Suite (1-Bedroom)
Waitlist
Waitlist
Royal Suite (1-Bedroom)
Waitlist
Waitlist
Silver Suite

Waitlist
Waitlist
Deluxe Veranda
Waitlist
Waitlist
Superior Veranda
Waitlist
Waitlist
Classic Veranda
Waitlist
Waitlist
Panorama Picture Window Suite
Waitlist
Waitlist
Vista Picture Window Suite
Waitlist
Waitlist

*MmMmTravel Fares are per person based on double occupancy in US dollars. Fares above include a $100 per person add-collect over Silversea's promotional cruise fares to help offset shipping and other expenses associated with getting the wines to the ship for our private events. Solo traveler fares and triple rates available upon request. Fares will increase as ship fills.  Fares shown does not guarantee availability. A 25% deposit secures you the best available pricing and suite locations. To receive American Express Amenities, guests must use an unbranded American Express Platinum or Centurion card for final payment.  A reservation through MmMmTravel ensures invitations to private receptions and dinners, including a 6-course wine-paired dinner in La Dame by Relais & Chateaux. Silversea's 10% early payment savings is offered through October 31, 2018. The Far More in the Far East Program is offered as a package through Silversea and can not be broken up. Guests declining Silversea's air program will not receive the free shore excursions or included pre or post cruise hotel and will instead receive a reduced cruise-only fare. Promotional Business Class Air rate is based on trans-Atlantic travel from select U.S. and Canadian gateways; Economy Class Air is provided on domestic US/Canada flights and intra-European flights. Offer applies to new bookings made by November 30, 2018. Promotional air offer is valid only for guests from the United States and Canada. In the event neither business class nor economy class air is available (determined at Silversea's sole discretion), a non-use Air credit may be applied to your booking. Guests from the Caribbean, Central & South America and those guests from the United States and Canada not utilizing the Silversea promotional air offer will receive a non-use credit. Silversea reserves the right to select the air carrier, routing and departure airport from each gateway city. The Promotional Business Class Air rate is only available to the first and second full-fare guests in a suite. Airline baggage fees are not included. Deviations to air travel dates are accepted at a charge of $150 per request plus all additional air costs. Minimum number of guests required for Eileen Crane to host. Additional restrictions may apply. Silversea's Terms & Conditions apply. Please call for more information. Other conditions may apply, see Silversea's Terms & Conditions for more details. CST# 1005871-40. Silversea ship's registry: Bahamas. Please call MmMmTravel for more details.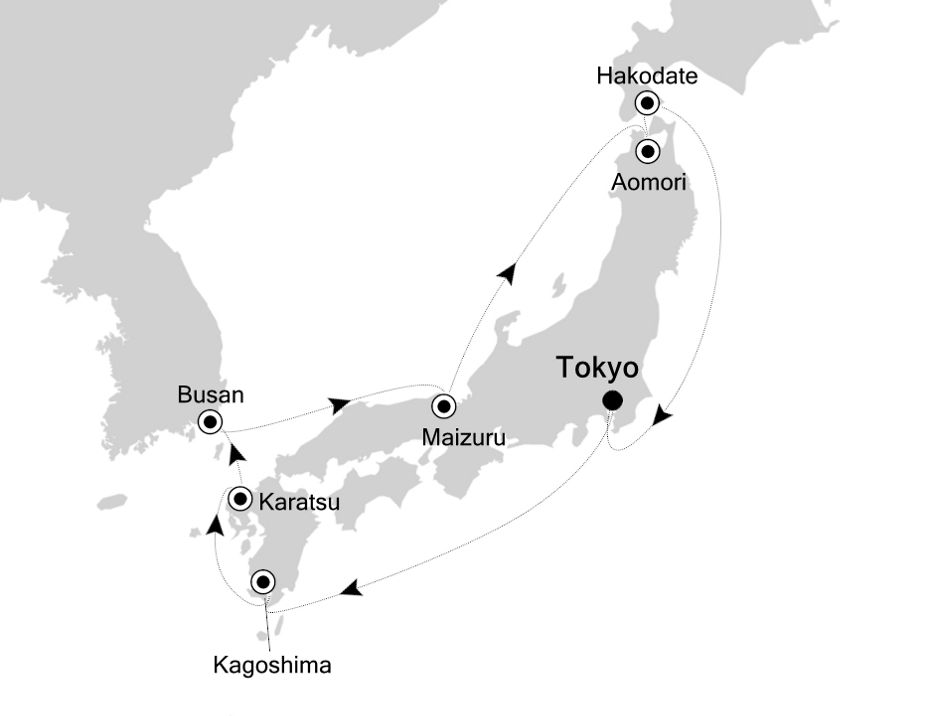 Tokyo: lights, sushi, manga! Sprawling, frenetic, and endlessly fascinating, Japan's capital is a city of contrasts. Shrines and gardens are pockets of calm between famously crowded streets and soaring office buildings. Mom-and-pop noodle houses share street space with Western-style chain restaurants and exquisite fine dining. Shopping yields lovely folk arts as well as the newest electronics. And nightlife kicks off with karaoke or sake and continues with techno clubs and more. Whether you seek the traditional or the cutting edge, Tokyo will provide it.
Kagoshima city is the capital of Kagoshima prefecture and also Kyushu's southernmost major city. This city is often compared to its Italian sister city Naples, due to its's similarities such as mild climate and active volcano, Sakurajima. Sakurajima is one of the most renowned active volcanos not only in Japan but also in the whole entire world. This smoking Sakurajima is centred in Kinko Bay and is one of the main symbols of this prefecture.
Karatsu, a part of Genkai Quasi-National Park, has many scenic spots, including Niji-no-Matsubara, stretching along the coast and the Tategami-iwa Rocks and Nanatsu-gama carved by the raging waves of the Sea of Genkai. Nanatsu-gama is a cliff formed by the raging waves, and has a chain of caves called Kaishoku-do at its base. Sightseeing boats originating in Yobuko go around this area. Karatsu is also noted for Karatsu-yaki pottery, and has around 60 pottery studios in the city. Some of pottery studios welcome visitors.
White-sand city beaches and hot-spring resorts may not be everyone's first image of Korea, but these are what Koreans flock to Busan for all year. And there are plenty of opportunities for rest, relaxation, retail therapy, and even a touch of glamour every October with the Busan International Film Festival. Busan's beaches are the big summertime draw but there is plenty to be seen year round. Quintessential experiences include taking some rest and relaxation at a local spa and exploring the Beomeosa temple complex.
Maizuru port is considered as the gateway to the Japanese most popular historic city, Kyoto. Kyoto used to be the capital of Japan in the 8th century, and it was the centre for politics, economy and culture for more than 1,000 years. After capital functions were transferred to Tokyo in the middle of 19th century, luckily Kyoto did not lose its lustre. As soon as you step into the city, you will see how hard the local people tried to keep the atmosphere of the heyday.
Aomori, a World Heritage Site, containing the world's largest virgin forest of beech trees. Reminders of ancient times still abound. Aomori Prefecture has abundant nature: the Shirakami Mountains (which embrace the world's largest virgin forest of beech trees, a World Heritage Site), Oirase (famous for the beauty of its valley), Lake Towada-ko (known for its mystic beauty), Tsugaru Quasi-National Park (which boasts beautiful scenery), and Shimokita-hanto Quasi-National Park on the northernmost tip of Honshu. You can also indulge in the ancient atmosphere of the Sannai-Maruyama Ruins (Japan's largest, which are said to have been established in 4,000 to 5,000 BC), the Korekawa Ruins, and the Kame-ga-oka Ruins.
Facing out on two bays, Hakodate is a 19th-century port town, with clapboard buildings on sloping streets, a dockside tourist zone, streetcars, and fresh fish on every menu. In the downtown historic quarter, a mountain rises 1,100 feet above the city on the southern point of the narrow peninsula. Russians, Americans, Chinese, and Europeans have all left their mark; this was one of the first three Japanese ports the Meiji government opened up to international trade in 1859.
Silversea is offering a 1-night pre cruise & 1-night post cruise stay for guests booked by November 30, 2018 in their "Far More in the Far East" program. Hotel details will be announced at a later date.
For guests wishing to extend their time in Tokyo and beyond, please contact us at (831) 659-0151 or Cruises@MmMmTravel.com and we will be happy to assist you with all of your pre & post cruise plans including tours, hotels, transfers and more.  
About Silversea Cruises
Presenting Silver Muse
Silversea Cruises is happy to present our new flagship, Silver Muse, delivered in the spring of 2017. The new ultra-luxury ship is being built by Fincantieri and at 40,700 grt accommodates 596 guests, representing an exciting evolution of Silver Spirit that will redefine ultra-luxury ocean travel, enhancing the small-ship intimacy and spacious all-suite accommodations that are the hallmarks of the Silversea experience.The addition of Silver Muse expands Silversea's fleet to nine ships, and will once again significantly raise the bar in the ultra-luxury cruise market with a wealth of enhancements to the onboard experience, while satisfying the uncompromising requirements for comfort, service, and quality of the world's most discerning travellers.
EXPLORE SILVER MUSE ON SILVERSEA'S GROUND-BREAKING DEDICATED WEBSITE:
Luxury cruise guests can now explore
Silver Muse
, Silversea Cruises' newest ship, which proudly embodies the tagline "Simply Divine.," by visiting
www.silvermuse.info.
The new dedicated website currently provides access to detailed suite renderings and the latest information on the ship destined to be the highest expression of Silversea excellence. Visitors to the site are greeted by an interactive discovery of
Silver Muse
with a ground-breaking 360-degree virtual tour, which provides a variety of viewing options, including day and night renderings of the ship at sea. The site showcases
Silver Muse's
elegant, all-veranda suite accommodations with artist's renderings of contemporary interior furnishings dressed in warm earth tones of cream, saffron, green, and sienna. By simply clicking on the interactive ship diagram, a range of gracefully appointed suites, all featuring a furnished private veranda, is available to explore.
KEY FACTS

Crew: 411
Officers: European
Guests: 596
Tonnage: 40,700
Length: 698 Feet/212.8 Meters
Width: 86 Feet/27 Metres
Speed: 19.8 Knots
Passenger Decks: 8
Built: 2017
Registry: Bahamas
Eileen Crane: CEO & Founding Winemaker, Domaine Carneros by Taittinger
Eileen Crane, often referred to as America's Doyenne of Sparkling Wine, has spent 38 years in the wine industry. This makes her the most experienced Sparkling Winemaker in the United States. Eileen is equally at home in the world of food and wine having both a culinary and science background.
In 1978, Eileen made the decision to turn her passion for wine into a profession, headed west, and began her career at Chandon. Six years later, she was hired as winemaker and vice president of Gloria Ferrer Caves, she was entrusted with the responsibilities of overseeing the design and construction of the facility, developing the company and the line of sparkling wines.
It turned out to be an experience that served her well. Eileen was selected by the President of Champagne Taittinger, for the position of CEO/Winemaker of Domaine Carneros. Once again, she oversaw the planning and development of a major winery this time the beautiful Carneros landmark chateau.  Today Domaine Carneros consistently produces top-rated Sparkling and Pinot Noir wines. Under Eileen's direction, Domaine Carneros has been a leader in the Wine Industry's Green Movement.  In 2003, Domaine Carneros housed the largest solar collection system of any winery in the world. Eileen is one of a handful of women who are now in the forefront of the wine industry in California. Recently recognized by Forbes as the most powerful woman in Napa Valley, Eileen is actively involved in numerous wine and civic organizations.
About Domaine Carneros
Domaine Carneros in the heart of Carneros, is the California expression of the tradition and excellence of its founder, Champagne Taittinger.  Established in 1987, Domaine Carneros is considered a regional landmark. Exquisite views of endless vineyard-covered hills are the perfect setting to savor our wines.
In the late 1970's, Claude Taittinger, the president of Champagne Taittinger, proclaimed his faith in the future of American wines and began the search on U.S. soil for a suitable winery site. In 1987, Champagne Taittinger, along with partner Kobrand Corporation, selected a 138 acre parcel in the heart of Carneros, a viticultural appellation they recognized to have the potential to produce world class sparkling wines. Also in 1987, Claude Taittinger selected Eileen Crane to oversee the planning and development of the property, as the winery's first and only winemaker.
CEO/Founding Winemaker Eileen Crane has been at the helm of Domaine Carneros since the first harvest and continues to oversee and direct winemaking and operational duties.
From the beginning, Domaine Carneros has built a reputation on sparkling wines, in particular our Brut Vintage and luxury cuvée Le Rêve Blanc de Blancs. In addition, in the early years of the winery we sold our Pinot Noir fruit to some of California's top producers for a number of years. We naturally came to the conclusion that we had something special on our hands for the creation of red wine. Beginning in 1992, we added the production of Pinot Noir to the Domaine Carneros repertoire. Our Pinot Noir is characterized by rich, red fruit flavor, layers of complexity and a velvety finish.
All of our wines bear the Carneros Appellation, with 95% of our fruit coming from estate vineyards. In April 2008, we received organic certification of all Estate vineyards by the California Certified Organic Farmers (CCOF).
To make a reservation please contact us directly at 831.659.0151 or email us at Cruises@MmMmTravel.com. For additional information about this enchanting voyage, please fill out the form below and we will respond to your request within 1 business day via email. Please remember that our response to your query may accidentally be directed to your junk mail folder.