This delightful 9 day voyage begins just outside of the eternal city of Rome, before sailing south to visit the picturesque cities of Sorrento and Amalfi with opportunities to visit Pompeii or the isle of Capri. Then sail on to Palermo, Sicily diverse in culture and history with Arab, Christian, Byzantine, Roman, Norman and Italian roots. Experience the chic isle of Sardinia, the exquisite flavors of Tuscany, and the enchanting village of Portofino, long known havens for the Italian glitterati, to soak in ancient Italian history and postcard worthy scenery. Our journey ends with an overnight in the elegant city of Monte Carlo with its prominent casinos and riveting nightlife. However you choose to fill your day understated luxury awaits on Silversea's 608 guest Silver Spirit  where you will enjoy multiple restaurants, large suites, divine exclusive La Balena activities & more.  To make a reservation please contact MmMmTravel directly at 831.659.0151 or email us at Cruises@MmMmTravel.com.

Exclusive Offers:
Free Airfare: Book by September 28, 2018 and enjoy Free Round Trip Economy Airfare or Business Class Airfare from $699 each way from select US airports* 
Early Booking Bonus: Book and pay in full by August 30, 2018 & save 10%!
Venetian Society Savings: Past Silversea guests receive an additional 5% savings!
Guests of MmMmTravel will:  
Enjoy receptions hosted by Emanuele Bartolini of La Balena.
Participate in multiple wine dinners lead by Emanuele Bartolini of La Balena.
Savor an included 6-course wine paired dinner in La Dame by Relais & Châteaux sponsored by MmMmTravel.
Receive added shipboard credit for guests paying with unbranded American Express Platinum or Centurion cards.
All-suite, All-inclusive 9-day Silversea Silver Spirit cruise Includes:
Exclusive Wine activities hosted by Emanuele Bartolini of La Balena (MmMmTravel Guest Exclusive).
Spacious suites – most with private verandas aboard an intimate vessel with only 608 guests
Personalized service – nearly one crew member for every guest
Butler service in every suite – all guests are pampered equally
Open-seating dining options – dine when and with whomever you please
Diversity of dining venues – casual, romantic, regional delicacies, and gourmet cuisine inspired by Relais & Châteaux
Beverages in-suite and throughout the ship – select wines, premium spirits, specialty coffees and soft drinks, plus your own tailored mini-bar
In-suite dining and 24-hour room service – always complimentary, always available
Sophisticated entertainment from live music to production shows
Enrichment lecturers, acclaimed chefs and destination consultants
Complimentary transportation into town in most ports
Gratuities always included in your fare
Unlimited Free WiFi throughout the ship
DATE
PORT
ARRIVE / DEPART

Sept 29, Su

CIVITAVECCHIA (ROME), ITALY

Embark from 1pm /

6pm

Exclusive Optional Excursion from Rome to Civitavecchia with slow food wine lunch (fee)*




La Balena Welcome Reception & Wine Dinner in La Terrazza*   

Sept 30, M

SORRENTO, ITALY

8am / Overnight

Exclusive Optional Excursion to Positano & the Amalfi Coast (fee)*

Oct 1, Tu

SORRENTO, ITALY

depart 8am

AMALFI, ITALY


La Balena Dinner in Atlantide*

11:30am / 7pm

Oct 2, W

PALERMO, SICILY, ITALY

8am / 7pm      

La Balena Dinner in Silver Note Jazz Club*   

Oct 3, Th

DAY AT SEA


La Balena Cooking Demo, followed by casual group lunch*

Oct 4, F

ALGHERO, SARDINIA

8am / 4pm

Champagne Reception & La Balena Gala 6-course Wine Dinner in La Dame by Relais & Chateaux*

Oct 5, Sa

LIVORNO, FLORENCE (TUSCANY), ITALY

8am / 7pm

Exclusive Optional Tuscan Excursion (fee)*




La Balena Dinner in Indochine*

Oct 6, Su

PORTOFINO, ITALY

8am / 11pm

Oct 7, M

MONTE CARLO, MONACO

8am / Overnight

La Balena Farewell Reception & Wine Dinner in Hot Rocks, poolside under the stars*   

Oct 8, Tu

MONTE CARLO, MONACO

Disembark am
*Itinerary, events, times, and locations subject to final confirmation once aboard ship  Invitations will be delivered the evening prior to all La Balena exclusive events and a Guest Itinerary will be mailed with MmMmTravel guests cruise documents. Exclusive shore excursions will be offered through MmMmTravel at a later date for an added fee.  Only guests booked through MmMmTravel may participate in La Balena exclusive events, and MmMmTravel exclusive optional shore excursions.
Exclusive Offers:
Free Airfare: Book by September 28, 2018 and enjoy Free Round Trip Economy Airfare or Business Class Airfare from $699 each way from select US airports* 
Early Booking Bonus: Book and pay in full by August 30, 2018 & save 10%!
Venetian Society Savings: Past Silversea guests receive an additional 5% savings!
Please Note: Fares are expected to increase after September 4, 2018.
Suite Dimensions
MmMmTravel Fares with Free Air if booked by Sept 28+ 10% Savings if Paid in Full by August 30, 2018 
MmMmTravel Cruise Only Fares with 10% Savings if Paid in Full by August 30, 2018
(Air Not Included)
OWNERS SUITE 2bdrm: 1,668 ft² Midship, including veranda
 $18,090
 $16,590
OWNERS SUITE 1bdrm: 1,292 ft² Midship, including veranda
 $13,860
 $12,360
GRAND SUITE 2bdrm: 1,772 ft² FWD, including veranda
 $15,840
 $14,340
GRAND SUITE 1bdrm: 1,425 ft² FWD, including veranda
 $12,150
 $10,650
ROYAL SUITE 2bdrm: 1,366  ft² FWD, including veranda
 $14,850
 $13,350
ROYAL SUITE 1bdrm: 990  ft² FWD, including veranda
 $11,160
 $9,660
SILVER SUITE 2bdrm: 1,366 ft² including veranda
 $13,320
$11,820
SILVER SUITE 1bdrm: 746 ft² including veranda
 $9,090
 $7,590
DELUXE VERANDA SUITE: 376 ft² including veranda
 $6,210
 $4,710
SUPERIOR VERANDA SUITE: 376 ft² including veranda
 $5,940
 $4,440
CLASSIC VERANDA SUITE: 376 ft² including veranda
 $5,670
 $4,170
PANORAMA SUITE: 334 ft² ocean-view windows
 $5,220
 $3,720
VISTA SUITE: 312 ft² ocean-view windows
 $4,860
 $3,360
*MmMmTravel Fares are per person based on double occupancy in US dollars and includes all port taxes. Solo traveler fares and triple rates available upon request. Fares will increase as ship fills.  Fares shown does not guarantee availability. A 25% deposit secures you the best available pricing and suite locations. To receive American Express Amenities, guests must use an unbranded American Express Platinum or Centurion card for final payment.  A reservation through MmMmTravel ensures invitations to private receptions and dinners, including a 6-course wine-paired dinner in La Dame by Relais & Chateaux. Silversea's 10% early payment savings is offered through August 30, 2018. Minimum number of guests required for La Balena to host. Free transfers available only for guests utilizing Silversea air offer. Economy Class Air is provided on domestic US/Canada flights and intra-European flights from select US and Canadian gateways.. Offer applies to new bookings made by September 28, 2018. Promotional air offer is valid only for guests from the United States and Canada. In the event economy class air is unavailable (determined at Silversea's sole discretion), a non-use Air credit in the amount of $1,500 per person may be applied to your booking. Silversea reserves the right to select the air carrier, routing and departure airport from each gateway city. Airline baggage fees are not included. Deviations to air travel dates are accepted at a charge of $150 per request plus all additional air costs. Due to flight schedules, some voyages may require an overnight hotel stay pre or post-cruise. This will be available for booking at an additional charge.  Silversea's Terms & Conditions apply. Please call for more information. Other conditions may apply, see Silversea's Terms & Conditions for more details. CST# 1005871-40. Silversea ship's registry: Bahamas. Please call MmMmTravel for more details.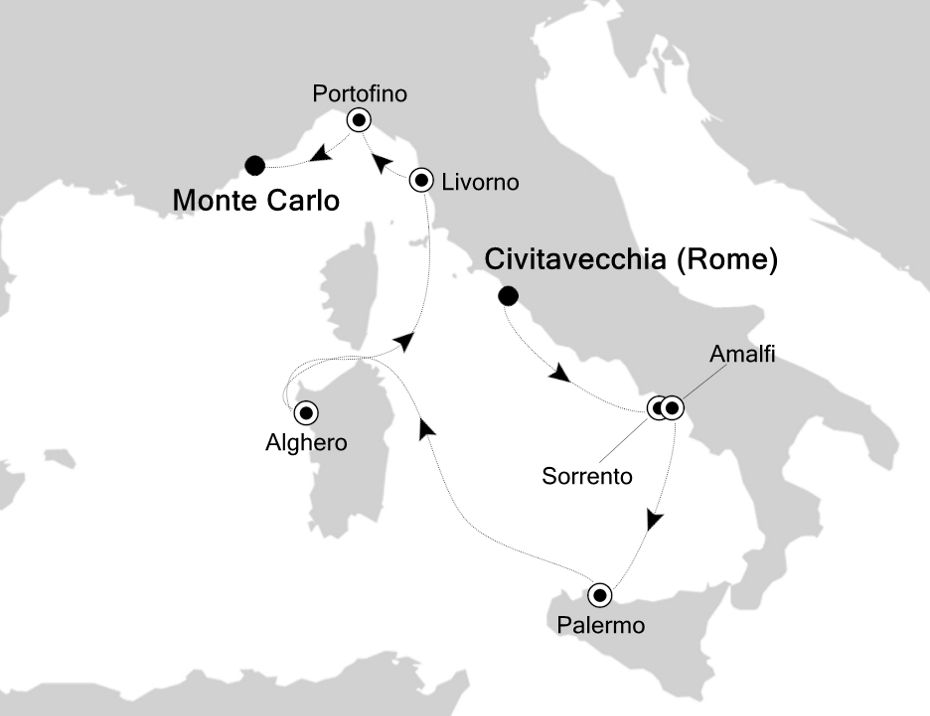 Italy's vibrant capital lives in the present, but no other city on earth evokes its past so powerfully. For over 2,500 years, emperors, popes, artists, and common citizens have left their mark here. Archaeological remains from ancient Rome, art-stuffed churches, and the treasures of Vatican City vie for your attention, but Rome is also a wonderful place to practice the Italian-perfected il dolce far niente, the sweet art of idleness. Your most memorable experiences may include sitting at a caffè in the Campo de' Fiori or strolling in a beguiling piazza.
Sorrento may have become a jumping-off point for visitors to Pompeii, Capri, and Amalfi, but you can find countless reasons to love it for itself. The Sorrentine people are fair-minded and hardworking, bubbling with life and warmth. The tuff cliff on which the town rests is spread over the bay, absorbing sunlight, while orange and lemon trees waft their perfume in spring. Winding along a cliff above a small beach and two harbors, the town is split in two by a narrow ravine formed by a former mountain stream.
Amalfi, at first glance, it's hard to imagine that this resort destination, set in a verdant valley of the Lattari Mountains, with its cream-color and pastel-hue buildings tightly packing a gorge on the Bay of Salerno, was in the 11th and 12th centuries the seat of the Amalfi Maritime Republic, one of the world's great naval powers, and a sturdy rival of Genoa and Pisa for control of the Mediterranean. The harbor, which once launched the greatest fleet in Italy, now bobs with ferries and blue-and-white fishing boats.
Once the intellectual capital of southern Europe, Palermo has always been at the crossroads of civilization. Favorably situated on a crescent-shaped bay at the foot of Monte Pellegrino, it has attracted almost every culture touching the Mediterranean world. To Palermo's credit, it has absorbed these diverse cultures into a unique personality that is at once Arab and Christian, Byzantine and Roman, Norman and Italian.
A tourist-friendly town of about 45,000 inhabitants with a distinctly Spanish flavor, Alghero is also known as "Barcelonetta" (little Barcelona). Rich wrought-iron scrollwork decorates balconies and screened windows; a Spanish motif appears in stone portals and bell towers. The town was built and inhabited in the 14th century by the Aragonese and Catalans, who constructed seaside ramparts and sturdy towers encompassing an inviting nucleus of narrow, winding streets with whitewashed palazzi.
Livorno is a marvelous city with a long and interesting history. In the early Middle Ages it alternately belonged to Pisa and Genoa. In 1421 Florence, seeking access to the sea, bought it. Cosimo I (1519–74) started construction of the harbor in 1571, putting Livorno on the map. After Ferdinando I de' Medici (1549–1609) proclaimed Livorno a free city, it became a haven for people suffering from religious persecution; Roman Catholics from England and Jews and Moors from Spain and Portugal, among others, settled here.
One of the most photographed villages along the coast, with a decidedly romantic and affluent aura, Portofino has long been a popular destination for the rich and famous. Once an ancient Roman colony and taken by the Republic of Genoa in 1229, it's also been ruled by the French, English, Spanish, and Austrians, as well as by marauding bands of 16th-century pirates. Elite British tourists first flocked to the lush harbor in the mid-1800s.
On one of the best stretches of the Mediterranean, Monte Carlo, this classic luxury destination is one of the most sought-after addresses in the world. With all the high-rise towers you have to look hard to find the Belle Époque grace of yesteryear. But if you head to the town's great 1864 landmark Hôtel de Paris—still a veritable crossroads of the buffed and befurred Euro-gentry—or enjoy a grand bouffe at its famous Louis XV restaurant, or attend the opera, or visit the ballrooms of the casino, you may still be able to conjure up Monaco's elegant past.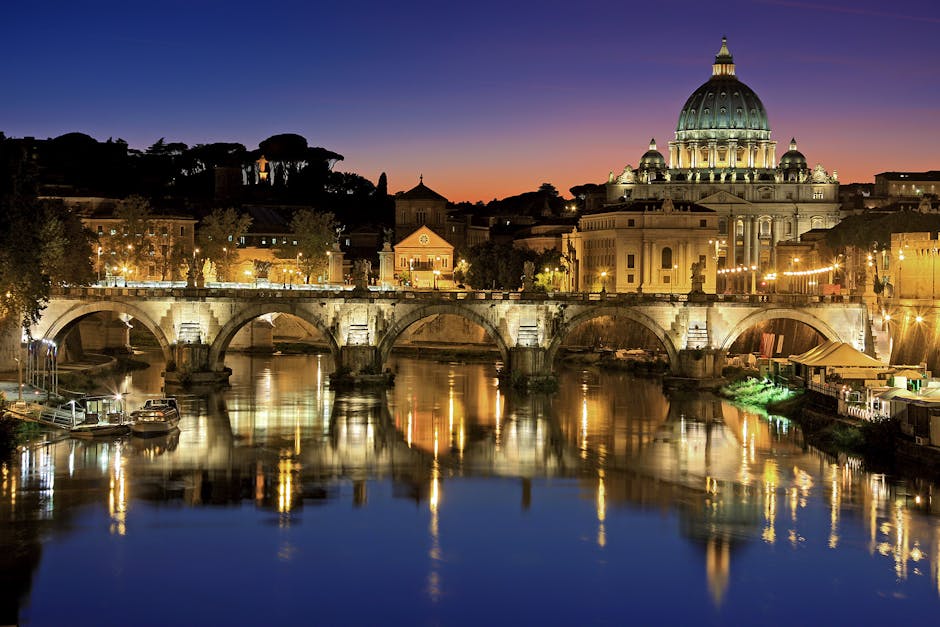 MmMmTravel can help you with more than just your cruise. We are here to assist you with all of your vacation plans including pre & post cruise hotels, transfers, tours and more to ensure you truly experience a "Taste of Life".  You can search through our luxury partnered hotel options using the links below. If you need any assistance or have any questions regarding your pre and post cruise travel plans, please don't hesitate to contact us at (831) 659-0151 or Cruises@MmMmTravel.com. 
Emanuele Bartolini owns La Balena and il Grillo restaurants in Carmel-by-the-sea where he shares his love for the simplicity of traditional Italian recipes from his native home in Florence. Emanuele's Sardinian grandmother owned a restaurant in the San Frediano area of Florence and serves as his inspiration for La Balena. Emanuele left Florence for New York City in 1998 where he worked at Osteria del Circo, The Essex House, Barbaluc, Centolire and Del Posto then moved to Carmel in 2010. La Balena was awarded Best New Restaurant, Best Italian and Best Restaurant in Carmel by the Carmel Pinecone, Monterey Weekly and the Carmel Chamber of Commerce and has been featured in the San Francisco Chronicle, Food and Wine Magazine and the Wine Enthusiast.
A ship of unprecedented standards, refurbished in April 2018, the Silver Spirit maintains the sophistication that Silveresa is famous for with a  club-like environment cosmopolitan guests appreciate. With some of the largest suites at sea, and a guest to staff ratio of almost 1 to 1, Silversea prides itself on their unswerving dedication to their guests. Silversea's Silver Spirit captures the essence of Silversea Cruises, with spacious suites, an intimate number of guests (only 608), 8 different theme restaurants,  superior service paired with a lively sophisticated atmosphere and enhanced amenities. These intimate, ultra-luxury ships can sail up narrow waterways into the heart of a city, or tie up right at the pier while others must anchor off-shore. Silver Spirit offers a lively, convivial atmosphere for cosmopolitan travelers who enjoy a greater variety of shipboard diversions, yet crave the personalized service,  authentic and "up-close" experiences for which Silversea is known.
About Silversea Cruises
Headquartered in Monte Carlo,  Silversea's small luxury ships are designed for those who delight in the thrill of discovery while indulging mind and body in the most lavish surroundings imaginable. All accommodations are spacious, ocean-view suites and most  include butler service and private verandas. Silversea voyages and cruise expeditions sail to over 800 destinations on all seven continents, more than any other cruise line. Our intimate, ultra-luxury ships can sail up narrow waterways into the heart of a city, or tie up right at the pier while others must anchor off shore.   Enjoy the convenience, ease and comfort of an  all-inclusive cruise fare that includes almost all of your discretionary onboard expenses.
Intimate Boutique Ships: Our 9 small luxury ships can show you the world in a far more personal, meaningful way. They can glide into small, secluded harbors or transport you on an expedition to some of the most remote regions of the globe.  In the evening. return to gracious hospitality reflecting our Italian heritage and cherish the relaxed, friendly camaraderie  among guests in the lounges and open bars where faces quickly become familiar and conversation strikes a common chord.
Polished to Perfection: Silversea is passionate about service and profoundly committed to maintaining the highest standards. Service is richly personalized, genuine and caring, every wish, every need is discretely anticipated. With the experienced, highly trained personnel of a top luxury cruise line and a staff to guest ratio of nearly one to one, service excellence is guaranteed aboard Silversea ships.
Global Flavors for Worldly Travelers: Renowned for culinary excellence Silversea's luxury cruises offer a choice of open-seating dining options throughout the fleet, as well as several specialty venues aboard all non-expedition ships.   Silver Spirit has six restaurants to choose from; rather remarkable for a ship hosting only 540 guests.  Changing daily menus present a wide range of offerings including Continental, vegetarian and healthy selections, as well as regional specialties unique to the destination.
Your Suite is Your Sanctuary: Silversea offers one of the highest space-per-guest ratios of any luxury cruise accommodations. All of our suites feature ocean views, and many, a private teak veranda. That's why every Silversea suite is indulgently spacious, and beautifully furnished. Freshen up in your Italian marble bathroom with a choice of luxury amenities to suit your personal taste.
To make a reservation please contact us directly at 831.659.0151 or email us at Cruises@MmMmTravel.com. For additional information about this enchanting voyage, please fill out the form below and we will respond to your request within 1 business day via email. Please remember that our response to your query may accidentally be directed to your junk mail folder.