Join Tom and Beverly Porter, founders of Porter Family Vineyards and Chef Ray Arpke, Executive Chef and Proprietor of Euphemia Haye on a sojourn along the stunning Danube River aboard Crystal Mozart, Crystal Cruises new river yacht to experience a new standard of all-inclusive luxury. Review their invitation video HERE for a brief overview of this "Taste of Life" sailing. Guests wishing to participate in all events onboard with Tom and Beverly Porter and Chef Ray Arpke must book through MmMmTravel (Michael Mastrocola's MillenniuM). Anyone making their reservation elsewhere (including directly with Crystal) will not be included in all events with Tom & Beverly Porter and Chef Ray Arpke.
Why Crystal Cruises by MmMmTravel?
Exclusive events hosted onboard by Tom & Beverly Porter, founders of Porter Family Vineyards and Chef Ray Arpke, Executive Chef and Proprietor of Euphemia Haye include receptions, dinners and a cooking demo, all complimentary to you, as our guest.
 
MmMmTravel Service: A dedicated team of professionals with  over 40 years of experience working together to plan your perfect vacation.
Crystal Cruises' all-inclusive value provides:
Personal butler service and 24-hour room service
Pre-paid gratuities throughout for housekeeping, bar, dining staff & butlers
Meals with a diversity of dining venues, featuring Crystal's innovative and acclaimed six-star cuisine, highlighted by regional specialties
Open bar with complimentary fine wines, champagne, premium spirits and non-alcoholic beverages including bottled water, specialty coffees, tea, soft drinks and fresh juices
Crystal Adventures ashore, featuring both cultural and active adventures, depending on the port. Bicycles for personal excursions.
Destination-focused entertainment and enrichment program, including onboard lecture series with destination experts aboard
Gym with state-of-the-art fitness equipment; daily yoga & fitness sessions
WiFi/Internet availability (60 mins complimentary per guest per day)
2017 Date

Port
Arrive
Depart
June 23, F 
Vienna, Austria
Embark

overnight

June 24, Sa

Vienna, Austria
12m

Porter Family Vineyards Welcome Reception *

June 25, Su

Entry into scenic Wachau Valley

Dürnstein, Austria

9:00 AM

12 N

Crossing the  scenic Wachau Valley

Melk, Austria

3:00 PM

7:00 PM

June 26, M

Linz, Austria
8:00 AM
10:00 PM
June 27, Tu
Passau, Germany 
8:00 AM

overnight

June 28, W

Passau, Germany
1:00 PM

Porter Family Vineyards Reception & Wine Paired Dinner*

Danube Scenic Cruising

June 29, Th
Bratislava, Slovakia
1:00 PM

9:00 PM

Scenic cruising into Budapest

June 30, F
Budapest, Hungary
9:00 AM

overnight

July 1, Sa 

Budapest, Hungary

2:00 PM

Porter Family Vineyards Farewell Reception *

Budapest Scenic cruising & Danube Scenic Cruising

July 2, Su

Vienna, Austria 
2:00 PM

overnight

July 3, M
Vienna, Austria

Disembark am
*Events, times, locations subject to final confirmation once aboard ship.  Invitations will be delivered evening prior to event. All events with Porter Family Vineyards and Chef Arpke  are complimentary to you as a guest of MmMmTravel, and only guests booked through MmMmTravel will have access to all events.Pre and Post cruise programs are available upon request.
Your Cruise-Only River Yacht Fare includes all dining, all beverages including fine wines, champagne, premium spirits and all non-alcoholic beverages such as bottled water, soft drinks and specialty coffees; gratuities for housekeeping, dining and bar staff; 24-hour room service; Butler service; and choice of guided Crystal Adventures shore excursion in every port and much more.
The below rates are the lowest allowed by Crystal Cruises. Guests wishing to participate in all events with Porter Family Vineyards and Chef Arpke aboard must book through MmMmTravel. Guests booking elsewhere, including directly with Crystal,  will not be included in all events. Please call for more information.
Suite
Per Person
Fares*
Crystal Society Saves
W2 – Deck 1
Fixed Window, 219 sq. ft
$4,835
Waitlist
$120
W1 – Deck 1
Fixed Window, 219 sq. ft
$5,080

$125
S2 – Deck 2
French Balcony, 204 sq. ft
$5,805
Waitlist
$145
S1 – Deck 2
French Balcony, 219 sq. ft
$6,155
Waitlist
$155
Penthouse -Deck 2
French Balcony, 330 sq. ft
$10,575
Waitlist
$255
Crystal Suite-Deck 2
French Balcony, 883 sq. ft
$24,555
Waitlist

$605
*MmMmTravel Fares are per person in U.S. dollars, double occupancy and do not include taxes, fees and port charges of $250. Single traveler and triple rates available upon request. All offers may not be combinable with other promotions, apply to first two full-fare guests in stateroom or suite, are capacity-controlled, subject to availability and may be withdrawn or changed at any time without notice. Optional Personal Select Air Program is available to purchase for full-fare, full-cruise guests whose travel originates from a U.S. or Canadian airport, and include all government fees and taxes. Solo Traveler Fares are available upon request. Crystal Society savings are per person based on double occupancy. For Cruise Fare and Promotional Information click here. For General Ticket Terms and Conditions, click here. Crystal Cruises reserves the right to correct errors or omissions and to change any and all fares, fees, promotions and programs at any time with or without notice.
Layered and elegant, with elements of cozy and grand, musical and visual might be the best way to characterize
Vienna
—or one of many ways, as this imperial city surely can inspire endless lines of poetic descriptions. Once the capital of the Austro-Hungarian Empire and forever known for its distinguished roster of composers who either were born or lived and worked here—including Mozart, Haydn, Beethoven, Schubert, both Strausses, Liszt and Brahms—Vienna finds itself at the very center of European culture, even as it sits near the border of the Czech republic, Slovakia and Hungary. Turn to a blank page to memorialize your own impressions of this grand city, remarking on its manicured gardens, ornate architecture—especially that of the famed Ringstrasse—intimate bistro pubs called beisln and a certain flourish that can only be called Vienna.
Considered as one of the most visited tourist spots in Wachau Valley, Dürnstein is a robust wine-growing region that sits perfectly alongside the Danube river. Durnstein Castle, the region's famous architectural highlight derives its name from duerr meaning "dry"  and stein meaning "stone". This landmark sits atop a rocky mountain, high above the damp conditions of the Danube at its base as it overlooks the town. With its picture-perfect scenery, Durnstein's beauty is enhanced by verdant forests, rolling hills, and thriving vineyards that ensconce the town. Take in the sights, sip some of the region's local wines &simply enjoy a leisurely day in this classic, postcard European town.
Best known for its fortified baroque Benedictine monastery, Melk Abbey, the town of Melk boasts an assortment of smaller gems. Among them, the city's riverside location, serene and regal with a ribbon of wooded groves giving way to the lovely village. Cobbled lanes and a petite size make for a pleasant stroll with a chance to discover its 16th-century Town Hall, or Rathaus, in the center of town, and Haus am Stein, or House at the Rock. Built in the 15th century, the vine-covered abode is Melk's oldest building.
Named the European Capital of Culture in 2009 and added to the roster of UNESCO Creative Cities as a City of Media Arts in 2014, Linz embraces the present and future, even as it remains reverential to its past. There is much to be proud of: Here on the gentle curve of the Danube, Linz rose to power as a political and economic hub for the Holy Roman Empire. Trade and influence extended in all four directions, from Hungary and Germany to the east and west and Poland and Italy to the north and south. Later, Linz sparkled as a city of the Habsburgs, the last home to German Emperor, Friedrich III. The city's layout reflects its history, with an ancient medieval center encircled by neoclassical, neo-baroque and neo-Renaissance neighborhoods, a kind of tree-rings of age and architectural styles. Highpoints of old traditions and impressive landmarks include the Linzer torte, dating to 1653 and thought to be the oldest cake in the world, and St. Martin's church, the oldest church in Austria. Likely all you will hear is the sound of your own gasps of delight as you experience storied locales of movies and emperors. Marvel at the beauty of Salzburg, birthplace of Mozart and filming backdrop of The Sound of Music. The spa town of Bad Ischl was a favorite of royalty and continues to draw visitors with its quaint charms and inspiring mountain setting. Hallstatt, a tiny village shouldered by a wall of mountains, is inched so close to the pretty lake that it looks like its quintessentially Austrian buildings might tip right in. And, simply, wow: The Czech Republic's Cesky Krumlov unfolds as a picture-perfect medieval town crowned by a castle, embraced by the meandering Vltava River and laced with cobbled lanes. No wonder it is a UNESCO World Heritage Site and the second most popular travelers' destination after Prague.
At the confluence of the Danube, Inn and Ilz rivers, Passau is also situated at a meeting of cultures. The town began as a Roman settlement, enjoying the rising tide of influence as the largest bishopric in the Holy Roman Empire and enduringly vibrant as a hub for various trade and manufacturing pursuits, including salt, swords and ideas. Experience Passau's charm as you the wander the cobbled streets of Old Town, gaze upon arched bridges and Italianate manses and encounter magnificent St. Stephen's Cathedral and the New Bishop's Residence. Just southwest of Passau is Munich, one of the most beguiling cites anywhere. This capital of Bavaria embraces both its history and a live-for-today mantra, as witnessed in its fine examples of baroque and rococo architecture and shared in its trendy taverns, where German brew is hoisted in celebration of a quiet (and sometimes rollicking) Oktoberfest that can happen any day of the year.
Bratislava, Slovakia's capital city may be the country's buzzing political and economic center, but it is also a historic gem that stirs the imagination. A maze of narrow, cobblestone streets wind around colorful 18th-century buildings, and shade-covered sidewalk cafes beckon weary—or simply hungry—travelers to linger over a meal and enjoy people watching. Museums, cathedrals and palaces are edifying locales to spend some time, while photography buffs will want to snap images of the medieval castle that looms over the city with a majestic grace. For those looking for more contemporary sights, Bratislava boasts a pulsating modern art scene, as well as some outstanding examples of Communist-era architecture.
Cast your eye over the Budapest skyline, and you'll see all the makings of a world-class city and striking photograph: domes and spires, bridges and lampposts, splendid architecture in the foreground, rolling hills in the back, and the Danube River placidly curving through it, providing a reflective surface for sunsets and city lights. Look closer, and the treasures of Budapest—Hungary's capital and the largest metropolis—really come to light. Castle Hill is at the top of most visitors' lists, a UNESCO-listed district hosting Buda Castle, Trinity Square, Matthias Church and Fishermen's Bastion. The area is also residential, with 18th-century houses, cobblestone streets and few cars, thanks to a strict vehicular ordinance, giving you a real sense of what the city must have been like ages ago. Budapest is full of history, originally a Roman settlement, formed as a unified city when Buda and Pest joined in 1873, overtaken by various invading forces over the centuries, and today an interesting goulash of local culture and foreign influences. Take a seat in a Turkish-era bath or savor rich Esterházy torte in a gentile coffee house to experience the many sides of a city that charms from both sides of the Danube.
From the regal cities of Amsterdam, Vienna, Budapest, Frankfurt, Paris, Bordeaux and Basel, explore the Danube, Rhine, Main, Moselle, Seine, Garonne and Dordogne rivers on Crystal River Cruises with gorgeous, ever-changing panoramas of enchanting villages and lush landscapes. In-depth explorations and overnight stays in the heart of Europe's cities and towns provide a vibrant and memorable experience.
The hallmarks of the Crystal brand – service, space, quality and choices – usher in a new era in European river exploration with Crystal River Yachts. With its signature All-Inclusive philosophy, Crystal offers an encompassing luxury experience: butler service for every suite; six-star service and truly exceptional food; unique Crystal Adventures that deliver memorable destination experiences – all working in synch to transpose the World's Best Ocean Cruising to the World's Best River Cruising. Crystal will redefine luxury river cruising.
Crystal Mozart, River Yacht Specifications
Total berths: 160 (Note: Third berths available on request.)
Total guest suites: 80

CS (2)
PH (12)
S1 (20)
S2 (4)
S3 (36)
S4 (4)

Length: 120.44 meter/395 feet
Width: 22.85 meter/75 feet
Crew:  90
Onboard entertainment and enrichment programs
Daily yoga and fitness classes
Daily choice of electronic international newspapers
Self-service guest laundry
Choice of complimentary curated Crystal Adventures shore excursions in every port
Complimentary culinary experience at highly renowned local establishments on many sailings
Complimentary Nordic walking poles
Complimentary audio headphones on all organized Crystal Adventures
Complimentary airport transfers to/from river yacht to airport
All transfers will be group transfers by motor coach on embarkation and debark days only.

Airport/River Yacht – Motor coaches will leave the main international arrival airport every hour between 10:00 am and 10:00 pm. (Times will be dependent on local traffic conditions.)
River Yacht /Airport – Transfers will run until 10:00 am on the day of debarkation
Dining
A la carte, buffet and early risers breakfast offerings
Multiple dining venues
Open seating dining
Crystal Casual dress code
European sourced and trained chefs and hotel staff
Vintage Room, private dining (fee)
Shipboard Public Spaces
Hydraulic Sun-Deck Bar (available on Bach, Mahler, Debussy and Ravel only)
Fitness Center with state-of-the-art TechnoGym equipment and dedicated yoga area
Massage services
Library
Non-smoking environment in all indoor spaces (Except Connoisseur Club on Crystal Mozart)
Onboard currency exchange – shipboard currency Euros
Onboard Entertainment & Enrichment
Destination-focused entertainment and enrichment program, including onboard lecture series
Destination expert on each voyage
Regional affairs experts on many voyages
 Suites
Twice daily housekeeping services including evening turndown service
In-suite hors d'oeuvres
Individual climate control
Flat-screen TV in each suite
English-speaking and international TV stations
Butler service for each suite
About Porter Family Vineyards: A story of science, love and sandpipers. Yes, sandpipers.
Seated: Tim Porter, Bev and Tom Porter, Heather and Steven Wolfe
Making mischief: Alex, CharLee, Madison
We (Tom and Beverly Porter) wanted to grow a few grapes and perhaps start a winery one day. But no idea stays little for very long with the Porter Family. All of us are avid scientists, once our family purchased this wonderful property south of the Stag's Leap district in Napa Valley, we began to study it and discover its joys. During that process, we unearthed an intriguing piece of history which gave us clues to the history of life on Earth itself.
We discovered the fossilized footprints of a sandpiper dating back millions upon millions of years ago, only heightening our wonder and love of this property. Of course, we continue to study it, and discover more. And each day we find new reasons to love and treasure it.
"We love the wonders of nature and the rules that connect these wonders together in endless patterns," says Tom Porter.
"Equipped with his five senses, man explores the universe around him and calls the adventure Science."
~ Edwin Powell Hubble, The Nature of Science, 1954
This love affair with the land began with patience. Our family watched the hillsides, the terrain, and the seasons. We studied the vines, the soil, and put our faces up to the wind. As we followed the growth of the vines, we realized we absolutely had to share this land with others—to turn the fruit of this place into a wine to be shared by many. Not wanting to disturb the terrain we had come to know and love, we decided that the best thing to do was to create an underground cellar in which to craft our wines. So in a hillside in the middle of the vineyard, we created a winery. The only clue to its existence is two entrances on either end. Vines still stand up and around and over the hill.
"It was here, in creating our 17,000 square foot underground cellar, that we discovered the long ago history of this land in the form of our sandpiper's fossilized footsteps. It was an electrifying find," says Tom Porter.
"The hill actually began as a shoreline millions of years ago," says Tom. "Over the millennia, it was uplifted into the hills above our vineyard, and then much later slumped downhill to its present location. The tracks of that tiny bird, once on the surface of a sandy beach that was catastrophically covered with volcanic ash, were only discovered when we dug into the hillside to create our winery. Buried many feet below the surface, it was a reminder that we are not the first to tread this ground, nor will we be the last. And it is our responsibility to steward this land in a way that protects and preserves it, not just for our children, but for the planet."
The fossil has now become part of our family, and the sandpiper from long ago now leaves its tracks on every label of Porter Family Vineyards wine. "It's part of us now," says Tom. "In one way, we discovered it – but in another way, it has discovered us and led us to understand so much more about this place, and our role in it."
"Science does not know its debt to imagination." ~Ralph Waldo Emerson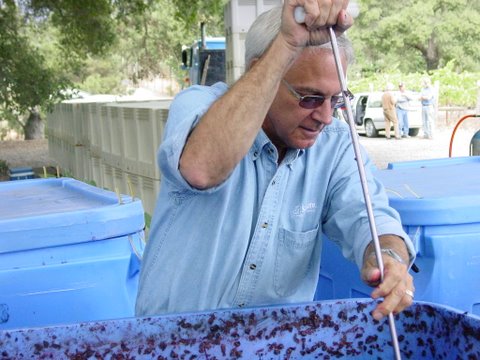 About Tom Porter, Owner of Porter Family Vineyards

"The universe is full of magical things patiently waiting for our wits to grow sharper." ~Eden Phillpotts, A Shadow Passes
Tom Porter grew up in Adrian, Michigan with an intense interest in science and technology. His father was a chemist, affording Tom access to the chemicals necessary to build rockets in the basement, among other experiments. His journey towards electronics occurred after a few explosions on the launch pad, which led his father to rather forcefully suggest that perhaps Tom should consider applying his energies to some other less volatile science projects.
After high school, Tom enrolled at Michigan Tech in the electrical engineering program, and in June 1968, one week after graduation, he drove to Rochester, Minnesota to begin what turned out to be a 27 year career at IBM.
For the first ten years of his career at IBM , Tom worked in a small independent group called Custom Systems that gave him the opportunity to work on a broad spectrum of exciting projects including the development of IBM's first digital modem and the automated ticketing system for the Bay Area Rapid Transit System (BART). He is proud to note that his work there also included a patent for the mechanics inside the 3.5 inch floppy disk that ultimately became the industry standard and shipped in every PC for nearly 20 years. While at IBM, Tom was inducted into the IBM Academy of Technology.
In 1978, IBM started Tom on a new career in technology management, spanning 25 years and three companies. Most recently he was CTO and Executive Vice President of Product Development at Seagate Technology, where he was responsible for a $600 million annual R&D budget. His natural curiosity about the world and how it works has led him to a constant exploration of his surroundings, and this is evident in every detail of Porter Family Vineyards, from the detailed record-keeping on every block of vineyard, to the painstaking analysis of every barrel of wine.
As Tom and Beverly have learned about the vineyard and the wines, they have been enormously gratified to see that their daughter, her husband, and their son have all decided to move to Napa and join them in the research and development of this new vineyard and winery adventure. Each of them brings a different discipline and a different expertise, but all of them bring an inherent curiosity, a respect for the scientific method, and a sense of wonder for this unique vineyard property.
In their free time Tom and Beverly love to travel, and have established a family foundation that supports children in need. Over the past few years they have also helped build a children's home in Tanzania, Africa, supported a teen group in Sarasota, Florida, and aided troubled children in Boston.
Besides making wine, Tom is currently chasing an old dream of automobile racing. Several times a year, he straps himself into a racecar and chases "30 or 40 other fools" around a race track at speeds he only dreamed of as a teenager. His favorite car to race is a 500HP 1965 Shelby tubular frame Cobra.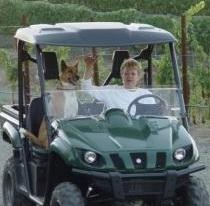 About Beverly Porter, Owner of Porter Family Vineyards
"Science is organized knowledge. Wisdom is organized life." ~Immanuel Kant 1724-1804
Beverly Porter was born in Evergreen Park Illinois, a quiet suburb of Chicago. Her parents were children of first and second-generation immigrants from Germany. While her father owned his own business in Chicago, he had always wanted to own a resort in northern Minnesota. When Beverly turned 12 he followed his heart and sold the business and house and moved the family to a small town 90 miles from the Canadian border, Grand Rapids, Minnesota.
Beverly and her brother finished school in Grand Rapids, and she later moved back to Chicago for a few years to work for Western Electric as a secretary. In 1967 she moved to Rochester, Minnesota, where she met Tom Porter, who was a young engineer at IBM.
Family life included three children, and for a few years, Beverly was a stay-at-home Mom. Once the children were in school, she took on a series of managerial positions at small companies and duties at various school charities. When their youngest child, Heather, started college, Beverly took advantage of the empty nest to travel with Tom while he was working for Seagate Technology.
In 2002, Beverly and Tom established the Porter Family Foundation with a focus on serving children at risk. It was something she had always wanted to do, and was a natural progression from her work in the schools when her own children were small. Beverly served as Treasurer until recently when she took on the overall responsibility for managing the foundation as President.
Tom and Beverly had always found the Napa Valley a wonderful place to visit when they needed to relax—and they had always dreamed of having some land with grapes and someday making their own wine. That dream has now come true—but it is a better dream than Beverly could ever have imagined. Their purchase Porter Family Vineyards resulted in a wonderful and unplanned consequence: son Timothy and daughter Heather and son-in-law Steven Wolfe have all joined the team, and the family now works together on a daily basis.
ABOUT CHEF RAY ARPKE | EUPHEMIA HAYE EXECUTIVE CHEF & PROPRIETOR
Raymond Arpke is a renowned chef known for his high culinary standards and his joyful approach to food and life. As owner and executive chef of Euphemia Haye in Longboat Key, Florida, Chef Ray creates sophisticated cuisine and an unparalleled dining experience that has been pleasing palettes for over 30 years.
Chef Ray's love of food and his lighthearted-approach in the kitchen comes from his unique upbringing. Ray was raised in mental institution, not as a patient, but rather as a resident – the Sheboygan County Hospital in central Wisconsin was the place he called home. When Ray was growing up, his father was the institution's superintendent and his whole family resided in an apartment that was located in the middle of the hospital. Ray was inspired by his surroundings – the patients were his playmates and the kitchen was his favorite hangout. He learned from the German and Swedish chefs who ran the kitchen and was excited by the gourmet fare they created. Their creations, such as Seafood Newburg and Lobster Thermidor, were significantly different than the typical dinners that were being served on other Midwestern tables.
The hospital had its own farm, dairy, garden and orchards. Ray sat on the kitchen counter and watched as everything was made from scratch; as strawberries from the garden were turned into strawberry shortcake topped with fresh cream from their cows, as pigs from the farm became pork chops topped with apple sauce made from apples that Ray had picked from the orchard. Yes, Ray experienced "from farm to table" before it was trendy. It was in the kitchen of the county hospital that food became Ray's obsession and his sanity. When Ray's mom was asked about the difficulties of running a mental institution she would say, "Well, you don't have to be crazy, but it helps!"
While still living at the County Hospital, Ray began working as a salad chef at the local country club. Within three months, he became the head chef. After graduating from high school and moving out of the County Hospital at age 18, Ray started his formal training at the Milwaukee Area Technical College where he received an Associate's Degree in Culinary Arts. Ray soon became the chef at Wisconsin's classic German restaurant, Stemmelers White Coach Inn. Guests were lured in by the live accordion polka music but they kept coming back for Chef Ray's delicious Sauerbraten.
In I974, Ray relocated to Florida where he was the chef at Colony Beach and Tennis Resort on Longboat Key and then at the distinguished Café L'Europe at Sarasota's St. Armands Circle. In 1980, Chef Ray and his wife D'Arcy purchased the Euphemia Haye restaurant on Longboat Key where they have maintained the restaurant's exacting standards and intimate atmosphere while enhancing it with unique touches and culinary creativity.  Under Chef Ray's guidance and expertise, Euphemia Haye has won numerous awards including Wine Spectator Magazine's Award of Excellence, Zagat's Top 1%, Fodor Travel's Fodor Choice Award and Florida Trend Magazine's Golden Spoon Hall of Fame Awards.
In 2005, Chef Ray was an Honored Guest Chef at the James Beard House in New York City for Thanksgiving dinner. 2010 brought excitement as Chef Ray was a finalist in ABC Nightline's "People's Platelist" Contest where the public voted for their favorite chef in the nation.  With his sharp wit and easy-going teaching style, Chef Ray is a popular guest chef on local news and television shows, including multiple appearances on the "Chef on a Shoestring" segment on CBS Saturday Morning show and the "Tailgate Chef" on two seasons of FOX 13's "Tailgate Sunday." He has conducted many live cooking demonstrations for "Forks and Corks Food and Wine Fest," Bloomingdales, William-Sonoma, Kohlers, Wisconsin Cheese Board and the Culinary Loft in New York City. In 2010 and 2011, Chef Ray was the featured chef at the Festival of Flavors in Eagle River, Wisconsin.
In 2000, Chef Ray launched his own line of bottled sauces including Chef Raymond's Famous Euphemia Haye Steak Sauce. Chef Ray published a cookbook and autobiography 2006 aptly named, "You Don't Have to be Crazy, But it Helps: Recipes and Rantings of a Mad Man."
Chef Ray's love and longtime passion includes teaching others some of the cooking secrets he's learned during his adventures in the kitchen. In 1996, Chef Ray started teaching "Lesson Luncheons" at Euphemia Haye which continue to be sold-out events. In the classes, he teaches participants a three-course menu including recipes for classic Euphemia favorites along with some new "Mad Man Chef" inventions.
Whether he's in the Euphemia kitchen during dinner rush or in front of a TV camera, Chef Ray still quotes his mom saying, "You don't have to be crazy, but it helps." Euphemia Haye diners and Chef Ray's students are looking forward to whatever the Mad Man Chef will create next.
To make a reservation please contact us directly at 831.659.0151 or via email at info@MmMmTravel.com. We will respond to your request for more information within 1 business day via email. Please remember that our response to your query may accidentally be directed to your junk mail folder.