This delightful 9 day sailing begins in Venice, a city that seems miraculously built on water before sailing South along the Dalmatian Coast through the Aegean & Adriatic Seas to Athens. From quaint fishing villages to glamorous islands, the diversity of the eastern Med is more than a sum of its parts. Quiet coves outnumber the big beaches here so take advantage of your time and see islands such as Rab, Crete, Santorini and Rhodes from the sea. However you choose to fill your day understated luxury awaits on Silversea's 382 guest Silver Whisper where you will enjoy multiple restaurants, large suites, divine exclusive Alpha Omega activities & more.     To make a reservation please contact MillenniuM Travel directly at 831.659.0151 or email us at Cruises@MmMmTravel.com.
Exclusive Savings:
Free Airfare:

Book by

March 31, 2020

 and enjoy

Free Round Trip Economy Airfare

or Business Class Airfare from $699 each way from select US airports*
Guests of MillenniuM Travel will:  
Enjoy receptions featuring Alpha Omega wines hosted by Brand Ambassador Joe Borelli of Alpha Omega.
Participate in multiple Alpha Omega wine dinners lead by Joe Borelli.
Savor an included Alpha Omega wine paired dinner in La Dame by Relais & Chateaux sponsored by MmMmTravel.
Receive added shipboard credit for guests paying with unbranded American Express Platinum or Centurion cards.
All-suite, All-inclusive 9-day Silversea Silver Whisper cruise Includes:
Exclusive Wine activities hosted by Brand Ambassador Joe Borelli of Alpha Omega (MillenniuM Travel guest Exclusive).
Spacious suites – most with private verandas aboard an intimate vessel with only 382 guests
Personalized service – nearly one crew member for every guest
Butler service in every suite – all guests are pampered equally
Open-seating dining options – dine when and with whomever you please
Diversity of dining venues – casual, romantic, regional delicacies, and gourmet cuisine inspired by Relais & Châteaux
Beverages in-suite and throughout the ship – select wines, premium spirits, specialty coffees and soft drinks, plus your own tailored mini-bar
In-suite dining and 24-hour room service – always complimentary, always available
Sophisticated entertainment from live music to production shows
Enrichment lecturers, acclaimed chefs and destination consultants
Complimentary transportation into town in most ports
Gratuities always included in your fare
Free WiFi throughout the ship (daily limit applies)
2020 DATE
PORT
ARRIVE / DEPART

Aug 19, W

VENICE, ITALY

Embark from 1pm / Overnight

Alpha Omega Welcome Reception & Wine Dinner under the stars*   

Aug 20, Th

VENICE, ITALY

Aug 21, F

RAB, CROATIA

8am / 6pm

Aug 22, Sa

SIBENIK, CROATIA

8am / 6pm  

Champagne Reception followed by Alpha Omega  Gala 5-course Wine

Dinner in La Dame by Relais & Chateaux*

Aug 23, Su

KOTOR, MONTENEGRO

8am / 6pm

Aug 24, M

DAY AT SEA

Alpha Omega Wine Tasting, followed by casual group lunch*

Aug 25, Tu

SANTORINI, GREECE

8am / 7pm

Aug 26, W

RHODES ISLAND, GREECE

8am / 8pm

Aug 27, Th

RETHYMNON (ISLAND OF CRETE), GREECE

9am / 6pm

Alpha Omega Farewell Reception & Wine Dinner in La Terrazza *   

Aug 28, F

PIRAEUS (ATHENS), GREECE

Disembark 8am-10am
*Events, times, locations subject to final confirmation once aboard ship.  All Alpha Omega onboard wine events are included for you as a guest of Alpha Omega and MillenniuM Travel.  A Finalized Guest Itinerary will be mailed with cruise documents. As a reminder, only guests booked through MillenniuM Travel may participate in all Alpha Omega events. 
Exclusive Offers:
Free Airfare: Book by March 31, 2020

 and enjoy

Free Round Trip Economy Airfare

or Business Class Airfare from $699 each way from select US airports*
Suites
Fares with Air
& 10% Savings* 
Cruise Only with
10% Savings (no air)* 
OWNERS SUITE 2bdrm: 1,264 ft² Midship, including veranda
Waitlist
Waitlist
OWNERS SUITE 1bdrm: 919 ft² Midship, including veranda
$16,230
$15,330
GRAND SUITE 2bdrm: 1,286 ft² FWD, including veranda
Waitlist
Waitlist
GRAND SUITE 1bdrm: 941 ft² FWD, including veranda
$14,900
$14,000
ROYAL SUITE 2bdrm: 1,312 ft² FWD, including veranda
$19,700
$18,800
ROYAL SUITE 1bdrm: 967  ft² FWD, including veranda
$14,400
$13,500
SILVER SUITE: 653 ft² including veranda
$12,700
$11,800
MEDALLION SUITE: 521 ft² including veranda
Waitlist
Waitlist
V4: VERANDA SUITE: 345 ft² including veranda
 $8,100
  $7,200
V3: VERANDA SUITE: 345 ft² including veranda
$8,000
$7,100
V2: VERANDA SUITE: 345 ft² including veranda
$7,800
$6,900
V1: VERANDA SUITE: 345 ft² including veranda
$7,700
$6,800
VISTA SUITE: 287 ft² ocean-view window
$6,400
$5,500
*MillenniuM Travel Fares are per person based on double occupancy in US dollars. Fares above include a $300 per person add-collect over Silversea's promotional cruise fares to help offset shipping and other expenses associated with getting the wines to the ship for our private events. Solo traveler fares and triple rates available upon request. Fares will increase as ship fills.  Fares shown does not guarantee availability. A 25% deposit secures you the best available pricing and suite locations. To receive American Express Amenities, guests must use an unbranded American Express Platinum or Centurion card for final payment. A reservation through MmMmTravel ensures invitations to private receptions and dinners, including a 6-course wine-paired dinner in La Dame by Relais & Chateaux. Fares will increase as the ship fills. Minimum number of guests required for Alpha Omega to host. Free transfers available only for guests utilizing Silversea air offer. Economy Class Air is provided on domestic US/Canada flights and intra-European flights from select US and Canadian gateways. Offer applies to new bookings made by March 31, 2020. Promotional air offer is valid only for guests from the United States and Canada. In the event economy class air is unavailable (determined at Silversea's sole discretion), a non-use Air credit in the amount of $900 per person may be applied to your booking. Silversea reserves the right to select the air carrier, routing and departure airport from each gateway city. Airline baggage fees are not included. Deviations to air travel dates are accepted at a charge of $150 per request plus all additional air costs. Due to flight schedules, some voyages may require an overnight hotel stay pre or post-cruise. This will be available for booking at an additional charge. Please call for more information. Other conditions may apply, see Silversea's Terms & Conditions for more details. CST# 1005871-40. Silversea ship's registry: Bahamas. Please call MillenniuM Travel for more details.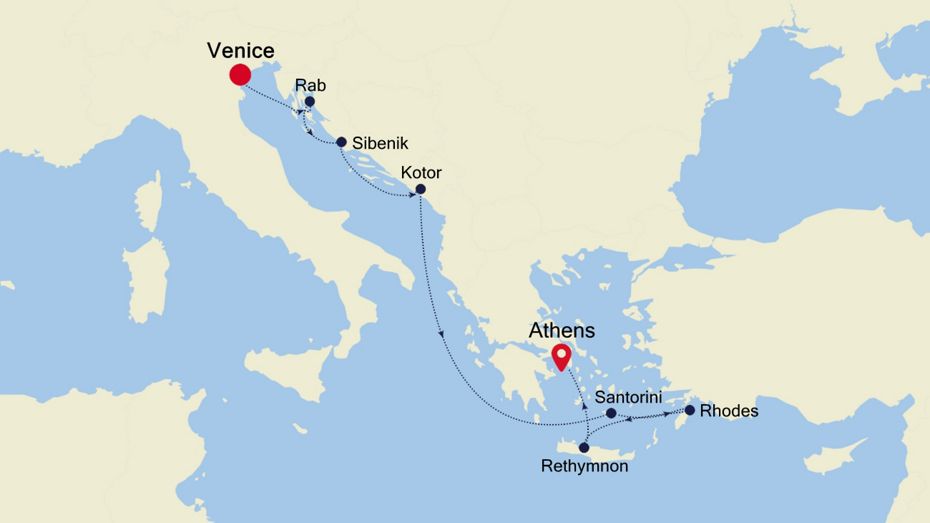 Venice is a city unlike any other. No matter how often you've seen it in photos and films, the real thing is more dreamlike than you could imagine. With canals where streets should be, water shimmers everywhere. The fabulous palaces and churches reflect centuries of history in what was a wealthy trading center between Europe and the Orient. Getting lost in the narrow alleyways is a quintessential part of exploring Venice, but at some point you'll almost surely end up in Piazza San Marco, where tourists and locals congregate for a coffee or an aperitif.
Rab presents an utterly schizophrenic landscape. When you drive southward, down the Magistrala, you see that the island resembles the humped back of a diving sea monster. Once you've mounted this beast, via a short ferry ride from Jablanac to Mišnjak, you travel along the center of its back, which is almost entirely bald to the north, letting all its hair hang out to the south. The high northern coast, which bears the brunt of the northern Bora winds, is dry, rocky, and barren. Crouching below this crusty ledge, the southern half of the island could hardly differ more, and has possibly the lushest terrain found on any Croatian island. Low, green hills dip into the seas, while the ancient Dundo forest grows so voraciously that it's almost impossible to walk in.
Šibenik's main monument, its Gothic-Renaissance cathedral, built of pale-gray Dalmatian stone and designated a UNESCO World Heritage Site, stands on a raised piazza close to the seafront promenade. From here a network of narrow, cobbled streets leads through the medieval quarter of tightly packed, terra-cotta–roof houses, and up to the ruins of a 16th-century hilltop fortress. The city has never been a real tourist destination. Before the Croatian war for independence, it was a relatively prosperous industrial center, but when the factories closed, Šibenik sank into an economic depression. However, the cathedral more than warrants a look, and it makes a decent base for visiting the waterfalls of Krka National Park.
Backed by imposing mountains, tiny Kotor lies hidden from the open sea, tucked into the deepest channel of the Bokor Kotorska (Kotor Bay), which is Europe's most southerly fjord. To many, this town is more charming than its sister UNESCO World Heritage Site, Dubrovnik, retaining more authenticity, but with fewer tourists and spared the war damage and subsequent rebuilding which has given Dubrovnik something of a Disney feel.Kotor's medieval Stari Grad (Old Town) is enclosed within well-preserved defensive walls built between the 9th and 18th centuries and is presided over by a proud hilltop fortress. Within the walls, a labyrinth of winding cobbled streets leads through a series of splendid paved piazzas, rimmed by centuries-old stone buildings. The squares are now haunted by strains from buskers but although many now house trendy cafés and chic boutiques, directions are still given medieval-style by reference to the town's landmark churches.
Undoubtedly the most extraordinary island in the Aegean, crescent-shape Santorini remains a mandatory stop on the Cycladic tourist route—even if it's necessary to enjoy the sensational sunsets from Ia, the fascinating excavations, and the dazzling white towns with a million other travelers. Called Kállisti (the "Loveliest") when first settled, the island has now reverted to its subsequent name of Thira, after the 9th-century-BC Dorian colonizer Thiras. The place is better known, however, these days as Santorini, a name derived from its patroness, St. Irene of Thessaloniki, the Byzantine empress who restored icons to Orthodoxy and died in 802. You can fly conveniently to Santorini, but to enjoy a true Santorini rite of passage, opt instead for the boat trip here, which provides a spectacular introduction. After the boat sails between Sikinos and Ios, your deck-side perch approaches two close islands with a passage between them.
Early travelers described Rhodes as a town of two parts: a castle or high town (Collachium) and a lower city. Today Rhodes town—sometimes referred to as Ródos town—is still a city of two parts: the Old Town, a UNESCO World Heritage site that incorporates the high town and lower city, and the modern metropolis, or New Town, spreading away from the walls that encircle the Old Town. The narrow streets of the Old Town are for the most part closed to cars and are lined with Orthodox and Catholic churches, Turkish houses (some of which follow the ancient orthogonal plan), and medieval public buildings with exterior staircases and facades elegantly constructed of well-cut limestone from Lindos. Careful reconstruction in recent years has enhanced the harmonious effect.
Rethymnon is Crete's third-largest town, after Heraklion and Hania. The population (about 30,000) steadily increases as the town expands—a new quarter follows the coast to the east of the Old Town, where the beachfront has been tastelessly developed with large hotels and other resort facilities catering to tourists on package vacations. However, much of Rethymnon's charm perseveres in the old Venetian quarter, which is crowded onto a compact peninsula dominated by the huge, fortified Venetian castle known as the Fortezza. Wandering through the narrow alleyways, you come across handsome carved-stone Renaissance doorways belonging to vanished mansions, fountains, archways, and wooden Turkish houses with latticework screens on the balconies to protect the women of the house from prying eyes.
It's no wonder that all roads lead to the fascinating and maddening metropolis of Athens. Lift your eyes 200 feet above the city to the Parthenon, its honey-color marble columns rising from a massive limestone base, and you behold architectural perfection that has not been surpassed in 2,500 years. But, today, this shrine of classical form dominates a 21st-century boomtown. To experience Athens—Athína in Greek—fully is to understand the essence of Greece: ancient monuments surviving in a sea of cement, startling beauty amid the squalor, tradition juxtaposed with modernity. Locals depend on humor and flexibility to deal with the chaos; you should do the same. The rewards are immense. Although Athens covers a huge area, the major landmarks of the ancient Greek, Roman, and Byzantine periods are close to the modern city center.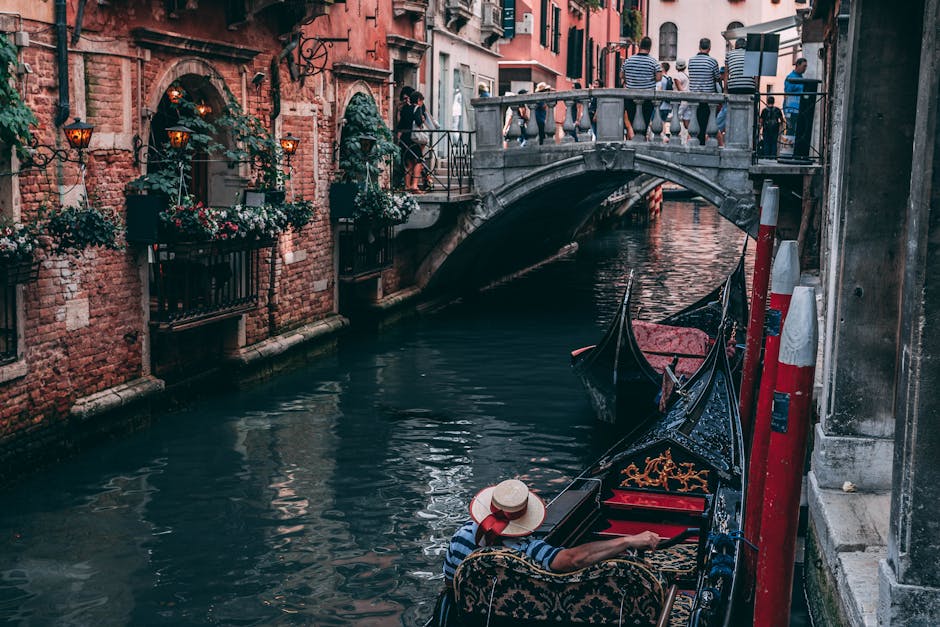 MmMmTravel can help you with more than just your cruise. We are here to assist you with all of your vacation plans including pre & post cruise hotels, transfers, tours and more to ensure you truly experience a "Taste of Life".  You can search through our luxury partnered hotel options using the links below.  If you need any assistance or have any questions regarding your pre and post cruise travel plans, please don't hesitate to contact us at (831) 659-0151 or Cruises@MmMmTravel.com. 
Joe Borelli, Alpha Omega Brand Ambassador
Joe Borelli is a Brand Ambassador for Alpha Omega, a boutique winery in the Rutherford Bench of Napa Valley. In 2018, he celebrates his sixth anniversary at the winery where he began as a Wine Club member. A love for fine wine lured Joe and Jill, his wife of 39 years, from Burlingame, Calif., to Napa Valley fulltime following his 30-year career as a teamster.
Hired personally by vintner Robin Baggett, who sensed potential in the former truck driver, Joe has exceeded all expectations. Über-popular with guests and often requested by regulars, Joe has made quite a name for himself in the tasting room at the 11-year-old winery because of his honesty and candor. He's a natural with people, and it didn't take long for this California native to turn his wine passion into a second profession. Joe and Jill enjoy traveling as much as they do sipping wine, and they try to do both as frequently as possible.
Silver Whisper will undergo a complete refurbishment in December, 2018 to maintain the sophistication that Silveresa is famous for with a  club-like environment cosmopolitan guests appreciate. With some of the largest suites at sea, and a guest to staff ratio of almost 1 to 1, Silversea prides itself on their unswerving dedication to their guests. Silversea's Silver Whisper captures the essence of Silversea Cruises, with spacious suites, an intimate number of guests (only 382), superior service – paired with a lively sophisticated atmosphere and enhanced amenities.
Headquartered in Monte Carlo,  Silversea's small luxury ships are designed for those who delight in the thrill of discovery while indulging mind and body in the most lavish surroundings imaginable. All accommodations are spacious, ocean-view suites and most  include butler service and private verandas. Silversea voyages and cruise expeditions sail to over 800 destinations on all seven continents, more than any other cruise line. Our intimate, ultra-luxury ships can sail up narrow waterways into the heart of a city, or tie up right at the pier while others must anchor off shore.   Enjoy the convenience, ease and comfort of an  all-inclusive cruise fare that includes almost all of your discretionary onboard expenses.
Intimate Boutique Ships: Our 9 small luxury ships can show you the world in a far more personal, meaningful way. They can glide into small, secluded harbors or transport you on an expedition to some of the most remote regions of the globe.  In the evening. return to gracious hospitality reflecting our Italian heritage and cherish the relaxed, friendly camaraderie  among guests in the lounges and open bars where faces quickly become familiar and conversation strikes a common chord.
Polished to Perfection: Silversea is passionate about service and profoundly committed to maintaining the highest standards. Service is richly personalized, genuine and caring, every wish, every need is discretely anticipated. With the experienced, highly trained personnel of a top luxury cruise line and a staff to guest ratio of nearly one to one, service excellence is guaranteed aboard Silversea ships.
Global Flavors for Worldly Travelers: Renowned for culinary excellence Silversea's luxury cruises offer a choice of open-seating dining options throughout the fleet, as well as several specialty venues aboard all non-expedition ships.   Silver Spirit has six restaurants to choose from; rather remarkable for a ship hosting only 540 guests.  Changing daily menus present a wide range of offerings including Continental, vegetarian and healthy selections, as well as regional specialties unique to the destination.
Your Suite is Your Sanctuary: Silversea offers one of the highest space-per-guest ratios of any luxury cruise accommodations. All of our suites feature ocean views, and many, a private teak veranda. That's why every Silversea suite is indulgently spacious, and beautifully furnished. Freshen up in your Italian marble bathroom with a choice of luxury amenities to suit your personal taste.
To make a reservation please contact us directly at 831.659.0151 or email us at Cruises@MmMmTravel.com. For additional information about this enchanting voyage, please fill out the form below and we will respond to your request within 1 business day via email. Please remember that our response to your query may accidentally be directed to your junk mail folder.