Embark on a splendid journey with Cyril & Blakesley Chappellet of Chappellet Winery along two of Europe's most alluring rivers, the Rhine and Moselle through Luxembourg, Germany, France & Switzerland. In between, expand your imagination in fairytale villages—enchanting Cochem where folklore and history come alive in every street, and in well-preserved Bernkastel with its medieval Market Square and half-timbered houses. Whimsical fantasies also come to life at Siegfried's Mechanical Museum and at the Palace Gardens of Schwetzingen, a cultural heritage site of European significance with more than 100 sculptures scattered throughout its surprising landscape. Then blend Italian and German heritage throughout the way in Trier, with its Roman Imperial Baths; and Strasbourg built on a foundation of German and French heritage, and you have the most splendid journey. An optional pre cruise in Paris and post cruise in Lucerne & Zurich provide the perfect beginning and ending to your journey. Reservations made with MmMmTravel ensure your participation in all Chappellet Winery events aboard.
Exclusive Savings: Guests of MmMmTravel & Chappellet Winery receive an exclusive $250 per person savings!
Please Note: This voyage has extremely limited availability.Please contact MmMmTravel at (831) 659-0151 or Cruises@MmMmTravel.com for today's most up to date availability.

MmMmTravel & AMAWaterways Wine Cruise Highlights:
Only guests who make their reservations through MmMmTravel will experience a private Chappellet Winery Wine-Paired Dinner in the 24-seat Chef's Table with Cyril & Blakesley Chappellet of Chappellet Winery.
A welcome reception, three tasting seminars, two wine paired dinners hosted by Cyril & Blakesley Chappellet of Chappellet Winery, wine themed shore excursions, and a Wine-Paired CHAINE des ROTISSEURS dinner.
SPACIOUS STATEROOMS
7 nights luxury accommodation in an outside stateroom
Computer for internet access
Entertainment-On-Demand in all staterooms featuring free high-speed internet access, movies, a music library and English language TV stations
Mini-fridge, desk and sitting area
Bottled water replenished daily
AN ARRAY OF AMENITIES
Wellness Program with a dedicated Wellness Host leading various exercise classes as well as discussions on healthy eating and relaxation techniques, both on board and on shore.
Personalized service from a highly trained Cruise Manager during both cruise and land programs
Internet and Wi-Fi access
Sun deck pool with swim-up bar and walking track
Fitness room, massage services and hair salon
Main Lounge with panoramic views and bar
Daily entertainment including cultural performances
AWARD-WINNING DINING
All onboard dining in a variety of venues
Regionally inspired cuisine made with locally sourced ingredients
The Chef's Table specialty restaurant
Welcome Cocktail, Welcome Dinner, La Chaîne des Rôtisseurs Dinner, Captain's Cocktail and Gala Dinner
La Chaîne des Rôtisseurs exclusive dining experience
Unlimited fine wine, beer and soft drinks with lunch and dinner
Unlimited sparkling wine and fresh juice with breakfast
Sip & Sail Daily Cocktail Hour with complimentary wine, beer, spirits and soft drinks
Tapas, sandwiches, snacks and refreshments served daily in the Main Lounge
A WORLD OF EXPLORATION
Immersive tours in every destination
Gentle, regular, active and late-riser tour options
Bike tours and hikes
Special Interest Tours
Knowledgeable guides
Personal headset for easy exploration
Airport transfers with purchase of air from AmaWaterways
OPTIONAL LAND PROGRAMS
OPTIONAL 3-night Paris Pre-Cruise, $1,200 per person: 3 nights hotel in Paris at the Renaissance Arc de Triomphe or the Renaissance Paris Le Parc Trocadero (or similar), including city tour and daily breakfast, and transfer from the hotel in Paris to Luxembourg via high-speed TGV train with Luxembourg city tour en route
OPTIONAL 4-night Lucerne & Zurich Post-Cruise, $1,560 per person: Transfer from ship in Basel to Lucerne with Basel highlights tour en route, 2 nights hotel in Lucerne at the Hotel Schweizerhof Lucerne (or similar), including walking tour, Lion Monument and daily breakfast, Transfer to Zurich via scenic Lake Lucerne, 2 nights hotel in Zurich at the Marriott Zurich (or similar), including city tour and daily breakfast
Transfers between hotel and ship are included with the purchase of cruise and land package; airport transfers are included with the purchase of airfare from AmaWaterways
2019 Date
Destination
Activities

August 5-8: Optional 3-Night Paris AMAWaterways Pre-Cruise Program

Aug 8,Th

Luxembourg, Luxembourg

EMBARKATION

Welcome Reception followed by a private 5-course Chappellet
wine-paired dinner in the Chef's Table hosted by Cyril & Blakesely
(MmMmTravel Exclusive!).
Aug 9, F
Trier, Germany
"Rome of the North" tour
 
Bernkastel, Germany
Walking tour and wine tasting
 
 
OR Landshut Castle hike
Aug 10, Sa
Cochem, Germany
Reichsburg Castle and walking tour
 
 
OR Reichsburg Castle hike OR Bundesbank Bunker vault tour OR Cochem bike tour
 
Moselle Valley
Scenic cruising
 
Lahnstein, Germany
Exclusive festive celebration
Aug 11, Su
Rhine Gorge
Castles along the Rhine scenic cruising
 
Rüdesheim, Germany
Gondola ride and wine tasting
 
 
OR Vineyard hike OR Schloss Johannisberg bike tour
 
 
Siegfried's Mechanical Music Museum
 
 
OR Rüdesheimer Coffee
Aug 12, M
Ludwigshafen, Germany
"Romantic Heidelberg" excursion
 
 
OR Mannheim Baroque Palace OR Schwetzingen Gardens
Aug 13, Tu
Strasbourg, France
"The Gem of the Alsace" tour
 
 
OR Strasbourg bike tour
 
 
Alsatian wine tasting
Aug 14, W
Breisach, Germany
Riquewihr walking tour and wine tasting
 
 
OR Freiburg excursion and wine tasting
 
 
OR Breisach wine country bike tour OR Black Forest
 
Basel, Switzerland
Overnight in Basel
Aug 15, Th
Basel, Switzerland
DISEMBARKATION

August 15-19: Optional 4-Night Lucerne & Zurich AMAWaterways Post-Cruise Program
* Text in Bold = AMAWaterways River Cruise. Text in Italics = optional pre & post cruise. Flights and transfers are only included if flight arrangements are purchased through AMA Waterways in conjunction with the cruise.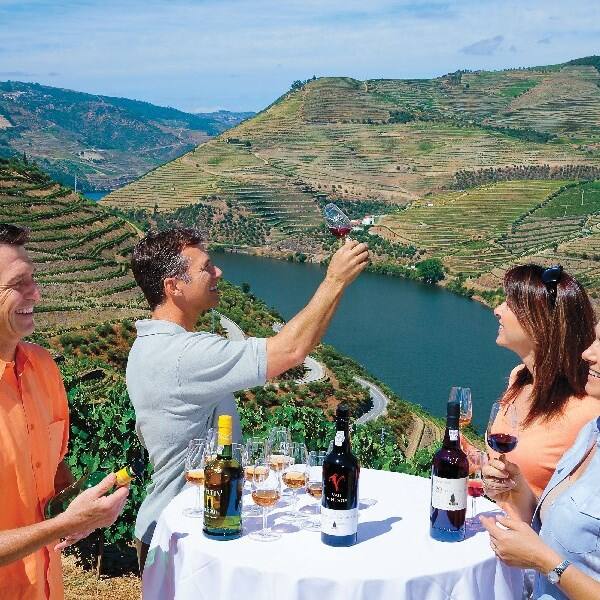 Your Cruise-Only Fares are listed per person, in USD, based on double occupancy.  Included in your AMAWaterways cruise fare are complimentary shore excursions daily in every port, tours and tastings at local wineries and private cellars, onboard wine pairings with award-winning cuisine, complimentary WiFi, Unlimited select red and white wines from Europe's great wine regions, beer and soft drinks with every lunch and dinner on board, all meals included, bicycles to explore on your own and guided bicycle tours, onboard music performances. Past guests of AMAWaterways receive an additional $100 per person savings off of fares below. Chappellet Winery activities will take place during August 8-15, 2019. Only guests booking through MmMmTravel will all have access to all Chappellet events. 
Exclusive Savings: Guests of MmMmTravel & Chappellet Winery receive an exclusive $250 per person savings (as reflected in fares below)!
Please Note: This voyage has extremely limited availability. Please contact MmMmTravel at (831) 659-0151 or Cruises@MmMmTravel.com for today's most up to date availability.
Stateroom Category
Chappellet & MmMmTravel
7-Night
Cruise Fares
AMA 3-night Paris
Pre Cruise  
AMA 4-night Lucerne & Zurich Post Cruise  
Category E: Piano Deck
Fixed Windows, 170 sq. ft.
 $3,349
$1,200
$1,560
Category D: Piano Deck
Fixed Windows, 170 sq. ft.
 $3,648
$1,200
$1,560
Category C: Violin & Cello Decks
French Balcony, 170 sq. ft.
 $4,248
$1,200
$1,560
Category B: Violin & Cello Decks
French Balcony, 170 sq. ft.
 $4,448
$1,200
$1,560
Category A: Violin Deck
French Balcony, 170 sq. ft.
 $4,548
$1,200
$1,560
Suite: Violin Deck
French Balcony, 255 sq. ft.
 $5,748
$1,200
$1,560
*Fares are per person based on double occupancy in US dollars. Fares do not include port charge of $182 per person. Solo traveler fares available upon request. Fares will increase as ship fills.  Fares shown does not guarantee availability. A $400 per person deposit plus insurance costs if chosen secures you the best available pricing and stateroom locations. A reservation through MmMmTravel ensures invitations to a private Chappellet Winery  wine-paired dinner in The Chef's Table restaurant aboard.  Additional restrictions may apply. Please call for more information. Other conditions may apply, see AMAWaterway's Terms & Conditions and Passenger Contract for more deails. CST# 1005871-40.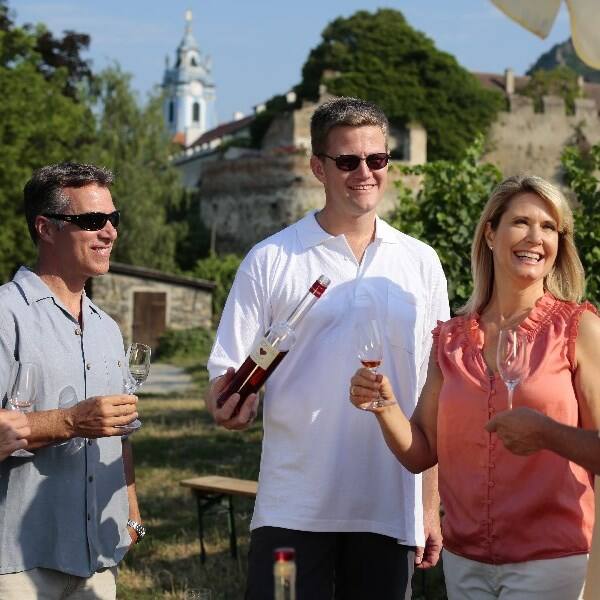 AUGUST 8: CRUISE EMBARKATION in LUXEMBOURG, LUXEMBOURG: Celebrate your journey with a welcome aboard wine toast. (D)
August 9: TRIER, GERMANY & BERNKASTEL, GERMANY: Trier, Germany's oldest city, has often been referred to as the second Rome. Be guided to the Roman Imperial Baths, the Porta Nigra and Emperor Constantine's Throne Room. During the afternoon, sail the Moselle River to Bernkastel, strategically located in the middle of the Moselle Valley's wine-producing region. Walk through the colorful Old Town center and past many medieval buildings before enjoying a wine tasting at a local winery. For those who prefer to be more active, trek up to the ruins of Landshut Castle, which dates all the way back to the 9th century. (B,L,D)
August 10: COCHEM, GERMANY & LAHNSTEIN, GERMANY: History comes to life in Cochem with its half-timbered houses and Reichsburg Castle. Join a guided tour through the castle, situated high above the town, and then walk through its Old Town. For those wishing to have a more active exploration of the area, you can go on a guided hike to the castle. Or for a different adventure, explore the Bundesbank Bunker to get a closer look at this mysterious Cold War era bank vault. Later in the day, sail along the Moselle taking in the fascinating scenery of Europe's steepest vineyards before arriving in Lahnstein where you'll enjoy an exclusive festive celebration. (B,L,D) 
August 11: RHINE GORGE & RÜDESHEIM, GERMANY: Cruise through the captivating UNESCO-designated Rhine Gorge, the most stunningly beautiful stretch of the river before reaching the winemaking town of Rüdesheim. Drink up the stunning views by soaring high above the vineyards with a gondola ride to the Niederwalddenkmal Statue and afterwards be treated to a wine tasting. For a more active adventure, hike through the town's beautiful vineyards or join a guided bike tour along the scenic Rhine River to Schloss Johannisberg. Later in the day, let Siegfried's Mechanical Music Museum charm you with its remarkable collection of self-playing musical instruments; or taste one of the town's special delights, Rüdesheimer Coffee, ceremoniously made with brandy, coffee and whipped cream. (B,L,D)
August 12, LUDWIGSHAFEN, GERMANY: Discover a grand Baroque palace, one of Mark Twain's favorite European towns or one of the most whimsical gardens in the Europe on choice of excursions. Relive a bygone era on an excursion to the glorious Mannheim Baroque Palace. Tour this splendid palace furnished with over 800 exhibits, including 21 large tapestries, ornate furniture, priceless paintings, valuable porcelain and costly silverware. Prefer to visit the town Mark Twain fell in love with, then join on a tour to Heidelberg, a perfectly preserved medieval city nestled in the Neckar River Valley along Germany's Castle Road. You'll see the red-walled castle with its Great Vat, an 18th-century 49,000-gallon wine cask and the old city. Alternatively, visit Schwetzingen Palace Gardens, a cultural heritage site of European significance. Wander through the gardens with more than 100 sculptures and admire an assortment of whimsical buildings. The Apollotempel, houses a statue of the ancient Greek god of light and the arts, playing the lyre; the Badehaus, a summerhouse modelled on an Italian villa; and the most spectacular, the Türkischer Garten with a mosque designed by Nicolas de Pigage, the largest structure of its kind in a German garden— are a few of the many highlights you will see. (B,L,D)
August 13, STRASBOURG, FRANCE: Strasbourg, the capital city of Alsace, has flavors of both France and Germany because of its borderline location, which you'll get to discover. Enjoy a panoramic bus tour past the stunning Parc de l'Orangerie, the European Parliament and the Place de la République followed by a walking tour through its iconic "La Petite France" district, which appears to have been lifted straight from the pages of a fairytale. You'll also see the Cathédrale de Nôtre Dame with its famous astronomical clock. The active adventurer can join a guided Old Town bike tour, which also takes you through the Parc de l'Orangerie. Later in the afternoon, be treated to a special Alsatian wine tasting of some of the region's most delicious and notable wine. Discover how the Vosges Mountains provide the Alsace with ideal wine making conditions, and as such, Alsatian wines are not only delightful on the palate, but they're also highly praised for their fragrant aromas, ranging from bright and fruity to crisp and spicy. (B,L,D)
August 14, BREISACH, GERMANY & BASEL, SWITZERLAND: Breisach is your gateway to several different excursions, depending on your interests. Step back in time with a visit to the enchanting Alsatian town of Riquewihr, which looks almost the same as it did in the 16th century. On your walking tour, admire historic architecture as well as famous sights, such as the Dolder Gate. While there, enjoy a visit to a winery for a tasting of locally produced Alsatian wines. Alternatively, you may wish to go to Freiburg, founded in 1120 and home to the Freiburg's Münster, a Gothic cathedral said to have "the most beautiful spire on earth." You'll visit a winery where you will have the opportunity to taste their locally produced wines, and then continue with a walking tour. Those wishing a more active excursion can cycle through the scenic countryside; or go to the Black Forest, a magical land full of cultural traditions, as well as home to elaborate cuckoo clocks, striking half-timber houses, ruined castles and quaint towns. (B,L,D)
AUGUST 15: BASEL, SWITZERLAND – DISEMBARKATION
AMAWaterways Pre & Post Cruise Options
Pre Cruise, August 5-8:
3 Nights in Paris
, $1,200 per person
Post Cruise August 15-19:
2 Nights in Lucerne & 2 Nights in Zurich, $1,560 per person
AMAWaterways PARIS Pre Cruise: August 5-8, 2018 ($1,200 per person)

August 5: ARRIVE IN PARIS, FRANCE:

Arrive in Paris and check-in to your hotel. 

August 6:  PARIS, FRANCE: Enjoy a morning tour of Paris, taking in all its iconic sites. Later in the day, visit Montmartre, long known as the city's premier artist's enclave. During the mid to late 1800s, artists also began calling Montmartre home. Pissarro and Jongkind were two of the first to live there, followed by other notable artists, including Edgar Degas, Henri Matisse, Toulouse-Lautrec, Pierre-Auguste Renoir and Pablo Picasso. For easy access to Montmartre, you'll hop aboard the funicular railroad that ascends the hill. Montmartre's most recognizable landmark is the Basilica du Sacré-Coeur, constructed from 1876 to 1912. The white dome of this Roman Catholic basilica sits at the highest point in the city. After your visit to Montmartre, you'll be taken on an illumination tour, discovering why Paris is renowned as the "City of Light." (B)
August 7: PARIS, FRANCE: You'll visit one of the world's most renowned museums, the Musée d'Orsay. Housed in the train station building, constructed by Victor Laloux for the 1900 World Fair, the Orsay is a national museum devoted to all the arts between 1848-1914. The various artistic movements represented include Academism, Realism, Impressionism, Symbolism and Art Nouveau. Among the featured artists are Cézanne, Courbet, Daumier, Degas, Gauguin, Manet, Millet, Monet, Pissarro, Renoir, Rodin, Seurat, Sisley and Van Gogh. (B)
August 8, PARIS, FRANCE & LUXEMBOURG, LUXEMBOURG Transfer / Embarkation: Bid au revoir to Paris as you board your TGV high-speed train that will whisk you away to Luxembourg, one of Europe's last independent duchies. Enjoy a guided walking tour as well as a stop at the American Cemetery and Memorial, the final resting place of General George Patton, before boarding your luxury ship. Celebrate your journey with a welcome aboard wine toast. (B,D)
AMAWaterways LUCERNE & ZURICH Post Cruise: August 15-19, 2019 ($1,560 per person) 
August 15, BASEL, SWITZERLAND & LUCERNE, SWITZERLAND:

Disembark the ship and before transferring to Lucerne, go on a highlights tour of Basel. One of Switzerland's most cosmopolitan cities, Basel is home to 40 museums (the highest concentration in the nation), a picturesque Old Town and richly decorated Market Square, a 500-year-old Rathaus (town hall) and Switzerland's oldest zoo (built in 1870 and home to 600 animal species and exotic flora). Once in Lucerne, you'll discover the unrivalled beauty and charm of this pristine city on a walking tour. Stroll along Chapel Bridge, admiring the stunning gable paintings above. The mighty mountains of Mount Pilatus and Rigi overlook the swans that glide along the scenic lake and are part of Lucerne's everlasting allure. Afterwards, check into your hotel and enjoy a leisurely evening. (B) 

August 16,  LUCERNE, SWITZERLAND: The iconic Lion Monument, which you'll visit, was sculpted in memory for the Swiss Guards massacred during the French Revolution in 1792. It has captured the hearts and minds of visitors for centuries, including Mark Twain who praised it as "the most mournful and moving piece of stone in the world." You'll also visit the spectacular medieval walls and towers, dating back to the 13th century. Located around the Musegg Wall area, the towers rise high over the city, giving great panoramic views of Lucerne, the Reuss River and the surrounding mountain scenery. There are a total of nine towers, including one featuring the oldest clock in the city. (B)
August 17, LUCERNE, SWITZERLAND &  ZURICH, SWITZERLAND: Check out of your hotel and board a boat for a scenic cruise across the tranquil waters of Lake Lucerne, surrounded by spectacular mountain scenery, to Vitznau. Once in Vitznau, you'll transfer via motorcoach to Zurich, traveling past scenic landscapes and Alpine lakes. Once in Zurich, you'll check into your hotel. (B)
August 18, ZURICH, SWITZERLAND: Set alongside a glistening lake and framed by the Alps, Switzerland's largest city, Zurich, seamlessly blends its historic past with its progressive future—all of which will be on full display during your city tour. One of the top experiences in Zurich is a visit to Old Town where you will find yourself amongst medieval houses, churches and the modern Bahnhofstrasse, a mile-long street featuring exclusive fashion boutiques, stores and street cafés. (B)
August 19, DEPART ZURICH, SWITZERLAND: Check out of your hotel and prepare for your return flight home. (B)
About AMADante: The 144-passenger AmaDante is spacious with elegantly appointed staterooms ranging in size from 170-225 sq. ft. You can always indulge even more in one of the suites at 255 sq. ft. Most staterooms have a French balcony. Additional stateroom amenities include Entertainment-On-Demand, featuring free high-speed Internet access, unlimited Wi-Fi, movies, music and English language TV stations; climate-controlled air conditioning; and an in-room safe. In the marble bathroom, enjoy multi-jet showerheads, soothing bath and body products, robes and hair dryers. Suites feature added enhancements, including a larger sitting area with sofa and two chairs, and an expansive bathroom complete with a bathtub and separate shower. The AmaDante offers a host of added comforts and conveniences, including a sauna, whirlpool, massage and hair salon, a stylish and inviting Main Lounge, and specialty coffee station. As a member of La Chaîne des Rôtisseurs, the exclusive international culinary society, you'll be treated to exquisite, locally-inspired cuisine always paired with unlimited wine, as well as beer and soft drinks with lunch and dinner. You'll also enjoy a variety of dining venues, including The Chef's Table specialty restaurant, featuring an exquisite tasting menu prepared right before your eyes. With a walking track on the Sun Deck, a fitness room and a fleet of onboard bicycles to use on your own or on one of the many guided bike tours, as well as healthy menu choices, you'll have everything needed to stay active and healthy while sailing Europe's great rivers.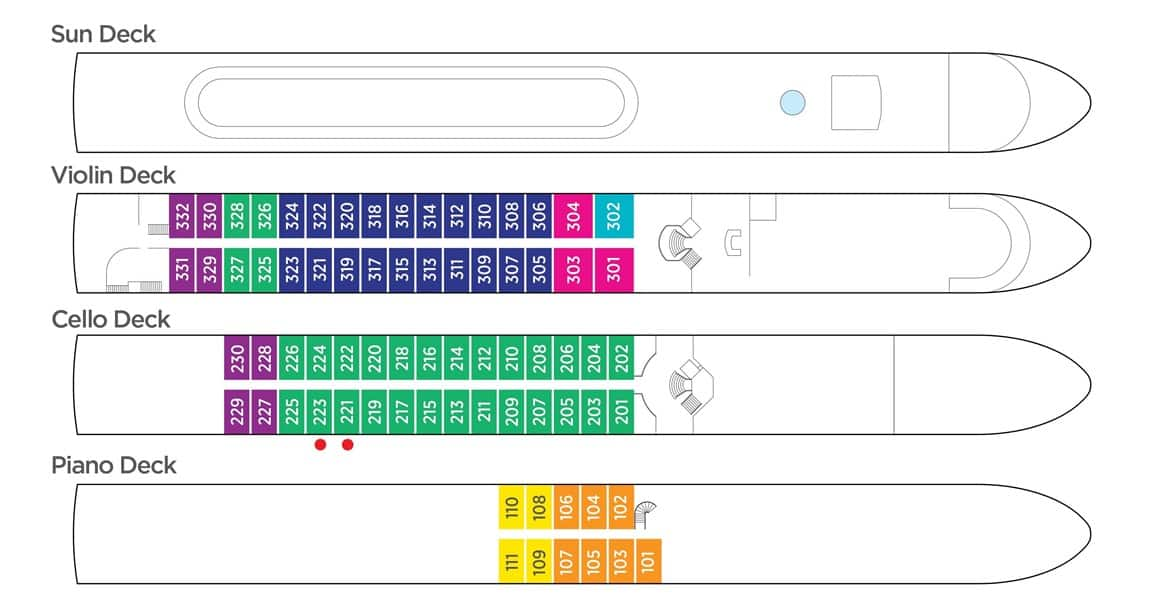 About Chappellet Winery
"Chappellet is a wine-lover's wine: eloquent to the sentient." — Hugh Johnson
The Chappellet's romance with Pritchard Hill began when Donn Chappellet first glimpsed the mountain's spectacular vistas in the late 1960s. Inspired by the notion that "Bacchus loves the hills" and following the advice of legendary winemaker Andre Tchelistcheff, he settled his family on the rocky eastern slopes of the Napa Valley. There, on Pritchard Hill's serene hillsides the Chappellet family has cultivated their mountain vineyard to produce some of the Napa Valley's most acclaimed Bordeaux varietal wines.
Since being founded in 1967, Chappellet has established Pritchard Hill as one of California's most revered winegrowing sites, fulfilling Donn's vision of producing singular wines from his family's mountain vineyard. Today, true to their parents' ongoing passion for the grand, natural landscape of Pritchard Hill, a second generation of the Chappellet family has embraced the mountain's exceptional terroir and is committed to stewarding their father's vision for generations to come.
Your Hosts: Cyril & Blakesley Chappelet
Moving to a home in the middle of the vineyards when he was 10 years old, Cyril Chappellet's course in life was influenced by the romance of the vineyards and the growth of Napa Valley's wine industry. The eldest son of Molly & Donn Chappellet, Cyril was encouraged to make his own career choices and explore life away from the family winery. After studying farm management at Cal Poly and completing his business education at Pepperdine University, Cyril began his career in corporate planning and acquisitions working on the East-coast for an oil and insurance company. In 1988, with nearly 10 years of business experience under his belt, Cyril returned to Pritchard Hill, excited by the challenges Chappellet faced in an ever-changing industry. Cyril says his goal was "to continue what my father started, making extraordinary wines that express the unique growing conditions of Pritchard Hill."
Responsible for the winery's national sales and marketing, Cyril spends the bulk of his time traveling around the country visiting key accounts and hosting wine events. Avoiding the use of an official title, Cyril observes, with typical candor, that his responsibilities are not clearly defined. When he is on Pritchard Hill, Cyril can be found driving a forklift, barbecuing for winery guests or repairing a piece of vineyard equipment. "Doing whatever it takes is the nature of a family business," says Cyril.
In addition to his work at the winery, Cyril serves on the boards of the Wine Service Co-Op and the Napa Valley Vintners. He is an exceptional chef and enjoys casual entertaining at home. Cyril, his wife Blakesley and their two dogs, Haole and Boomer, live on Pritchard Hill.
About AMAWaterways
When you travel with AmaWaterways, you do more than simply visit a destination – you experience it in a truly authentic and in-depth way. It begins with a champagne welcome as you step aboard and meet our courteous crew and your fellow passengers, many of whom you will consider friends by the end of your journey. You will also meet a personable and knowledgeable Cruise Manager who will be with you every step of the way, even on your optional pre-cruise or post-cruise land program. It is this attention to detail that distinguishes AmaWaterways from all the rest and keeps our satisfied guests coming back again and again.
We thoughtfully plan our itineraries to maximize your enjoyment of the scenery, history and atmosphere of your chosen destination. Marvel at the ever-changing views through the panoramic windows in your ship's Main Lounge or from our expansive outdoor decks. Visit famous landmarks and explore "hidden gems." Taste bold new flavors and delicious regional specialties, with menus designed by our revered team of classically-trained chefs. And every evening, there is onboard entertainment provided by local musicians and performers for you to enjoy.
Rest assured you will have ample time for socializing and relaxation, too. Our ships feature comfortable lounges, lively bar areas, swimming pools or whirlpools, salons and fitness rooms. At the end of the day, you will be pampered with turn-down service, plush linens, and peace and quiet for a good night's sleep. Tomorrow, there is more to see and experience.
A Hotel That Travels with You: Rivers were once Europe's "highways" across the continent, serving as life-sustaining links between the continent's grandest capitals. Nowadays, your river cruise ship is a "floating hotel" that can often dock right in the heart of these historic cities, steps away from top cultural attractions and historic sites. Beautiful river views and superb locations…and you only have to unpack once! Daily shore excursions with expert guides will show you the "must see" sights of your destination, visiting famous landmarks as well as hidden gems.
An Intimate Onboard Setting: Every vessel in our luxurious European fleet has a capacity limited to no more than 164 passengers, allowing for truly personalized service in a warm and friendly atmosphere.
State-of-the-art Public Spaces: AmaWaterways' custom-designed ships offer comfortable lounges with panoramic windows, inviting dining rooms, cozy libraries stocked with books and games, and a choice of enticing dining venues.
Onboard Entertainment: Whether it's traditional Bavarian music, a "Sound of Music" sing-along, a classical quartet, or contemporary piano favorites, you will enjoy an eclectic schedule of onboard entertainment every night.
With Our Compliments: AmaWaterways offers a generous selection of complimentary amenities on all European voyages, including in-room Internet access, Wi-Fi and Infotainment (with movies, music and satellite TV). All of your onboard meals are included, along with unlimited fine wine, beer and sodas with lunch and dinner. AmaWaterways also provides complimentary bottled water, specialty coffees and teas throughout your cruise. In addition, your cruise price includes enriching shore excursions with expert guides in every port and bicycles for exploring on your own or on a guided bike tour.
Health & Beauty: Pamper your body and rejuvenate your spirit any time during your river cruise. Our Massage, Beauty and Hair Salon offers a variety of treatments. Your ship also has a Fitness Studio, Sun Deck walking track, sauna (select ships), and a heated whirlpool or swimming pool with swim-up bar.
For additional information, please fill out the form below and we will respond to your request within 1 business day. Please remember that our response to your query may accidentally be directed to your junk mail folder.  To make a reservation please contact us directly at (831) 659-0151 or cruises@MmMmTravel.com.