Dive deep into turquoise waters, climb high into emerald forests, sip cocktails on white sands, or just lose yourself in the rhythm of steel drums; the Caribbean has it all.  Starting in Bridgetown, weave your way through the melting pot of sights and sounds, color and charisma of Barbados, St. Lucia, Grenada, Trinidad and Tobago, St Vincent, Martinique, Guadalupe and the British Virgin Isles before Fort Lauderdale calls us home. Along the way enjoy wine paired dinners, receptions, tastings and more with Pam Starr & Norm Larsen of Crocker & Starr and Gayle & Tom Nelson of Villa Vigne (Casali Members), aboard Silversea's 298 guest Silver Wind!   To make a reservation please contact MillenniuM Travel directly at 831.659.0151 or email us at Cruises@MmMmTravel.com.
Exclusive Offers:
Be Mine Savings:

Book through

February 14-28, 2020 and save up to $1,000 per suite
Air Offer: Book by March 31, 2020 and benefit from Free Economy Air Roundtrip
Guests of MillenniuM Travel will:  
Enjoy receptions featuring Crocker & Starr and Villa Vigne wines hosted by Pam Starr & Norm Larsen of Crocker & Starr and Gayle & Tom Nelson of Villa Vigne. 
Participate in multiple Crocker & Starr and Villa Vigne wine dinners lead by Pam Starr & Norm Larsen and Gayle & Tom Nelson.
Savor an included Crocker & Starr and Villa Vigne paired dinner in La Dame by Relais & Chateaux sponsored by MillenniuM Travel.
Receive added shipboard credit for guests paying with unbranded American Express Platinum or Centurion cards.
All-suite, All-inclusive 10-day Silversea Silver Wind cruise Includes:
Exclusive Wine activities hosted by Pam Starr & Norm Larsen of Crocker & Starr and Gayle & Tom Nelson of Villa Vigne (MillenniuM Travel guest Exclusive).
Spacious suites – most with private verandas aboard an intimate vessel with only 298 guests
Personalized service – nearly one crew member for every guest
Butler service in every suite – all guests are pampered equally
Open-seating dining options – dine when and with whomever you please
Diversity of dining venues – casual, romantic, regional delicacies, and gourmet cuisine inspired by Relais & Châteaux
Beverages in-suite and throughout the ship – select wines, premium spirits, specialty coffees and soft drinks, plus your own tailored mini-bar
In-suite dining and 24-hour room service – always complimentary, always available
Sophisticated entertainment from live music to production shows
Enrichment lecturers, acclaimed chefs and destination consultants
Complimentary transportation into town in most ports
Gratuities always included in your fare
Free WiFi throughout the ship (daily limit applies)
2020 Date
Port
Arrival & Departure
March 27, F
BRIDGETOWN, BARBADOS

Embark 1pm / sail 11pm

Crocker & Starr and Villa Vigne Welcome Reception & Wine Dinner under the stars*

March 28, Sa
CASTRIES,  SAINT LUCIA

8am / 7pm

March 29, Su
ST. GEORGE'S, GRENADA

8am / 10pm

March 30, M
SCARBOROUGH, TRINIDAD & TOBAGO

8am / 6pm

March 31, Tu
BEQUIA ISLAND, SAINT VINCENT & THE GRENADINES

8am / 11pm

April 1, W
FORT-DE-FRANCE, MARTINIQUE

8am / 5pm

Champagne Reception followed by Crocker & Starr and Villa Vigne Gala 5-course Wine Dinner in La Dame by Relais & Chateaux*

April 2, Th
GUSTAVIA (ST. BARTHELEMY), GUADELOUPE

9am / 11pm

April 3, F
JOST VAN DYKE, BRITISH VIRGIN ISLANDS

8am / 2pm

April 4, Sa
DAY AT SEA

Crocker & Starr and Villa Vigne private Wine Tasting, followed by casual lunch*

April 5, Su
DAY AT SEA

Crocker & Starr and Villa Vigne Farewell Reception & Wine Dinner in La Terrazza *   

April 6, M
FORT LAUDERDALE, FLORIDA, USA

Disembark am
*Itinerary, events, times, and locations subject to final confirmation once aboard ship. Invitations will be delivered the evening prior to all Crocker & Starr and Villa Vigne exclusive  events and a Guest Itinerary will be mailed with MillenniuM Travel guests' cruise documents.
Exclusive Offers:
Be Mine Savings:

Book through

February 14-28, 2020 and save up to $1,000 per suite
Free Airfare: Book by March 31, 2020 and enjoy Free Round Trip Economy Airfare from select US airports*
Suites
MillenniuM Travel Fares
with Economy Air
MillenniuM Travel Fares
Without Air
OWNERS SUITE 2bdrm: 827 ft² Midship, including veranda
Waitlist
Waitlist
OWNERS SUITE 1bdrm: 587 ft² Midship, including veranda
Waitlist
Waitlist
GRAND SUITE 2bdrm: 1,314 ft² FWD, including veranda
Waitlist
Waitlist
GRAND SUITE 1bdrm: 1,019 ft² FWD, including veranda
Waitlist
Waitlist
ROYAL SUITE 2bdrm: 1,031  ft² FWD, including veranda
Waitlist
Waitlist
ROYAL SUITE 1bdrm: 736 ft² FWD, including veranda
Waitlist
Waitlist
SILVER SUITE: 581 ft² including veranda
Waitlist
Waitlist
MEDALLION SUITE: 667 ft² including veranda
Waitlist
Waitlist
DELUXE VERANDA SUITE: 295 ft² including veranda
$6,500
$6,000
CLASSIC VERANDA SUITE: 295 ft² including veranda
Waitlist
Waitlsit
VISTA SUITE: 240 ft² ocean-view window
$5,000
$4,500
*MillenniuM Travel Fares are per person based on double occupancy in US dollars. Fares above include a $200 per person add-collect over Silversea's promotional cruise fares to help offset shipping and other expenses associated with getting the wines to the ship for our private events. Solo traveler fares and triple rates available upon request. Fares will increase as ship fills.  Fares shown does not guarantee availability. A 25% deposit secures you the best available pricing and suite locations. To receive American Express Amenities, guests must use an unbranded American Express Platinum or Centurion card for final payment. A reservation through MmMmTravel ensures invitations to private receptions and dinners, including a 5-course wine-paired dinner in La Dame by Relais & Chateaux.  Free transfers available only for guests utilizing Silversea air offer. Economy Class Air is provided on domestic US/Canada flights and intra-European flights from select US and Canadian gateways. Offer applies to new bookings made by January 31, 2020. Promotional air offer is valid only for guests from the United States and Canada. In the event economy class air is unavailable (determined at Silversea's sole discretion), a non-use Air credit in the amount of $500 per person may be applied to your booking. Silversea reserves the right to select the air carrier, routing and departure airport from each gateway city. Airline baggage fees are not included. Deviations to air travel dates are accepted at a charge of $150 per request plus all additional air costs. Due to flight schedules, some voyages may require an overnight hotel stay pre or post-cruise, available at an additional charge. Minimum number of guests required for Crocker & Starr and Villa Vigne to host. Other conditions may apply, see Silversea's Terms & Conditions for more details. CST# 1005871-40. Silversea ship's registry: Bahamas. Please call MillenniuM Travel for more details.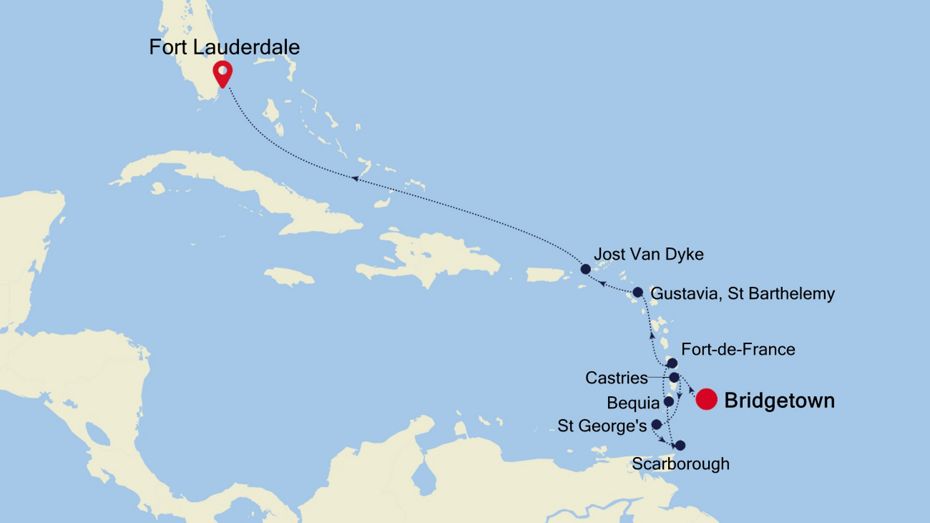 Bridgetown, the captivating capital of Barbados, combines faded colonial history, captivating tradition, and vivid white beaches plucked directly from your richest imagination of Caribbean perfection. Recently listed as a UNESCO World Heritage site, thanks to its beautifully preserved colonial architecture, Bridgetown's mask of modernity covers a core of complex history and fascinating culture. Sherbet coloured buildings line up to overlook the waterfront of the Constitution River at the 'The Careenage' – where gleaming ships bob on the blue water, and peaceful strolls along a wooden boardwalk await. Stop for a sobering moment at the commemorative plaque honouring the people traded at this spot, when Bridgetown was the British Empire's most important harbour, and first stop on the Transatlantic Slave Trade crossing.
Explore a land of vibrant colour, from the tranquil turquoise water that surrounds it, to the verdant green peaks of its famous soaring volcanic plugs – The Pitons; which give this mesmerising island its form. Waterfalls thunder in the jungled interior, should you successfully drag yourself from St Lucia's gleaming beaches and dive spots – where patchworks of colourful fish dance below the waves. Offering the picturesque island luxury of your wildest dreams, St. Lucia is a cinematic, thrilling Caribbean idyl. Marigot Bay served as the tropical backdrop for 1967's Doctor Dolittle film, and the island's amiable animal life is never too far away – spot flashes of bright red, as parrots zip between palm trees, before catching sight of dolphins splashing playfully offshore. Vigie beach is a charmed spot to lie back and recline in the sun's glow, watching as overlapping layers of mesmerising blue hues intertwine. St.Lucia's iconic Pitons mountains deliver as the perfect backdrop to any envy generating photograph – rising up exponentially from the calm waters like sharp shark fins.
Nutmeg, cinnamon, cloves, cocoa those heady aromas fill the air in Grenada (pronounced gruh-nay-da). Only 21 miles (33½ km) long and 12 miles (19½ km) wide, the Isle of Spice is a tropical gem of lush rain forests, white-sand beaches, secluded coves, exotic flowers, and enough locally grown spices to fill anyone's kitchen cabinet. St. George's is one of the most picturesque capital cities in the Caribbean, St. George's Harbour is one of the most picturesque harbors, and Grenada's Grand Anse Beach is one of the region's finest beaches. The island has friendly, hospitable people and enough good shopping, restaurants, historic sites, and natural wonders to make it a popular port of call. About one-third of Grenada's visitors arrive by cruise ship, and that number continues to grow each year. Grenada's capital is a bustling West Indian city, much of which remains unchanged from colonial days.
Together, the islands of Trinidad and Tobago make up a state and as such are an independent member of the British Commonwealth. Located just off the coast of Venezuela, both islands are excellent getaways offering different attractions. While Trinidad pulses with life, the smaller and unspoiled island of Tobago is the place for a restful and relaxing holiday. Most of its appeal lies in the beautiful scenery and the availability of outdoor activities. The tourist area is concentrated on the southwestern end, about six miles from the island's capital of Scarborough. The recently completed deep water harbor with its new cruise terminal has helped to spruce up the town a bit. Although not warranting an extended visit, Scarborough features interesting Botanic Gardens, a few historical buildings and the well-maintained Fort King George, located above the town.
An almost mythical utopia of virgin beaches, rustic rum shacks and bays so scenic you feel like you're intruding – Bequia Island is an island mirage of Caribbean perfection. This is the real, unspoiled experience – and with just 6,000 locals living here, you quickly start to recognise the same smiling faces, welcoming you with outstretched arms. Offering glorious – often deserted – beaches of pure golden sand, and hillside sweeps of forest and almond trees, Bequia Island is an extraordinary feast for the senses. Unlike some of the flashier Caribbean islands, Bequia – a part of the Grenadines – is a rustic, unassuming and off-the-beaten-path choice. The staggeringly picturesque natural harbour, Admiralty Bay, greets you on arrival, and is peppered with day-tripping yachts bobbing on the gentle waves.
The largest of the Windward Islands, Martinique is 4,261 mi (6,817 km) from Paris, but its spirit and language are decidedly French, with more than a soupçon of West Indian spice. Tangible, edible evidence of the fact is the island's cuisine, a superb blend of French and creole. Martinique is lushly landscaped with tropical flowers. Trees bend under the weight of fruits such as mangoes, papayas, lemons, limes, and bright-red West Indian cherries. Acres of banana plantations, pineapple fields, and waving sugarcane stretch to the horizon. The towering mountains and verdant rain forest in the north lure hikers, while underwater sights and sunken treasures attract snorkelers and scuba divers. 
You can easily explore all of Gustavia during a two-hour stroll. Some shops close from noon to 3 or 4, so plan lunch accordingly, but stores stay open past 7 in the evening. Parking in Gustavia is a challenge, especially during vacation times. A good spot to park is rue de la République, alongside the catamarans, yachts, and sailboats.

Jost Van Dyke, four miles long, is truly known as the 'barefoot island'. The smallest of the British Virgin Islands, it is known as a popular destination for yachts and is celebrated for its casual lifestyle, protected anchorages, fine beaches and beachfront restaurants and bars. The island has fewer than 200 inhabitants and they are widely known as a welcoming people. The island's name conjures up its rich, colorful past. Jost Van Dyke is said to have been named for an early Dutch settler, a former pirate. At Great Harbour, Little Harbour, and White Bay there are safe, protected bays and pristine beaches shaded with coconut palms and seagrape trees. Discover inviting shops selling local treasures, restaurants, and bars. 'The Painkiller', one of the Caribbean's most popular drinks, originated at the Soggy Dollar Bar. 
Like many southeast Florida neighbors, Fort Lauderdale has long been revitalizing. In a state where gaudy tourist zones often stand aloof from workaday downtowns, Fort Lauderdale exhibits consistency at both ends of the 2-mile Las Olas corridor. The sparkling look results from upgrades both downtown and on the beachfront. Matching the downtown's innovative arts district, cafés, and boutiques is an equally inventive beach area, with hotels, cafés, and shops facing an undeveloped shoreline, and new resort-style hotels replacing faded icons of yesteryear. Despite wariness of pretentious overdevelopment, city leaders have allowed a striking number of glittering high-rises. Nostalgic locals and frequent visitors fret over the diminishing vision of sailboats bobbing in waters near downtown; however, Fort Lauderdale remains the yachting capital of the world, and the water toys don't seem to be going anywhere.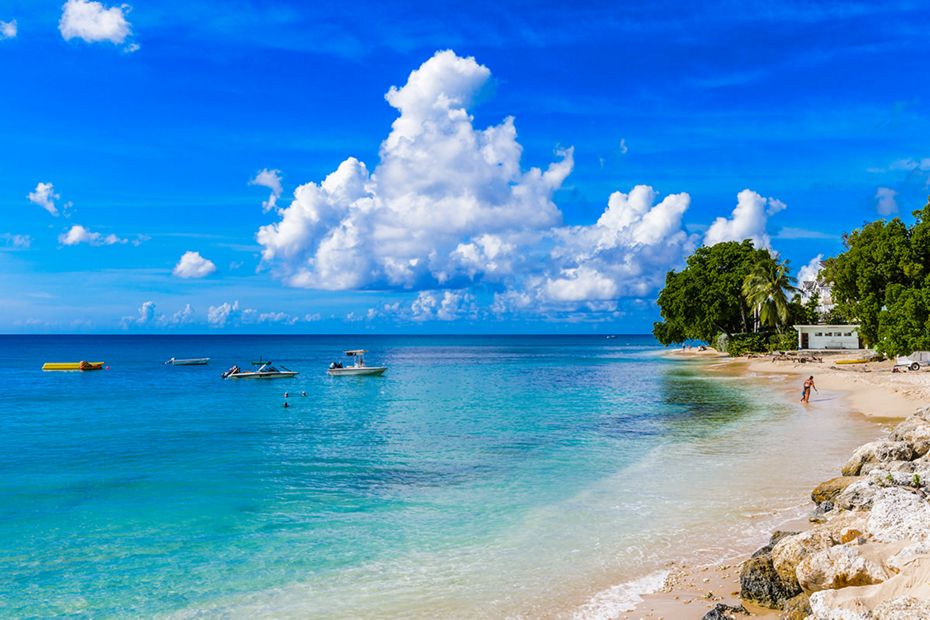 MmMmTravel can help you with more than just your cruise. We are here to assist you with all of your vacation plans including pre & post cruise hotels, transfers, tours and more to ensure you truly experience a "Taste of Life".  You can search through our luxury partnered hotel options using the links below.  If you need any assistance or have any questions regarding your pre and post cruise travel plans, please don't hesitate to contact us at (831) 659-0151 or Cruises@MmMmTravel.com. 
Pam Starr, Owner & Winemaker of Crocker & Starr
Pam Starr has been the co-owner, manager and winemaker of Crocker & Starr since its inception in 1997 when she helped resurrect the vineyards on the Crocker Estate in St. Helena and established a winery to create world-class wines. After toiling as a winery employee for 18 years, Pam's transformation at a relatively young age into owner, manager and winemaker was unique and remarkable. It required a special mix of skill, passion and dedication. All of which describe Pam Starr.
Pam's love affair with winemaking began as a harvest intern for Sonoma Cutrer in Sonoma after graduating from the University of California at Davis in 1984 with a degree in Fermentation Science. Headed down a different path, the daughter of an orthopedic surgeon who was planning to go to dental school quickly switched gears. Attracted by the fast pace, the pleasures of working the land and the wine itself, Pam knew she'd found her calling. "I was simply smitten – the way one is when falling madly in love. Winemaking is mysterious, it's sexy, it's magical." And it's been her life since.
After the internship, Pam worked for Edna Valley Vineyard in San Luis Obispo stacking barrels for a season. Her dream of becoming a winemaker began to take shape. For the next six years she was an enologist and assistant winemaker for Carmenet Winery in Sonoma, a job that taught her how to run a winery from cellar to bottle. In 1991, she became the winemaker for Spottswoode Vineyard & Winery in Napa Valley where she worked until she and Charlie Crocker established Crocker & Starr and she built the foundation of the business. At the same time Crocker & Starr opened its doors, Pam began wine consulting for Adastra Vineyard in the Carneros, Gemstone Vineyard in Yountville and Garric Cellars of Calistoga, among others.
Passionate about translating terroir into wine, Pam is known for her distinctive Bordeaux-style blends that express a deep sense of place. For this enthusiastic and inspired winemaker who views her job as translating soil into wine, great wine must taste of the sun, of the earth it comes from and of the place it grows.
Pam is a member of the Napa Valley Vintners, Appellation St. Helena, American Society of Enology and Viticulture, Concierge Alliance Napa Valley and Wine Entre Femme, an international consortium of women winemakers. She is married, lives in Napa and embraces mountain biking, scuba diving, water skiing, sailing, gardening and motorcycling wine roads with her husband. Pam's dog Griffin, a Wirehaired Pointing Griffon, is her loyal vineyard companion.
Gayle and Tom Nelson, Villa Vigne
Tom and Gayle moved to the Napa Valley in 1989 to follow a dream of living in wine country. They purchased a small parcel of land near the Town of Yountville where they spent 2 years rebuilding the main house "Villa Vigne". A few years later, the vineyard was planted with Cabernet Sauvignon, Merlot and Cabernet Franc. Prior to producing wine from the Villa Vigne vineyard, Tom tried his hand at making wine from Zinfandel and Chardonnay grapes sourced from other vineyards in the Napa Valley. 2003 marked the first vintage of Red Table Wine from the Villa Vigne vineyard, a blend of Cabernet, Merlot and Cab Franc. Thirteen vintages followed until 2016 when a new vineyard was planted with Cabernet Sauvignon and Gayle's favorite, Sauvignon Blanc. The first vintage from the new vineyard will be 2019.
Tom retired in 2018 after working in the process automation marketplace for 44 years. Prior to retirement, he enrolled in the UC Davis Extension Winemaking Certification Program which he completed in 2012. Although Tom and Gayle do not sell their wine, they do share with family and friends as well as donate to local charities.
Award winning Silver Wind has all the hallmarks of extreme luxury at sea. With some of the largest suites at sea, and a guest to staff ratio of almost 1 to 1, Silversea prides itself on their unswerving dedication to their guests. Silversea's Silver Wind captures the essence of Silversea Cruises, with spacious suites, an intimate number of guests (only 298), superior service – paired with a lively sophisticated atmosphere and enhanced amenities.
Headquartered in Monte Carlo,  Silversea's small luxury ships are designed for those who delight in the thrill of discovery while indulging mind and body in the most lavish surroundings imaginable. All accommodations are spacious, ocean-view suites and most  include butler service and private verandas. Silversea voyages and cruise expeditions sail to over 800 destinations on all seven continents, more than any other cruise line. Our intimate, ultra-luxury ships can sail up narrow waterways into the heart of a city, or tie up right at the pier while others must anchor off shore.   Enjoy the convenience, ease and comfort of an  all-inclusive cruise fare that includes almost all of your discretionary onboard expenses.
Intimate Boutique Ships: Our 9 small luxury ships can show you the world in a far more personal, meaningful way. They can glide into small, secluded harbors or transport you on an expedition to some of the most remote regions of the globe.  In the evening. return to gracious hospitality reflecting our Italian heritage and cherish the relaxed, friendly camaraderie  among guests in the lounges and open bars where faces quickly become familiar and conversation strikes a common chord.
Polished to Perfection: Silversea is passionate about service and profoundly committed to maintaining the highest standards. Service is richly personalized, genuine and caring, every wish, every need is discretely anticipated. With the experienced, highly trained personnel of a top luxury cruise line and a staff to guest ratio of nearly one to one, service excellence is guaranteed aboard Silversea ships.
Global Flavors for Worldly Travelers: Renowned for culinary excellence Silversea's luxury cruises offer a choice of open-seating dining options throughout the fleet, as well as several specialty venues aboard all non-expedition ships.   Changing daily menus present a wide range of offerings including Continental, vegetarian and healthy selections, as well as regional specialties unique to the destination.
Your Suite is Your Sanctuary: Silversea offers one of the highest space-per-guest ratios of any luxury cruise accommodations. All of our suites feature ocean views, and many, a private teak veranda. That's why every Silversea suite is indulgently spacious, and beautifully furnished. Freshen up in your Italian marble bathroom with a choice of luxury amenities to suit your personal taste.
To make a reservation please contact us directly at 831.659.0151 or email us at Cruises@MmMmTravel.com. For additional information about this enchanting voyage, please fill out the form below and we will respond to your request within 1 business day via email. Please remember that our response to your query may accidentally be directed to your junk mail folder.