This delightful 11 day begins in Venice, the city of bridges, before sailing south to circle the boot of Italy. Along the way visit the famous UNESCO walled city of Dubrovnik, and the alluring seaport of Otranto, before stopping in Valletta known for its ornate palaces and grandiose gardens. Our visit to Taormina will introduce you to all new Sicilian flavors, before visiting the picturesque city of Sorrento with opportunities to visit the Amalfi Coast, Pompeii or Capri. We'll visit Porto Cervo on the chic isle of Sardinia, the Antinori Wine estate in Bolgheri, Tuscany, and the enchanting village of Portofino, long known havens for the Italian glitterati, to soak in ancient Italian history and postcard worthy scenery. Our journey ends in the elegant city of Monte Carlo with its prominent casinos and riveting nightlife. However you choose to fill your day understated luxury awaits on Silversea's 382 guest Silver Whisper where you will enjoy multiple restaurants, large suites, divine exclusive DAOU Vineyards & Winery activities & more.   To make a reservation please contact MmMmTravel directly at 831.659.0151 or email us at Cruises@MmMmTravel.com.
Exclusive Offer:
Free Airfare:

Book by

July 31, 2019

and enjoy

Free Round Trip Economy Airfare

or Business Class Airfare from $699 each way from select US airports*
Guests of MmMmTravel will:  
Enjoy receptions featuring DAOU Vineyards & Winery wines hosted by Georges & Daniel Daou, proprietors of DAOU Vineyards & Winery.
Participate in multiple DAOU Vineyards & Winery wine dinners lead by Georges & Daniel Daou, proprietors of DAOU Vineyards & Winery.
Savor an included DAOU Vineyards & Winery wine paired dinner in La Terrazza sponsored by MmMmTravel.
Receive added shipboard credit for guests paying with unbranded American Express Platinum or Centurion cards.
All-suite, All-inclusive 11-day Silversea Silver Whisper cruise Includes:
Exclusive Wine activities hosted by Georges & Daniel Daou, proprietors of DAOU Vineyards & Winery (MmMmTravel guest Exclusive).
Spacious suites – most with private verandas aboard an intimate vessel with only 382 guests
Personalized service – nearly one crew member for every guest
Butler service in every suite – all guests are pampered equally
Open-seating dining options – dine when and with whomever you please
Diversity of dining venues – casual, romantic, regional delicacies, and gourmet cuisine inspired by Relais & Châteaux
Beverages in-suite and throughout the ship – select wines, premium spirits, specialty coffees and soft drinks, plus your own tailored mini-bar
In-suite dining and 24-hour room service – always complimentary, always available
Sophisticated entertainment from live music to production shows
Enrichment lecturers, acclaimed chefs and destination consultants
Complimentary transportation into town in most ports
Gratuities always included in your fare
Free WiFi throughout the ship (daily limit applies)
View photo's from last year's cruise for a "Taste" of what's to come in 2019!
DATE
PORT
ARRIVE
DEPART

June 26, W

VENICE, ITALY

Embark 1pm

11pm

DAOU Welcome Reception  & Wine Dinner under the stars*

June 27, Th

DAY AT SEA

June 28, F

DUBROVNIK, CROATIA

8am

7pm

Optional Private Group Shore Excursion (fee)*

June 29, Sa

OTRANTO, ITALY

8am

6pm

June 30, Su

DAY AT SEA

Mid Day DAOU Vineyards Wine Tasting with Silversea Chef's Cooking demo*

Evening Champagne Reception followed by Gala DAOU  wine dinner in La Terrazza*

July 1, M

VALLETTA, MALTA

8am

10pm

July 2, Tu

GIARDINI NAXOS (TAORMINA), SICILY, ITALY

8am

6pm

July 3, W

SORRENTO, ITALY


Optional Amalfi Coast private shore excursion (fee)*

8am

6pm

July 4, Th

OLBIA, SARDINIA, ITALY

9am

8pm

July 5, F

LIVORNO, TUSCANY, ITALY

8am

10pm

Optional private group shore excursion to Antinori Wine-Estate in Bolgheri (fee)*

July 6, Sa

PORTOFINO, ITALY

8am

11:30pm

DAOU Vineyards Farewell Reception & Wine Dinner*

July 7, Su

MONTE CARLO, MONACO

Disembark am
*Events, times, locations subject to final confirmation once aboard ship.  All DAOU Vineyards & Winery onboard wine events are included for you as a guest of DAOU Vineyards & Winery and MmMmTravel.  Exclusive optional shore excursions are offered through MmMmTravel at an additional fee, details will be announced at a later date. Finalized Guest Itinerary will be mailed with cruise documents. As a reminder, only guests booked through MmMmTravel may participate in all DAOU Vineyards & Winery events. 
Exclusive Offers:
Free Airfare: Book by July 31, 2019

 and enjoy

Free Round Trip Economy Airfare or Business Class Airfare from $699 each way from select US airports*
Suite Dimensions
MmMmTravel Fares with
Free Economy Air if
booked by July 31
MmMmTravel Cruise Only
Fares (Air Not Included)
OWNERS SUITE 2bdrm: 1,264 ft² Midship, including veranda
Waitlist
Waitlist
OWNERS SUITE 1bdrm: 919 ft² Midship, including veranda
Waitlist
Waitlist
GRAND SUITE 2bdrm: 1,286 ft² FWD, including veranda
Waitlist
Waitlist
GRAND SUITE 1bdrm: 941 ft² FWD, including veranda
Waitlist
Waitlist
ROYAL SUITE 2bdrm: 1,312 ft² FWD, including veranda
Waitlist
Waitlist
ROYAL SUITE 1bdrm: 967  ft² FWD, including veranda
Waitlist
Waitlist
SILVER SUITE: 653 ft² including veranda
Waitlist
Waitlist
MEDALLION SUITE: 521 ft² including veranda
Waitlist
Waitlist
V4: VERANDA SUITE: 345 ft² including veranda
Waitlist
Waitlist
V3: VERANDA SUITE: 345 ft² including veranda
Waitlist
Waitlist
V2: VERANDA SUITE: 345 ft² including veranda
Waitlist
Waitlist
V1: VERANDA SUITE: 345 ft² including veranda
Waitlist
Waitlist
VISTA SUITE: 287 ft² ocean-view window
Waitlist
Waitlist
*MmMmTravel Fares are per person based on double occupancy in US dollars. Fares above include a $200 per person add-collect over Silversea's promotional cruise fares to help offset shipping and other expenses associated with getting the wines to the ship for our private events. Solo traveler fares and triple rates available upon request. Fares will increase as ship fills.  Fares shown does not guarantee availability. A 25% deposit secures you the best available pricing and suite locations. To receive American Express Amenities, guests must use an unbranded American Express Platinum or Centurion card for final payment. A reservation through MmMmTravel ensures invitations to private receptions and dinners. Minimum number of guests required for DAOU Vineyards & Winery to host. Free transfers available only for guests utilizing Silversea air offer. Economy Class Air is provided on domestic US/Canada flights and intra-European flights from select US and Canadian gateways.. Offer applies to new bookings made by July 31, 2019. Promotional air offer is valid only for guests from the United States and Canada. In the event economy class air is unavailable (determined at Silversea's sole discretion), a non-use Air credit in the amount of $900 per person may be applied to your booking. Silversea reserves the right to select the air carrier, routing and departure airport from each gateway city. Airline baggage fees are not included. Deviations to air travel dates are accepted at a charge of $150 per request plus all additional air costs. Due to flight schedules, some voyages may require an overnight hotel stay pre or post-cruise. This will be available for booking at an additional charge. Silversea's Terms & Conditions apply. Please call for more information. Other conditions may apply, see Silversea's Terms & Conditions for more details. CST# 1005871-40. Silversea ship's registry: Bahamas. Please call MmMmTravel for more details.
Venice is a city unlike any other. No matter how often you've seen it in photos and films, the real thing is more dreamlike than you could imagine. With canals where streets should be, water shimmers everywhere. The fabulous palaces and churches reflect centuries of history in what was a wealthy trading center between Europe and the Orient. Getting lost in the narrow alleyways is a quintessential part of exploring Venice, but at some point you'll almost surely end up in Piazza San Marco, where tourists and locals congregate for a coffee or an aperitif.
Dubrovnik is one of the world's most beautiful fortified cities (recently famous for it's Game of Thrones scenes)Its massive stone ramparts and splendid fortress towers curve around a tiny harbor, enclosing graduated ridges of sun-bleached orange-tiled roofs, copper domes, and elegant bell towers. In the 7th century AD, residents of the Roman city Epidaurum (now Cavtat) fled the Avars and Slavs of the north and founded a new settlement on a small rocky island, which they named Laus, and later Ragusa. On the mainland hillside opposite the island, the Slav settlement called Dubrovnik grew up.
Located right in the heel of the Italian boot, Otranto's scenic landscape often plays the protagonist in displaying the beauty of Puglia, Italy's easternmost region. Facing the Adriatic sea, the seducing weather and pristine waters have made it a popular destination where on a clear day, wanderers can see the coast of Albania. Like much of Italy, the city boasts a rich and mixed history. Once a Greek and Roman port, it was later occupied by the Byzantines, the Normans and the Spanish before the Ottoman invaded in during their Jihad to conquer Europe.
Malta's capital, the minicity of Valletta, has ornate palaces and museums protected by massive fortifications of honey-color limestone. Houses along the narrow streets have overhanging wooden balconies for people-watching from indoors. Generations ago they gave housebound women a window on the world of the street. The main entrance to town is through the City Gate (where all bus routes end), which leads onto Triq Repubblika (Republic Street), the spine of the grid-pattern city and the main shopping street.
The medieval cliff-hanging town of Taormina's natural beauty is hard to dispute. The view of the sea and Mt. Etna from its jagged cactus-covered cliffs is as close to perfection as a panorama can get—especially on clear days, when the snowcapped volcano's white puffs of smoke rise against the blue sky. Writers have extolled Taormina's beauty almost since it was founded in the 6th century BC by Greeks from nearby Naxos; Goethe and D. H. Lawrence were among its well-known enthusiasts.
Sorrento may have become a jumping-off point for visitors to Pompeii, Capri, and Amalfi, but you can find countless reasons to love it for itself. The Sorrentine people are fair-minded and hardworking, bubbling with life and warmth. The tuff cliff on which the town rests is spread over the bay, absorbing sunlight, while orange and lemon trees waft their perfume in spring. Winding along a cliff above a small beach and two harbors, the town is split in two by a narrow ravine formed by a former mountain stream.
Amid the resorts of Sardinia's northeastern coast, Olbia, a town of about 60,000, is a lively little seaport and port of call for mainland ferries at the head of a long, wide bay.San Simplicio Olbia's little Catholic basilica, a short walk behind the main Corso Umberto and past the train station, is worth searching out if you have any spare time in Olbia. The simple granite structure dates from the 11th century, part of the great Pisan church-building program, using pillars and columns recycled from Roman buildings.
Livorno is an enchanting city with a long and interesting history. In the early Middle Ages it alternately belonged to Pisa and Genoa. In 1421 Florence, seeking access to the sea, bought it. Cosimo I (1519–74) started construction of the harbor in 1571, putting Livorno on the map. After Ferdinando I de' Medici (1549–1609) proclaimed Livorno a free city, it became a haven for people suffering from religious persecution; Roman Catholics from England and Jews and Moors from Spain and Portugal, among others, settled here.
One of the most photographed villages along the coast, with a decidedly romantic and affluent aura, Portofino has long been a popular destination for the rich and famous. Once an ancient Roman colony and taken by the Republic of Genoa in 1229, it's also been ruled by the French, English, Spanish, and Austrians, as well as by marauding bands of 16th-century pirates. Elite British tourists first flocked to the lush harbor in the mid-1800s.
Monte Carlo, on one of the best stretches of the Mediterranean, is one of the most sought-after addresses in the world. Discover its Belle Époque by heading to the town's great 1864 landmark Hôtel de Paris—still a veritable crossroads of the buffed and befurred Euro-gentry— enjoy a grand bouffe at its famous Louis XV restaurant,  attend the opera, visit the ballrooms of the casino to conjure up Monaco's elegant past.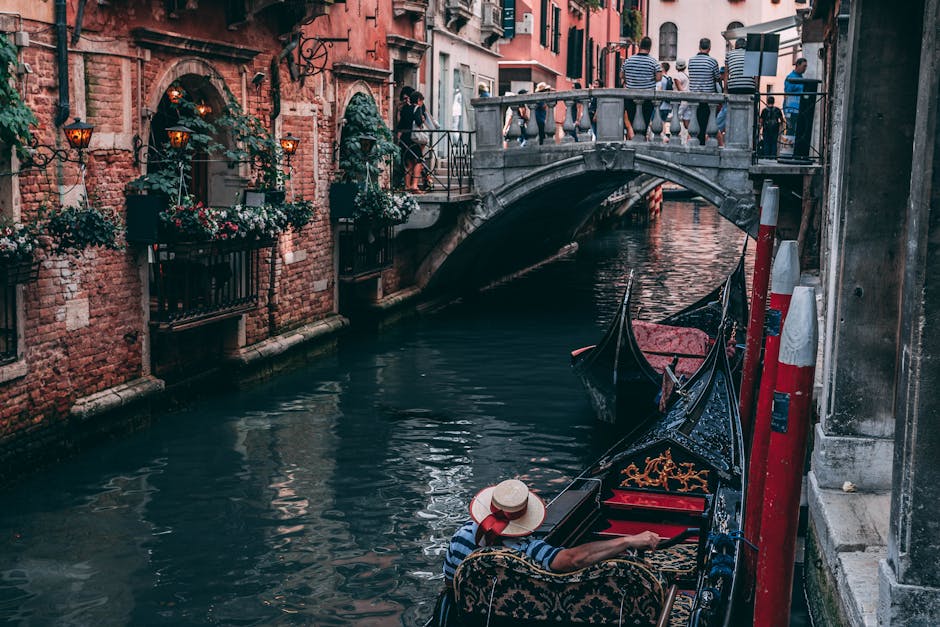 MmMmTravel can help you with more than just your cruise. We are here to assist you with all of your vacation plans including pre & post cruise hotels, transfers, tours and more to ensure you truly experience a "Taste of Life".  You can search through our luxury partnered hotel options using the links below.  If you need any assistance or have any questions regarding your pre and post cruise travel plans, please don't hesitate to contact us at (831) 659-0151 or Cruises@MmMmTravel.com. 
Georges J. Daou – Proprietor
With a head for business and a heart full of passion for life, Georges Daou oversees the marketing and branding of DAOU Vineyards, keeping his sharp eyes on the direction of the winery and the steady growth of the family's beloved vineyards. As children, Georges and his brother day-dreamed of a bucolic American ideal, replete with roaming cattle, ripening grapes and a thriving family culture.
Now, he wakes up most days simply amazed to discover that he's living that dream. A warm, philosophical and very social man, he is an avid golfer, cyclist, and polo player. This love of both people and the great outdoors feeds his irrepressible joie de vivre. Georges' attention to excellent terroir, great climate and the fine art of winemaking results in a unique experience not just for visitors to DAOU, but for wine connoisseurs around the world and, in fact, anyone who opens a bottle of DAOU wine. He looks forward to welcoming you to the top of DAOU Mountain, an inspiring place where life seems to stand still, and great times await. Visit the winery and taste it for yourself.
"Love is the most powerful emotion in Life and we hope to enhance it when you visit us at DAOU Mountain. In the end, our story and message is in the bottle" – Georges Daou
Daniel J. Daou – Winemaker & Proprietor
You could say that all of Daniel Daou's aspirations for his ideal vineyard and winemaking experience have been reached.  The confluence of geography, climate, viticulture, and opportunity has allowed him to become the winemaker he always wanted to be. Winemaking is far more than just a job for Daniel. It's a highly contagious passion, particularly for Cabernet Sauvignon, that is reflected in his wines. Although his prime motivation is passion, his background as an engineer informs his every decision as a winemaker. Daniel goes to extraordinary lengths, such as employing methods only used in producing first-growth Bordeaux, to ensure that his wines are balanced with nonintrusive tannins to provide structure for the full bodied fruit while the wine matures, first in the barrel and later in the bottle. In the vineyard, he walks a fine line by letting the grapes struggle, yet never crossing over to the point where the vines would shut down.
Often, friends and fans of his wines describe Daniel as a man both charismatic and passionate, yet always ready to listen to others. He is seen as a committed member of the community whose drive and resources will take Paso Robles to a whole new level. For Daniel, putting his cherished family name on the bottle means everything. What's inside the bottle must warrant that privilege, so every day he thinks about how to ensure the level of excellence he expects from his wines.
"It's rare to have all the elements needed to achieve perfect balance and ripeness in a terroir. We found all these elements on our mountain and work hard to capture that magic from vineyard to bottle" – Daniel J. Daou
Silver Whisper will undergo a complete refurbishment in December, 2018 to maintain the sophistication that Silveresa is famous for with a  club-like environment cosmopolitan guests appreciate. With some of the largest suites at sea, and a guest to staff ratio of almost 1 to 1, Silversea prides itself on their unswerving dedication to their guests. Silversea's Silver Whisper captures the essence of Silversea Cruises, with spacious suites, an intimate number of guests (only 382), superior service – paired with a lively sophisticated atmosphere and enhanced amenities.
About Silversea Cruises
Headquartered in Monte Carlo,  Silversea's small luxury ships are designed for those who delight in the thrill of discovery while indulging mind and body in the most lavish surroundings imaginable. All accommodations are spacious, ocean-view suites and most  include butler service and private verandas. Silversea voyages and cruise expeditions sail to over 800 destinations on all seven continents, more than any other cruise line. Our intimate, ultra-luxury ships can sail up narrow waterways into the heart of a city, or tie up right at the pier while others must anchor off shore.   Enjoy the convenience, ease and comfort of an  all-inclusive cruise fare that includes almost all of your discretionary onboard expenses.
Intimate Boutique Ships: Our 9 small luxury ships can show you the world in a far more personal, meaningful way. They can glide into small, secluded harbors or transport you on an expedition to some of the most remote regions of the globe.  In the evening. return to gracious hospitality reflecting our Italian heritage and cherish the relaxed, friendly camaraderie  among guests in the lounges and open bars where faces quickly become familiar and conversation strikes a common chord.
Polished to Perfection: Silversea is passionate about service and profoundly committed to maintaining the highest standards. Service is richly personalized, genuine and caring, every wish, every need is discretely anticipated. With the experienced, highly trained personnel of a top luxury cruise line and a staff to guest ratio of nearly one to one, service excellence is guaranteed aboard Silversea ships.
Global Flavors for Worldly Travelers: Renowned for culinary excellence Silversea's luxury cruises offer a choice of open-seating dining options throughout the fleet, as well as several specialty venues aboard all non-expedition ships.   Silver Spirit has six restaurants to choose from; rather remarkable for a ship hosting only 540 guests.  Changing daily menus present a wide range of offerings including Continental, vegetarian and healthy selections, as well as regional specialties unique to the destination.
Your Suite is Your Sanctuary: Silversea offers one of the highest space-per-guest ratios of any luxury cruise accommodations. All of our suites feature ocean views, and many, a private teak veranda. That's why every Silversea suite is indulgently spacious, and beautifully furnished. Freshen up in your Italian marble bathroom with a choice of luxury amenities to suit your personal taste.
To make a reservation please contact us directly at 831.659.0151 or email us at Cruises@MmMmTravel.com. For additional information about this enchanting voyage, please fill out the form below and we will respond to your request within 1 business day via email. Please remember that our response to your query may accidentally be directed to your junk mail folder.