Drink in the beauty, history and flavor of the Rhine and Moselle river valleys' iconic vineyards. Begin your journey with an optional 3 day pre-cruise in Parisian paradise, discovering the city's iconic landmarks. Set sail in Luxembourg and sip wines in the winemaking villages of Bernkastel, where you'll learn the legend of the Bernkasteler Doctor, and Rüdesheim, where you can soar above the vineyards or hike through them. Head to Cologne for a taste of the city's famous Kölsch beer and complete your journey with a gentle ride through Amsterdam's legendary canals. Whatever you choose to do ashore, the stories you're told and flavors that grace your palate will surely transform you. Reservations made with MillenniuM Travel ensure your participation in all De Tierra Vineyards events aboard.
Exclusive Be Mine Savings: Book through February 14-28, 2020 and receive an exclusive $750 per person savings!
MillenniuM Travel & AMAWaterways Wine Cruise Highlights:
Only guests who make their reservations through MillenniuM Travel will experience a private De Tierra Vineyards Wine-Paired Dinner in the 24-seat Chef's Table with Alix Bosch & Dan McDonnal, Owners of De Tierra!
SPACIOUS STATEROOMS
7 nights luxury accommodation in an outside stateroom
Computer for internet access
Entertainment-On-Demand in all staterooms featuring free high-speed internet access, movies, a music library and English language TV stations
Mini-fridge, desk and sitting area
Bottled water replenished daily
AN ARRAY OF AMENITIES
Wellness Program with a dedicated Wellness Host leading various exercise classes as well as discussions on healthy eating and relaxation techniques, both on board and on shore.
Personalized service from a highly trained Cruise Manager during both cruise and land programs
Internet and Wi-Fi access
Sun deck pool with swim-up bar and walking track
Fitness room, massage services and hair salon
Main Lounge with panoramic views and bar
Daily entertainment including cultural performances
AWARD-WINNING DINING
All onboard dining in a variety of venues
Regionally inspired cuisine made with locally sourced ingredients
The Chef's Table specialty restaurant
Welcome Cocktail, Welcome Dinner, La Chaîne des Rôtisseurs Dinner, Captain's Cocktail and Gala Dinner
La Chaîne des Rôtisseurs exclusive dining experience
Unlimited fine wine, beer and soft drinks with lunch and dinner
Unlimited sparkling wine and fresh juice with breakfast
Sip & Sail Daily Cocktail Hour with complimentary wine, beer, spirits and soft drinks
Tapas, sandwiches, snacks and refreshments served daily in the Main Lounge
A WORLD OF EXPLORATION
Immersive tours in every destination
Gentle, regular, active and late-riser tour options
Bike tours and hikes
Special Interest Tours
Knowledgeable guides
Personal headset for easy exploration
Airport transfers with purchase of air from AmaWaterways
OPTIONAL LAND PROGRAMS
OPTIONAL 3-night Paris Pre-Cruise, $1,200 per person: 3 nights hotel in Paris, including city tour and daily breakfast, and transfer from the hotel in Paris to Luxembourg via high-speed TGV train with Luxembourg city tour en route.
Transfers between hotel and ship are included with the purchase of cruise and land package; airport transfers are included with the purchase of airfare from AmaWaterways
2020 Date
Destination
Activities
March 30 – April 2: Optional 3-Night Paris AMAWaterways Pre-Cruise Program
April 2, Th
Luxembourg, Luxembourg
EMBARKATION
April 3, F
Trier, Germany
"Rome of the North" tour
    OR Petrisberg Hill hike
Bernkastel, Germany
Wine Tasting
April 4, Sa
Bernkastel, Germany
Walking tour
    OR Moselle bike tour
    OR Landshut Castle hike
Moselle Valley
Scenic cruising
April 5, Su
Cochem, Germany
Reichsburg Castle and walking tour
    OR Cochem Mustard Mill tour
    OR Bundesbank Bunker vault tour
    OR Cochem bike tour
April 6, M
Rüdesheim, Germany
Gondola ride and wine tasting
    OR Schloss Johannisberg bike tour
    OR Vineyard hike
Rhine Gorge
Castles along the Rhine scenic cruising
Lahnstein, Germany
Unique Lahneck Castle visit
April 7, Tu
Lahnstein, Germany
Scenic cruising
Cologne, Germany
Walking tour and cathedral visit
    OR Cologne bike tour
 
    OR Kölsch beer tasting
April 8, W
Amsterdam, Netherlands
Canal cruise
April 9, Th
Amsterdam, Netherlands
DISEMBARKATION
* Text in Bold = AMAWaterways River Cruise. Text in Italics = optional pre  cruise. Flights and transfers are only included if flight arrangements are purchased through AMA Waterways in conjunction with the cruise. De Tierra activities will take place between April 2-9, 2020.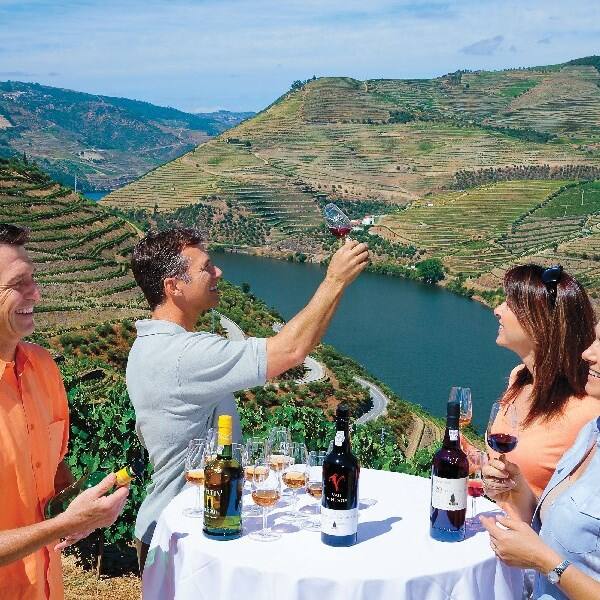 Your Cruise-Only Fares are listed per person, in USD, based on double occupancy.  Included in your AMAWaterways cruise fare are complimentary shore excursions daily in every port, tours and tastings at local wineries and private cellars, onboard wine pairings with award-winning cuisine, complimentary WiFi, Unlimited select red and white wines from Europe's great wine regions, beer and soft drinks with every lunch and dinner on board, all meals included, bicycles to explore on your own and guided bicycle tours, onboard music performances. De Tierra Vineyards activities will take place during April 2-9, 2020. Only guests booking through MillenniuM Travel will have access to all De Tierra Vineyards events.
Exclusive Be Mine Savings: Book through February 14-28, 2020 and receive an exclusive $750 per person savings, $50 per person onboard credit, and a complimentary stateroom upgrade (excluding suites)!
Stateroom Category
Millennium &
De Tierra 7-Night
Cruise Fares
AMA 3-night Paris
Pre Cruise  
Category E: Piano Deck
Fixed Windows, 170 sq. ft.
Waitlist
$1,200
Category D: Piano Deck
Fixed Windows, 170 sq. ft.
Waitlist
$1,200
Category C: Violin & Cello Decks
French Balcony, 170 sq. ft.
 $3,248
$1,200
Category B: Violin & Cello Decks
French Balcony, 170 sq. ft.
 $3,448
$1,200
Category A: Violin Deck
French Balcony, 170 sq. ft.
 $3,548
$1,200
Suite: Violin Deck
French Balcony, 255 sq. ft.
 $4,748
$1,200
*Fares are per person based on double occupancy in US dollars. Fares do not include port charge of $189 per person. Solo traveler fares available upon request. Fares will increase as ship fills.  Fares shown does not guarantee availability. A $400 per person deposit plus insurance costs if chosen secures you the best available pricing and stateroom locations. A reservation through MillenniuM Travel ensures invitations to a private De Tierra Vineyards wine-paired dinner in The Chef's Table restaurant aboard. De Tierra Vineyards has been invited by the owners of AMAWaterways to be the featured wine professionals aboard ship. They will host their California wine events for all guests aboard ship, alongside and amidst the region of Europe that you will be travelling. Please note that De Tierra Vineyards wine will be served for our wine paired dinner, and 3 wine lectures/tastings onboard for all guests aboard ship to enjoy. The specific days will be listed on the itinerary of your final cruise documents. All other evenings you will be able to enjoy the AMAWaterway's complimentary beer and wine collection of European wines onboard. A connoisseur list is available to purchase. Additional restrictions may apply. Please call for more information. Other conditions may apply, see AMAWaterway's Terms & Conditions and Passenger Contract for more deails. CST# 1005871-40.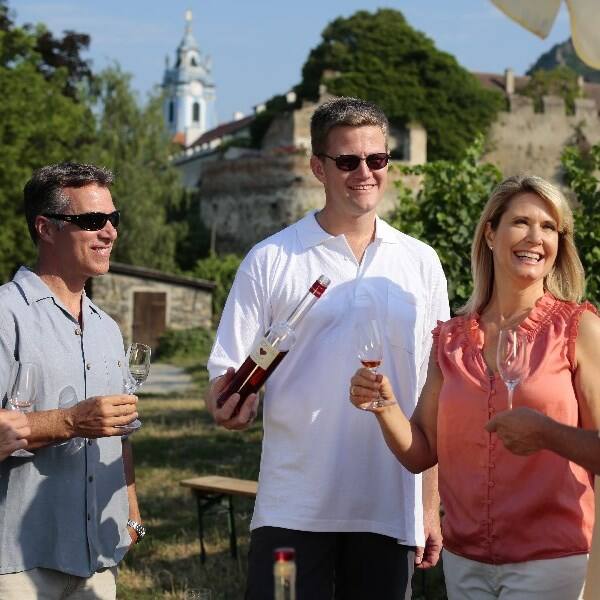 April 2: CRUISE EMBARKATION in LUXEMBOURG, LUXEMBOURG – Celebrate your journey with a welcome aboard wine toast. (D)
April 3: TRIER, GERMANY & BERNKASTEL, GERMANY – Trier, Germany's oldest city, has often been referred to as the second Rome. Be guided to the Roman Imperial Baths, the Porta Nigra and Emperor Constantine's Throne Room. Or hike to Petrisberg Hill, where you'll take in a spectacular view of the city and its glorious spires. Following your visit to Trier, cruise to Bernkastel, where you'll be treated to a tasting of the local wine. (B,L,D)
April 4: BERNKASTEL, GERMANY- Walk through Bernkastel's colorful Old Town center and past many medieval and Renaissance buildings on a guided tour that also includes a winery visit and tasting. Cycling enthusiasts can choose to join a bike tour along the Moselle and hikers can opt to trek up to the ruins of Landshut Castle, which dates all the way back to the 9th century. Later in the day, sit back and take in the breathtaking scenery as you cruise through the Moselle Valley. (B,L,D)
April 5: COCHEM, GERMANY – Cochem delights with its half-timbered houses and Reichsburg Castle. Join a guided tour through the castle and then walk through its Old Town. For those wishing to have a more active exploration of the area, you can go on a guided bike tour through Cochem. Or for a different adventure, tour one of Europe's oldest working mustard mills where you will sample Cochem's famous mustard. (B,L,D)
April 6: RÜDESHEIM, GERMANY & LAHNSTEIN, GERMANY – Drink up the stunning views of this winemaking village by soaring high above the vineyards with a gondola ride to the Niederwalddenkmal Statue, and afterwards be treated to a wine tasting. For a more active adventure, hike through the town's beautiful vineyards or join a guided bike tour along the scenic Rhine River to Schloss Johannisberg. Later in the day, cruise through the captivating UNESCO-designated Rhine Gorge, the most stunningly beautiful stretch of the river, before delighting in a unique visit to Lahneck Castle in Lahnstein. (B,L,D)
April 7: LAHNSTEIN, GERMANY & COLOGNE, GERMANY – Enjoy cruising to Cologne, home to one of Germany's most revered Gothic masterpieces, the Cologne Cathedral. Join a guided tour through the Old Town and explore the UNESCO-designated cathedral. Continue to the Cologne Rathaus, Germany's oldest town hall, the Overstolzenhaus and the Festival Hall. For a different view of the city, visit a local tavern to taste its famous Kölsch beer, only made in Cologne, and reibekuchen, potato pancakes typically served with applesauce. Active adventurists will want to join a guided bike ride along the Rhine. (B,L,D)
April 8: AMSTERDAM, NETHERLANDS – There are 165 canals in Amsterdam, and you'll get to enjoy some of them on your canal cruise. (B,L,D)
APRIL 9: AMSTERDAM, NETHERLANDS – DISEMBARKATION
AMAWaterways OPTIONAL PARIS Pre Cruise: March 30 – April 2, 2020 ($1,200 per person)

March 30: ARRIVE IN PARIS, FRANCE:

Arrive and check-in to your hotel.

March 31:  PARIS, FRANCE: Enjoy a morning tour of Paris, taking in all its iconic sites, including the Eiffel Tower, the Arc de Triomphe, the Champs-Élysées and Place de la Concorde. You'll pass the magnificent Opéra Garnier, the legendary Louvre and, on the Left Bank, the Sorbonne University and the Panthéon. (B)
April 1: PARIS, FRANCE: Visit Montmartre, long known as the city's premier artist's enclave. For easy access to Montmartre, you'll hop aboard the funicular railroad that ascends the hill. Montmartre's most recognizable landmark is the Basilica du Sacré-Coeur, the highest point in the city. After your visit to Montmartre, you'll be taken on an illumination tour. (B)
April 2: PARIS, FRANCE & LUXEMBOURG, LUXEMBOURG Transfer / Embarkation: Check out of your hotel and transfer by high-speed train to Luxembourg, where you'll enjoy a guided walking tour as well as a stop at the American Cemetery and Memorial, the final resting place of General George Patton. Later in the day, board the ship in Luxembourg for your cruise. (B,D)
For Post-Cruise options, please contact MillenniuM Travel.
About AMADante: The 144-passenger AmaDante is spacious with elegantly appointed staterooms ranging in size from 170-225 sq. ft. You can always indulge even more in one of the suites at 255 sq. ft. Most staterooms have a French balcony. Additional stateroom amenities include Entertainment-On-Demand, featuring free high-speed Internet access, unlimited Wi-Fi, movies, music and English language TV stations; climate-controlled air conditioning; and an in-room safe. In the marble bathroom, enjoy multi-jet showerheads, soothing bath and body products, robes and hair dryers. Suites feature added enhancements, including a larger sitting area with sofa and two chairs, and an expansive bathroom complete with a bathtub and separate shower. The AmaDante offers a host of added comforts and conveniences, including a sauna, whirlpool, massage and hair salon, a stylish and inviting Main Lounge, and specialty coffee station. As a member of La Chaîne des Rôtisseurs, the exclusive international culinary society, you'll be treated to exquisite, locally-inspired cuisine always paired with unlimited wine, as well as beer and soft drinks with lunch and dinner. You'll also enjoy a variety of dining venues, including The Chef's Table specialty restaurant, featuring an exquisite tasting menu prepared right before your eyes. With a walking track on the Sun Deck, a fitness room and a fleet of onboard bicycles to use on your own or on one of the many guided bike tours, as well as healthy menu choices, you'll have everything needed to stay active and healthy while sailing Europe's great rivers.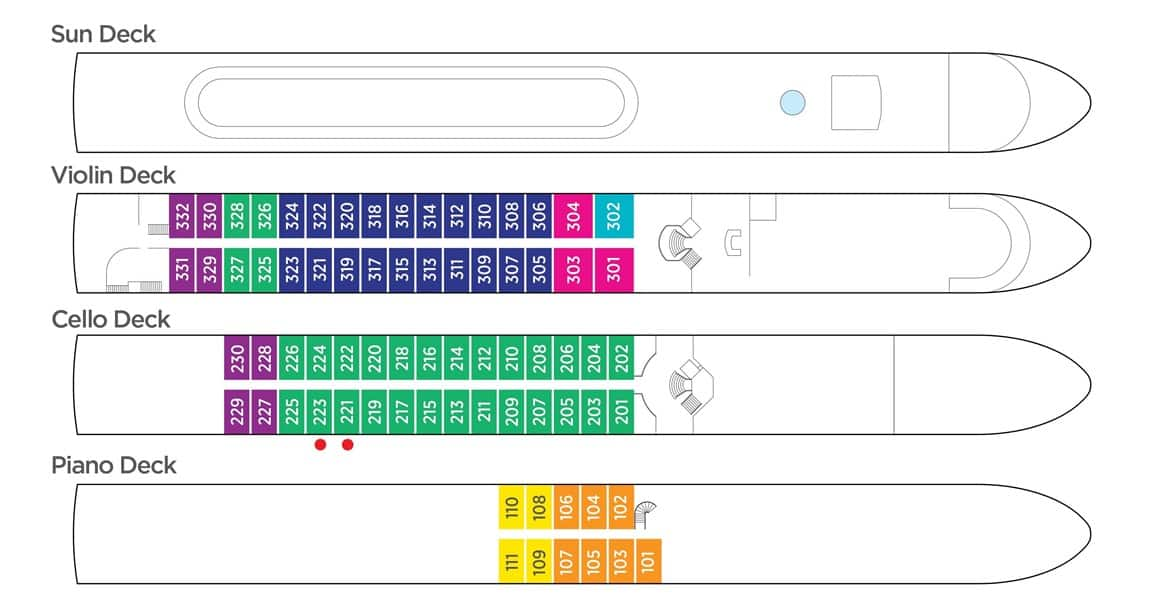 Your Hosts: Alix Bosch & Dan McDonnal, Owners of De Tierra
Dan and Alix share a love for adventure and travel, both having logged countless miles visiting many countries and learning about local customs and cultures along the way. Alix has lived in both Germany and France and is fluent in both languages. Dan has spent the majority of his life in the agriculture industry. Through their various journeys, they've developed a love of wine and especially enjoy finding small boutique wineries and rare or unusual varietals from around the world. Dan enjoys learning about growing and production techniques used in the many wine regions of the world. Alix enjoys experiencing the various styles and varietals found throughout the world.  It seems only natural that both would end up settling in Carmel California and own a boutique winery of their own. De Tierra Vineyards reflects Dan and Alix's passion for small production, premium quality wines that bridge new world techniques and old world style.
About De Tierra Vineyards
De Tierra Vineyards began in 1998 as an organic grape-growing operation in the Salinas Valley by Tom Russell, an agriculture De Tierra started as a common goal amongst good friends, and is blossoming into a thriving artisanal brand with distribution in over 10 states, SIP certification, organic varietals, estate offerings, numerous accolades, wine club, and a burgeoning team of experienced wine enthusiasts at its helm.professional from Phoenix, Arizona. Russell had transitioned the majority of his conventional row crop vegetable operation to organic in the early 1990's, and had great success in the California market. Russell was passionate about wine and farming, and wanted to explore the benefits of organic farming with wine grapes. Russell teamed up with friend and winemaker of Vignalta Italy, Lucio Gomiero, and planned to develop an organic vineyard in the Corral de Tierra Valley. The site was selected, a south-west facing, 40-acre farm, just 15 miles from the Salinas Valley. Through this partnership, De Tierra Vineyards was born.
Today, De Tierra is run by Dan McDonnal and Alix Lynn Bosch.  De Tierra creates delicious award winning and sustainably harvested wines to share from the unique terroir of Monterey County.  De Tierra, as the name suggests, focuses on providing the best representation "of the land".  Great wines begin in the vineyard, and it is their goal to translate the defining flavors of the terroir into great wine.  Dan and Alix continue De Tierra's commitment to producing superior quality boutique wines.
De Tierra grows 5 estate varietals; Pinot Noir, Chardonnay, Merlot, Riesling, and Cabernet Franc, and is sourcing other varietals from other high quality vineyards in Monterey County and beyond.  De Tierra's mission is to make hand crafted, premium wines with the best fruit Monterey County has to offer. They have a tasting room in Carmel- by-the-Sea.
About AMAWaterways
When you travel with AmaWaterways, you do more than simply visit a destination – you experience it in a truly authentic and in-depth way. It begins with a champagne welcome as you step aboard and meet our courteous crew and your fellow passengers, many of whom you will consider friends by the end of your journey. You will also meet a personable and knowledgeable Cruise Manager who will be with you every step of the way, even on your optional pre-cruise or post-cruise land program. It is this attention to detail that distinguishes AmaWaterways from all the rest and keeps our satisfied guests coming back again and again.
We thoughtfully plan our itineraries to maximize your enjoyment of the scenery, history and atmosphere of your chosen destination. Marvel at the ever-changing views through the panoramic windows in your ship's Main Lounge or from our expansive outdoor decks. Visit famous landmarks and explore "hidden gems." Taste bold new flavors and delicious regional specialties, with menus designed by our revered team of classically-trained chefs. And every evening, there is onboard entertainment provided by local musicians and performers for you to enjoy.
Rest assured you will have ample time for socializing and relaxation, too. Our ships feature comfortable lounges, lively bar areas, swimming pools or whirlpools, salons and fitness rooms. At the end of the day, you will be pampered with turn-down service, plush linens, and peace and quiet for a good night's sleep. Tomorrow, there is more to see and experience.
A Hotel That Travels with You: Rivers were once Europe's "highways" across the continent, serving as life-sustaining links between the continent's grandest capitals. Nowadays, your river cruise ship is a "floating hotel" that can often dock right in the heart of these historic cities, steps away from top cultural attractions and historic sites. Beautiful river views and superb locations…and you only have to unpack once! Daily shore excursions with expert guides will show you the "must see" sights of your destination, visiting famous landmarks as well as hidden gems.
An Intimate Onboard Setting: Every vessel in our luxurious European fleet has a capacity limited to no more than 164 passengers, allowing for truly personalized service in a warm and friendly atmosphere.
State-of-the-art Public Spaces: AmaWaterways' custom-designed ships offer comfortable lounges with panoramic windows, inviting dining rooms, cozy libraries stocked with books and games, and a choice of enticing dining venues.
Onboard Entertainment: Whether it's traditional Bavarian music, a "Sound of Music" sing-along, a classical quartet, or contemporary piano favorites, you will enjoy an eclectic schedule of onboard entertainment every night.
With Our Compliments: AmaWaterways offers a generous selection of complimentary amenities on all European voyages, including in-room Internet access, Wi-Fi and Infotainment (with movies, music and satellite TV). All of your onboard meals are included, along with unlimited fine wine, beer and sodas with lunch and dinner. AmaWaterways also provides complimentary bottled water, specialty coffees and teas throughout your cruise. In addition, your cruise price includes enriching shore excursions with expert guides in every port and bicycles for exploring on your own or on a guided bike tour.
Health & Beauty: Pamper your body and rejuvenate your spirit any time during your river cruise. Our Massage, Beauty and Hair Salon offers a variety of treatments. Your ship also has a Fitness Studio, Sun Deck walking track, sauna (select ships), and a heated whirlpool or swimming pool with swim-up bar.
For additional information, please fill out the form below and we will respond to your request within 1 business day. Please remember that our response to your query may accidentally be directed to your junk mail folder.  To make a reservation please contact us directly at (831) 659-0151 or cruises@MmMmTravel.com.