Give us 12 days and we will change the way you see the eastern Mediterranean. From the labyrinthine markets of Istanbul, the ruined city of Ephesus and the whitewashed elegaiance of Mykonos to the picturesque towns of Spilt and Kotor, this voyage is a symbiosis of past and present. Two days at sea and overnights in Istanbul & Venice allow you to immerse yourself in the immortal, without missing a thing. Between daytime adventures & relaxing aboard the luxurious 388 guest Silver Shadow, you will enjoy exclusive receptions, dinners, tastings and more with John & Carrie Komes of Flora Springs!To make a reservation please contact MillenniuM Travel directly at 831.659.0151 or email us at Cruises@MmMmTravel.com.
Exclusive Offers:
Free Airfare:

Book by

September 30

and enjoy

Free Round Trip Economy Airfare

or Business Class Airfare from $699 each way from select US airports*

Early Booking Bonus:

Book and pay in full by

October 31, 2019 & save 10%!
Family Cruise Savings: Guests under the age of 2 receive a 75% discount & guests between 2-17 receive a 50% discount when traveling with 2 full fare adults.
Guests of MillenniuM Travel will:  
Enjoy receptions featuring Flora Springs wines hosted by John & Carrie Komes of Flora Springs.
Participate in multiple Flora Springs wine dinners lead by John & Carrie Komes.
Savor an included Flora Springs wine paired dinner in La Dame by Relais & Chateaux sponsored by MillenniuM Travel.
Receive added shipboard credit for guests paying with unbranded American Express Platinum or Centurion cards.
All-suite, All-inclusive 12-day Silversea Silver Shadow cruise Includes:
Exclusive Wine activities hosted by John & Carrie Komes of Flora Springs (MillenniuM Travel guest Exclusive).
Spacious suites – most with private verandas aboard an intimate vessel with only 388 guests
Personalized service – nearly one crew member for every guest
Butler service in every suite – all guests are pampered equally
Open-seating dining options – dine when and with whomever you please
Diversity of dining venues – casual, romantic, regional delicacies, and gourmet cuisine inspired by Relais & Châteaux
Beverages in-suite and throughout the ship – select wines, premium spirits, specialty coffees and soft drinks, plus your own tailored mini-bar
In-suite dining and 24-hour room service – always complimentary, always available
Sophisticated entertainment from live music to production shows
Enrichment lecturers, acclaimed chefs and destination consultants
Complimentary transportation into town in most ports
Gratuities always included in your fare
Free WiFi throughout the ship (daily limit applies)
2020 DATE
PORT
ARRIVE / DEPART
Aug 2, Su
Athens (Piraeus), Greece

Embark from 1pm /

7pm

Flora Springs Welcome Reception & Wine Dinner*   

Aug 3, M
Day at Sea

Flora Springs private group Wine Tasting*

Aug 4, Tu
Istanbul, Turkey

8am / Overnight

Aug 5, W
Istanbul, Turkey

1pm    

Flora Springs Champagne Reception followed by  Gala 6-course Wine Dinner

in La Dame by Relais & Chateaux*

Aug 6, Th
Kusadasi (Ephesus), Turkey

10am / 11pm

Aug 7, F
Mykonos, Greece

8am / 11pm

Aug 8, Sa
Day at Sea

Flora Springs Wine Tasting, open to entire ship*

Aug 9, Su
Corfu, Greece

8am / 6pm

Aug 10, M
Kotor, Montenegro

8am / 10:30pm

Aug 11, Tu
Dubrovnik, Croatia

8am / 11pm

Aug 12, W
Split, Croatia

8am / 7pm

Flora Springs Farewell  Reception & Wine Dinner*   

Aug 13, Th
Venice, Italy

12n / Overnight

Aug 14, F
Venice, Italy

Disembark AM
*Events, times, locations subject to final confirmation once aboard ship.  All Flora Springs onboard wine events are included for you as a guest of Flora Springs and MillenniuM Travel.  A Finalized Guest Itinerary will be mailed with cruise documents. As a reminder, only guests booked through MillenniuM Travel may participate in all Flora Springs events. 
Exclusive Offers:
Free Airfare:

Book by

September 30

and enjoy

Free Round Trip Economy Airfare

or Business Class Airfare from $699 each way from select US airports*

Early Booking Bonus:

Book and pay in full by

October 31, 2019 & save 10%!
Family Cruise Savings: Guests under the age of 2 receive a 75% discount & guests between 2-17 receive a 50% discount when traveling with 2 full fare adults.
Suites
Fares with Air
& 10% Savings* 
Cruise Only with
10% Savings (no air)* 
OWNERS SUITE 2-bdrm: 1,264 ft² Midship, including veranda
$28,280
$27,300
OWNERS SUITE 1-bdrm: 919 ft² Midship, including veranda
$19,540
$18,640
GRAND SUITE 2-bdrm: 1,286 ft² FWD, including veranda
$25,840
$24,940
GRAND SUITE 1-bdrm:941 ft² FWD, including veranda
$17,200
$16,300
ROYAL SUITE 2-bdrm: 1,312 ft² FWD, including veranda
$25,120
$24,220
ROYAL SUITE 1-bdrm:967  ft² FWD, including veranda
$16,480
$15,480
SILVER SUITE: 653 ft² including veranda
$14,590
$13,690
MEDALLION SUITE:521 ft² including veranda
$13,060
$12,130
Veranda 4: 345 ft² including veranda
$9,010
$8,110
Veranda 3:345 ft² including veranda
$8,920
$8,020
Veranda 2: 345 ft² including veranda
$8,740
$7,840
Veranda 1: 345 ft² including veranda
$8,560
$7,660
Vista Suite:287 ft² ocean-view window
$7,030
$6,130
*MillenniuM Travel Fares are per person based on double occupancy in US dollars. Fares above include a $100 per person add-collect over Silversea's promotional cruise fares to help offset shipping and other expenses associated with getting the wines to the ship for our private events. Solo traveler fares and triple rates available upon request. Fares will increase as ship fills. Fares shown do not guarantee availability. A 25% deposit secures you the best available pricing and suite location.  To receive American Express amenities guests must use an unbranded American Express Platinum or Centurion card for final payment. A reservation through Michael Mastrocola's MillenniuM Travel ensures invitations to private receptions and dinners, including a 6-course wine-paired dinner in La Dame by Relais & Chateaux. Silversea's 10% early payment savings is offered through October 31, 2019. Minimum number of guests required for Flora Springs to host. Free transfers available only for guests utilizing Silversea air offer. Economy Class Air is provided on domestic US/Canada flights and intra-European flights from select US and Canadian gateways. Offer applies to new bookings made by Sept 30, 2019. Promotional air offer is valid only for guests from the United States and Canada. In the event economy class air is unavailable (determined at Silversea's sole discretion), a non-use Air credit in the amount of $900 per person may be applied to your booking. Silversea reserves the right to select the air carrier, routing and departure airport from each gateway city. Airline baggage fees are not included. Deviations to air travel dates are accepted at a charge of $150 per request plus all additional air costs. Due to flight schedules, some voyages may require an overnight hotel stay pre or post-cruise. This will be available for booking at an additional charge. Please call for more information. Other conditions may apply, see Silversea's Terms & Conditions for more details. CST# 1005871-40. Family Cruise savings is dependent on 3rd berth rooms available & additional restrictions apply. Silversea ship's registry: Bahamas. Please call MillenniuM Travel for more details.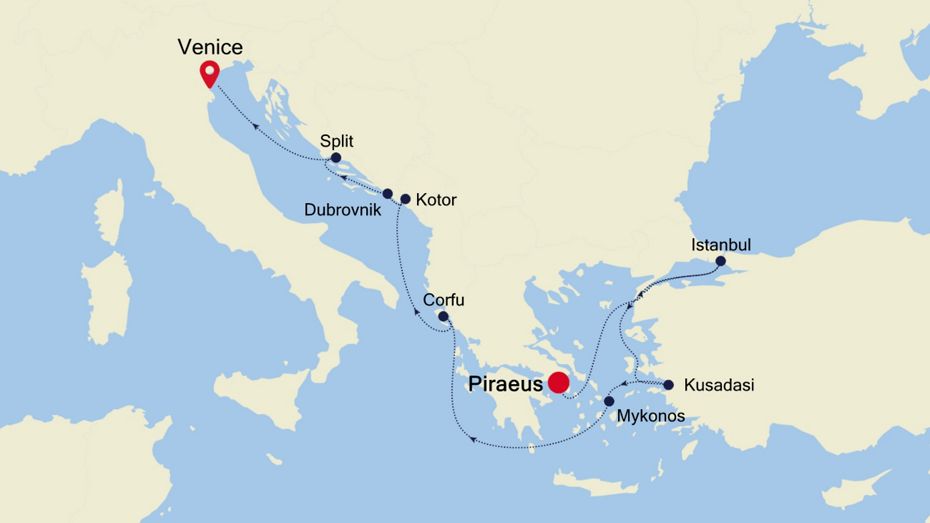 It's no wonder that all roads lead to the fascinating and maddening metropolis of Athens. Lift your eyes 200 feet above the city to the Parthenon, its honey-color marble columns rising from a massive limestone base, and you behold architectural perfection that has not been surpassed in 2,500 years. But, today, this shrine of classical form dominates a 21st-century boomtown. To experience Athens—Athína in Greek—fully is to understand the essence of Greece: ancient monuments surviving in a sea of cement, startling beauty amid the squalor, tradition juxtaposed with modernity. Locals depend on humor and flexibility to deal with the chaos; you should do the same. The rewards are immense. Although Athens covers a huge area, the major landmarks of the ancient Greek, Roman, and Byzantine periods are close to the modern city center.
The only city in the world that can lay claim to straddling two continents, Istanbul—once known as Constantinople, capital of the Byzantine and then the Ottoman Empire—has for centuries been a bustling metropolis with one foot in Europe and the other in Asia. Istanbul embraces this enviable position with both a certain chaos and inventiveness, ever evolving as one of the world's most cosmopolitan crossroads. It's often said that Istanbul is the meeting point of East and West, but visitors to this city built over the former capital of two great empires are likely to be just as impressed by the juxtaposition of old and new. Office towers creep up behind historic palaces, women in chic designer outfits pass others wearing long skirts and head coverings, peddlers' pushcarts vie with battered old Fiats and shiny BMWs for dominance of the noisy, narrow streets, and the Grand Bazaar competes with modern shopping malls.
Whilst the busy resort town of Kusadasi offers much in the way of shopping and dining – not to mention a flourishing beach life scene, the real jewel here is Ephesus and the stunning ruined city that really take centre stage. With only 20% of the classical ruins having been excavated, this archaeological wonder has already gained the status as Europe's most complete classical metropolis. And a metropolis it really is; built in the 10th century BC this UNESCO World Heritage site is nothing short of spectacular. Although regrettably very little remains of the Temple of Artemis (one of the seven wonders of the ancient world), the superb Library of Celsus' façade is practically intact and it is one of life's great joys to attend an evening performance in the illuminated ruins once all the tourists have left. The history of the city is fascinating and multi-layered and it is well worth reading up on this beforehand if a visit is planned.
Although the fishing boats still go out in good weather, Mykonos largely makes its living from tourism these days. The summer crowds have turned one of the poorest islands in Greece into one of the richest. Old Mykonians complain that their young, who have inherited stores where their grandfathers once sold eggs or wine, get so much rent that they have lost ambition, and in summer sit around pool bars at night with their friends, and hang out in Athens in winter when island life is less scintillating. Put firmly on the map by Jackie O in the 1960s, Mykonos town—called Hora by the locals—remains the Saint-Tropez of the Greek islands. The scenery is memorable, with its whitewashed streets, Little Venice, the Kato Myli ridge of windmills, and Kastro, the town's medieval quarter.
Cofru, the sickle-shaped island of Mediterranean bliss flaunts its sun-kissed sophistication with effortless grace – having cherry-picked the best influences from Venetian, French and British occupiers. With over 3,000 years of history, The Grand Lady of the Ionian has played a starring role in Greek history and mythology, and legendary tales swirl around you, as you explore sparkling beaches, mountains splashed with wildflowers, and historical, perched fortresses. The soft hues of Corfu's UNESCO World Heritage List Old Town brings together Corfu's mesh of European influences, with its romantic stone floors and vine-clad cafes. Find somewhere to settle in for a morning coffee ritual like a true Corfiat, and sip at the laid-back pace of the locals – allowing the thick bitter concoction to settle before indulging.
Backed by imposing mountains, tiny Kotor lies hidden from the open sea, tucked into the deepest channel of the Bokor Kotorska (Kotor Bay), which is Europe's most southerly fjord. To many, this town is more charming than its sister UNESCO World Heritage Site, Dubrovnik, retaining more authenticity, but with fewer tourists and spared the war damage and subsequent rebuilding which has given Dubrovnik something of a Disney feel.Kotor's medieval Stari Grad (Old Town) is enclosed within well-preserved defensive walls built between the 9th and 18th centuries and is presided over by a proud hilltop fortress. Within the walls, a labyrinth of winding cobbled streets leads through a series of splendid paved piazzas, rimmed by centuries-old stone buildings. The squares are now haunted by strains from buskers but although many now house trendy cafés and chic boutiques, directions are still given medieval-style by reference to the town's landmark churches.
Croatia's crowning glory rears up vertically from the tranquil waters of the Adriatic, and Dubrovnik's daunting fortresses town is a truly imposing sight to behold. Encircled by chunky stone walls so thick and dramatic they could have been purpose-built as a film set, this city's unmatched old town is the setting for countless films and shows – from Star Wars to Robin Hood, Game of Thrones and every production in-between seeking a truly authentic medieval flavour. This fantasy fortress's walls – which are no less than 12-metres thick at places – are certainly not just for show, however. They kept Dubrovnik safe when it was a maritime republic and they were besieged as recently as 1991, when Serbian and Montenegrin forces attacked, as Yugoslavia broke apart. Fully restored now, the stone streets of the city take you through a beautiful mosaic of architectural splendour, baroque churches and splashing fountains.
Bathing in the Dalmatian Coast's generous sunshine, and overlooking sparkling, island-studded waters, Split is a city of romantic beauty, built around an extraordinary – still beating – historical heart. The setting may be spectacular, but it's the Diocletian's Palace – a Roman remain of incredible scale and detail that is truly bewitching. While immensely historic, Split hasn't been afraid to move with the times, and the stone walls encasing the streets are alive with buzzy bars and quiet nooks, where bottles of red wine are uncorked and delicious meals devoured. With a natural backdrop of dramatic limestone mountains, and Croatia's trademark scenic wonders all around, Split is a true heavyweight of the Adriatic. To enter Split's Diocletian's Palace is to step into a beautiful time warp. Head first to the Cathedral of Saint Domnius, where a hollow bell tower rockets up, puncturing the sky.
Venice is a city unlike any other. No matter how often you've seen it in photos and films, the real thing is more dreamlike than you could imagine. With canals where streets should be, water shimmers everywhere. The fabulous palaces and churches reflect centuries of history in what was a wealthy trading center between Europe and the Orient. Getting lost in the narrow alleyways is a quintessential part of exploring Venice, but at some point you'll almost surely end up in Piazza San Marco, where tourists and locals congregate for a coffee or an aperitif.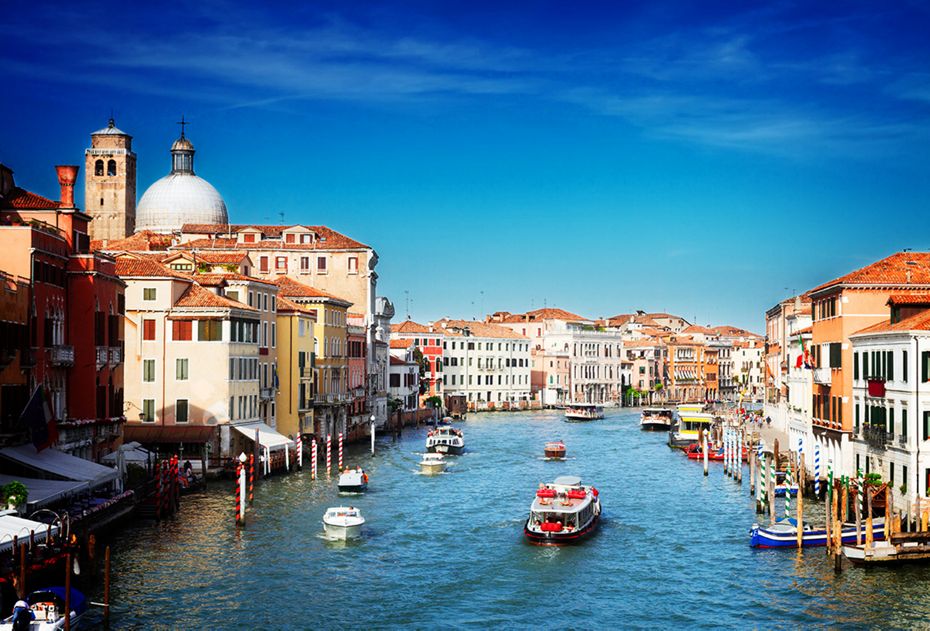 MmMmTravel can help you with more than just your cruise. We are here to assist you with all of your vacation plans including pre & post cruise hotels, transfers, tours and more to ensure you truly experience a "Taste of Life".  You can search through our luxury partnered hotel options using the links below.  If you need any assistance or have any questions regarding your pre and post cruise travel plans, please don't hesitate to contact us at (831) 659-0151 or Cruises@MmMmTravel.com. 
JOHN KOMES, President & Proprietor
While John Komes will say that hard work and a stellar team are the keys to the longtime success of Flora Springs, first-hand interaction with John hints that the secret ingredient to Flora Springs' success is his charisma. John is a laugh-out-loud kind of guy, who when he smiles, his eyes dance. He teases, he jokes, he holds court in any group situation, and makes everyone in his midst feel like a member of the Flora Springs family. Yet underneath this convivial exterior is a hardworking tenacity and an enduring passion for wine.
Growing up in San Francisco in the mid-1950s, John was the son of the president of construction giant Bechtel Corporation. He graduated from Santa Clara University with a degree in Business Administration and followed in his father's footsteps in business, building a thriving construction business of his own in the East Bay of San Francisco. John's interest in wine began as a hobby in the early 1970's when his wife Carrie sent him to a wine appreciation class as a gift. Wine soon became an obsession, and he attended more and more classes. It wasn't long before he was making his own wine at home as a hobby.
In 1977 John's father and mother, Jerry and Flora Komes, retired to the Napa Valley and purchased a home that included an abandoned stone winery and vineyards. The potential of the property piqued John's interest and fueled a dream of owning his own winery in Napa Valley someday. In 1978 he took the leap and established Flora Springs with his parents, his sister, Julie Garvey, and his brother-in-law, Pat Garvey.
John eventually moved his construction business to Napa, using his enterprising ingenuity to specialize in building and renovating wineries. He also painstakingly renovated each winery building on the Flora Springs property, turning the two abandoned cellars into separate winery facilities and supervising the construction of 1,000 linear feet of wine caves. As Flora Springs took root, John left construction to devote himself full-time to the winery, overseeing production, sales and marketing. While he is quick to share the credit, it is under his watch that Flora Springs has become one of the most respected and beloved family-owned wineries in Napa Valley, producing a portfolio of wines that consistently garner critical acclaim. 
Today, John sees a bright future for Flora Springs as he gears up to let the next generation – including his son Nat Komes, General Manager, and nephew Sean Garvey, Vineyard Manager — take the lead. He's also excited about the new wine project he shares with Nat called Jon Nathaniel Wines. A boutique portfolio of wines made entirely from fruit grown in John's own vineyards, Jon Nathaniel is John's way of recapturing the passion that brought him to winegrowing in the first place. "My dream has always been to sit on my front porch and taste wines with friends, family and customers. With Jon Nathaniel I'm returning to those roots."
Award winning Silver Shadow has all the hallmarks of extreme luxury at sea. With some of the largest suites at sea, and a guest to staff ratio of almost 1 to 1, Silversea prides itself on their unswerving dedication to their guests. Silversea's Silver Shadow captures the essence of Silversea Cruises, with spacious suites, an intimate number of guests (only 388), superior service – paired with a lively sophisticated atmosphere and enhanced amenities.
Headquartered in Monte Carlo,  Silversea's small luxury ships are designed for those who delight in the thrill of discovery while indulging mind and body in the most lavish surroundings imaginable. All accommodations are spacious, ocean-view suites and most  include butler service and private verandas. Silversea voyages and cruise expeditions sail to over 800 destinations on all seven continents, more than any other cruise line. Our intimate, ultra-luxury ships can sail up narrow waterways into the heart of a city, or tie up right at the pier while others must anchor off shore.   Enjoy the convenience, ease and comfort of an  all-inclusive cruise fare that includes almost all of your discretionary onboard expenses.
Intimate Boutique Ships: Our 9 small luxury ships can show you the world in a far more personal, meaningful way. They can glide into small, secluded harbors or transport you on an expedition to some of the most remote regions of the globe.  In the evening. return to gracious hospitality reflecting our Italian heritage and cherish the relaxed, friendly camaraderie  among guests in the lounges and open bars where faces quickly become familiar and conversation strikes a common chord.
Polished to Perfection: Silversea is passionate about service and profoundly committed to maintaining the highest standards. Service is richly personalized, genuine and caring, every wish, every need is discretely anticipated. With the experienced, highly trained personnel of a top luxury cruise line and a staff to guest ratio of nearly one to one, service excellence is guaranteed aboard Silversea ships.
Global Flavors for Worldly Travelers: Renowned for culinary excellence Silversea's luxury cruises offer a choice of open-seating dining options throughout the fleet, as well as several specialty venues aboard all non-expedition ships.   Silver Spirit has six restaurants to choose from; rather remarkable for a ship hosting only 540 guests.  Changing daily menus present a wide range of offerings including Continental, vegetarian and healthy selections, as well as regional specialties unique to the destination.
Your Suite is Your Sanctuary: Silversea offers one of the highest space-per-guest ratios of any luxury cruise accommodations. All of our suites feature ocean views, and many, a private teak veranda. That's why every Silversea suite is indulgently spacious, and beautifully furnished. Freshen up in your Italian marble bathroom with a choice of luxury amenities to suit your personal taste.
To make a reservation please contact us directly at 831.659.0151 or email us at Cruises@MmMmTravel.com. For additional information about this enchanting voyage, please fill out the form below and we will respond to your request within 1 business day via email. Please remember that our response to your query may accidentally be directed to your junk mail folder.