Join John & Carrie Komes of Flora Springs for on an unforgettable AMAWaterways cruise in the world-renowned Bordeaux wine region!  Board the ship in the city of Bordeaux after an optional AMAWaterways pre-cruise program in Spain. You will journey to, and explore, the renowned vineyards of Saint-Émilion, Pauillac and Libourne, discovering timeless traditions from the winemakers themselves. You'll be treated to delicious wine tastings throughout your journey, including a tasting at the 14th-century Château de Montaigne, and  a "wine festival" in Bourg—an exclusive event for AmaWaterways guests. This trip is a must for anyone interested in the best of French culture, lifestyle, wine and food. You may choose to conclude your journey with an optional Exclusive Post-Cruise Program with Flora Springs in the Loire Valley & Paris. Guests wishing to participate in all Flora Springs events must make their reservation through MmMmTravel.   
MmMmTravel & AMAWaterways Wine Cruise Highlights:
Only guests who make their reservations through MmMmTravel will experience a private Flora Springs Wine-Paired Dinner in the 24-seat Chef's Table with John & Carrie Komes of Flora Springs.
A welcome reception, three tasting seminars, two wine paired dinners hosted by John & Carrie Komes of Flora Springs, wine themed shore excursions, and a Wine-Paired CHAINE des ROTISSEURS dinner.
SPACIOUS STATEROOMS
7 nights luxury accommodation in an outside stateroom (most with French balconies)
Computer for internet access
Entertainment-On-Demand in all staterooms featuring free high-speed internet access, movies, a music library and English language TV stations
Desk and sitting area
Bottled water replenished daily
AN ARRAY OF AMENITIES
Wellness Program with a dedicated Wellness Host leading various exercise classes as well as discussions on healthy eating and relaxation techniques, both on board and on shore.
Personalized service from a highly trained Cruise Manager during both cruise and land programs
Internet and Wi-Fi access
Sun deck whirlpool and walking track
Fitness room, massage services and hair salon
Main Lounge with panoramic views and bar
Daily entertainment including cultural performances
AWARD-WINNING DINING
All onboard dining in a variety of venues
Regionally inspired cuisine made with locally sourced ingredients
The Chef's Table specialty restaurant
Welcome Cocktail, Welcome Dinner, La Chaîne des Rôtisseurs Dinner, Captain's Cocktail and Gala Dinner
La Chaîne des Rôtisseurs exclusive dining experience
Unlimited fine wine, beer and soft drinks with lunch and dinner
Unlimited sparkling wine and fresh juice with breakfast
Sip & Sail Daily Cocktail Hour with complimentary wine, beer, spirits and soft drinks
Tapas, sandwiches, snacks and refreshments served daily in the Main Lounge
A WORLD OF EXPLORATION
Immersive tours in every destination
Gentle, regular, active and late-riser tour options
Bike tours and hikes
Special Interest Tours
Knowledgeable guides
Personal headset for easy exploration
Airport transfers with purchase of air from AmaWaterways
AMAWATERWAYS OPTIONAL LAND PROGRAM
OPTIONAL 4-night Spain Pre-Cruise, $1,200 per person: 2 nights hotel in Bilbao at the Meliá Bilbao (or similar), including city tour, Guggenheim Museum and daily breakfast; Transfer from Bilbao to San Sebastian; 2 nights hotel in San Sebastian, including city tour and daily breakfast; Transfer from San Sebastian to ship in Bordeaux with stop in Arcachon
Millennium & Flora Springs Optional Land Program
OPTIONAL 3-night Loire Valley & Paris Post-Cruise, $1,899 per person: Transfer from Bordeaux to Tours via high-speed TGV train; 2 nights hotel in the Loire Valley, including city tour, châteaux visits and daily breakfast; 1 night hotel in Chantilly at the 

Hotel Chateau de Montvillargenne (or similar estate)

, including daily breakfast
*Transfers between hotel and ship are included with the purchase of cruise and land package; airport transfers are included with the purchase of airfare from AmaWaterways

2019 Day


Destination

Activities
August 18-22: Optional AMAWaterways 4 Night Spain Pre-Cruise  
August 22
Bordeaux
EMBARKATION

Welcome Reception followed by a private 5-course Flora Springs wine-paired
dinner in the Chef's Table hosted by John & Carrie Komes (MmMmTravel Exclusive!).

August 23
Cadillac
Sauterne wine tasting and Roquetaillade Castle
August 24
Pauillac
Medoc Grand Cru Classé wine tasting and scenic vineyard tour
August 25
Blaye
Citadel visit
OR Blaye Bike tour
 
 
Afternoon Blaye to Bourg bike tour
 
Bourg
Bourg walking tour, Carriage Museum & Exclusive Bourg Wine Celebration
August 26
Libourne
Saint-Emilion Excursion and Grand Cru Classe Wine Tasting
OR Saint-Emilion Bike Tour and Wine Tasting
Flora Springs Wine Paired Dinner
August 27
Libourne
Chateau de Vayres
OR French Country Market Visit with Tastings
OR Countryside Hike with Wine Tasting
 
Chateau de Montaigne
OR Fronsac Wine Tasting
CHAINE des ROTISSEURS Wine paired dinner 
August 28
Bordeaux
UNESCO City tour and Wine Museum
OR Bordeaux bike tour
August 29
Bordeaux
8am to 10am DISEMBARKATION
August 29 – September 1: Optional Millennium & Flora Springs Exclusive 3 Night Loire Valley & Paris Post-Cruise
* Flights and transfers are only included if flight arrangements are purchased through AMA Waterways in conjunction with the cruise.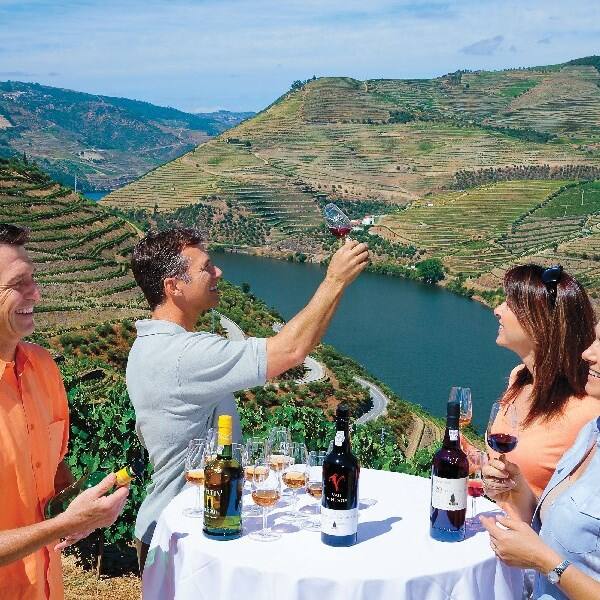 Your Cruise-Only Fares are listed per person, in USD, based on double occupancy.  Included in your AMAWaterways cruise fare are complimentary shore excursions daily in every port, tours and tastings at local wineries and private cellars, onboard wine pairings with award-winning cuisine, complimentary WiFi, Unlimited select red and white wines from Europe's great wine regions, beer and soft drinks with every lunch and dinner on board, all meals included, bicycles to explore on your own and guided bicycle tours, onboard music performances. Past guests of AMAWaterways receive an additional $100 per person savings off of fares below. Flora Springs activities will take place during August 22-29, 2019. Only guests booking through MmMmTravel will all have access to all Flora Springs events. 
All staterooms include: In-room temperature control, Deluxe hotel-style bedding with Egyptian linen, down pillows and duvet, Spacious bathrooms with multi-jet showerheads, Large wardrobe, full-length mirror, hair dryer, safe and direct-dial telephone, Flat-screen TV that also works as a computer, Entertainment on Demand system providing complimentary TV, movies and music library, Complimentary internet and Wi-Fi, Complimentary bottled water replenished daily, Desk and chair.
Booking Savings: Guests of MillenniuM Travel and Flora Springs receive an exclusive $250 per person savings! 
(as reflected in fares below)
Room Type
 & Notes
Flora Springs & MmMmTravel
7-Night Cruise Fare
AMA 4-Night
Pre-Cruise: Spain
Flora Springs 3-Night Post Cruise: Loire Valley & Paris
Category E: Piano Deck
Fixed Windows, 170 sq. ft. (midship)
Waitlist
$1,200
$1,899
Category D: Piano Deck
Fixed Windows, 170 sq. ft. (midship)
Waitlist
$1,200
$1,899
Category C: Violin & Cello Decks
French Balcony, 170 sq. ft. (aft)
Waitlist
$1,200
$1,899
Category B: Violin & Cello Decks
French Balcony, 170 sq. ft. (midship)
$4,748
$1,200
$1,899
Category A: Violin Deck
French Balcony, 170 sq. ft. (midship)
Waitlist
$1,200
$1,899
Suite: Violin Deck
French Balcony, 255 sq. ft. (midship)
Waitlist
$1,200
$1,899
*Fares are per person based on double occupancy in US dollars. Fares do not include port charge of $182 per person. Solo traveler fares available upon request. Fares will increase as ship fills.  Fares shown does not guarantee availability. A $400 per person deposit plus insurance costs if chosen secures you the best available pricing and stateroom locations. A reservation through MmMmTravel ensures invitations to a private Flora Springs  wine-paired dinner in The Chef's Table restaurant aboard. The exclusive savings of $250 per person once booked! Fares increase after December 31, 2018. Additional restrictions may apply. Please call for more information. Other conditions may apply, see AMAWaterway's Terms & Conditions and Passenger Contract for more deails. CST# 1005871-40.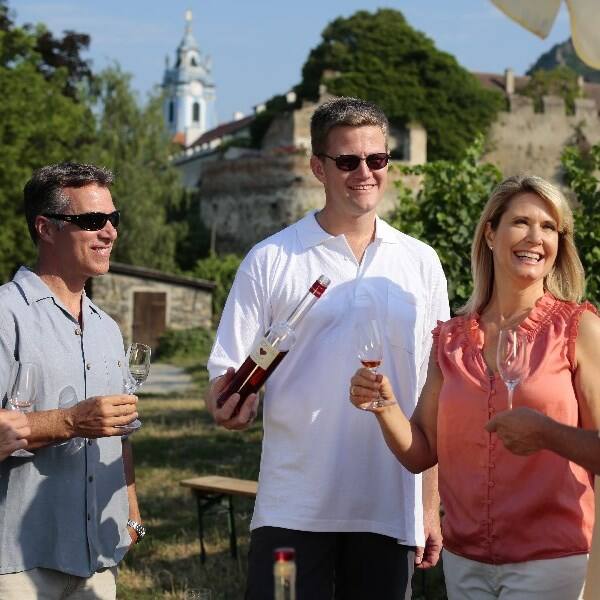 Optional AMAWaterways Pre Cruise, August 18-22:
4 Nights in Spain
, $1,200 per person
AUGUST 22:  CRUISE EMBARKATION in BORDEAUX
Celebrate your journey with a welcome aboard wine toast. This evening guests of MmMmTravel enjoy a private 5-course Flora Springs wine-paired dinner in the Chef's Table hosted by
John & Carrie Komes (MmMmTravel Exclusive!). (D)
AUGUST 23: CADILLAC, FRANCE
Visit the impressive Castle of Roquetaillade, an amazingly preserved masterpiece of medieval military architecture owned by the same noble family for 700 years. Afterwards, travel to the Sauternes wine region to either Château de Rayne Vigneau or Château Guiraud to taste the highly prized golden-hued sweet wines produced here. (B,L,D)
AUGUST 24: PAUILLAC, FRANCE
Pauillac, a lovely village on the Left Bank of the Gironde Estuary, is gateway to the famed Médoc region renowned for producing some of the world's finest Bordeaux wines. You will see some of the most beautiful and famous wine estates, including Château Latour, Château Mouton Rothschild, Château Lafite Rothschild and Château Pichon Longueville. You'll then visit either Château Gruaud Larose or Château Léoville Poyferré for a tasting of Grand Cru wines. (B,L,D)
AUGUST 25: BLAYE, FRANCE – BOURG, FRANCE
Once in Blaye, you can join a tour of its 17th-century citadel, a UNESCO World Heritage Site. For a more active excursion, take a bike ride from Blaye through the idyllic French countryside. During the afternoon, you can cruise to Bourg or join a bike tour along Santiago's path—a famous pilgrimage route—to Bourg. While in the ancient village of Bourg, visit the Carriage Museum, which houses a wonderful collection of horse-drawn vehicles and then explore the underground passageways that lead you to the immense oil tanks from the Second World War. Later in the day, experience the hospitality of this charming medieval village with an exclusive wine festival complete with live French music, dancing, wine and hors d'oeuvres. (B,L,D)
AUGUST 26: LIBOURNE, FRANCE
Libourne provides a gateway to one of Bordeaux's most elite wine regions, Saint-Émilion, known for its picturesque architecture, monuments and celebrated vineyards. Join an excursion to historic Saint Émilion, and while here, explore the monolithic church carved out of one piece of limestone rock, and then go under the church to discover its catacombs and caves. Afterwards, enjoy a wine tasting at either Château de Ferrand or Château de Pressac. Prefer a more active adventure, pedal through the vineyard-rich countryside to Saint-Émilion and then to Château Soutard for a Grand Cru Classé wine tasting. Evening Flora Springs Wine-paired dinner. (B,L,D)
AUGUST 27: LIBOURNE, FRANCE
Tour the magnificent Château Vayres, one of the most prestigious historic buildings of Aquitaine, or spend time discovering the Bastide town of Libourne and then stroll through its colorful open-air market tasting some of the region's specialties. For a more active exploration of the countryside, enjoy a hike followed by a wine tasting. Later in the day, you will have two options of excursions. Visit Château de Montaigne, a stunning 14th-century castle that was the family residence of philosopher Michel de Montaigne and enjoy a lovely wine tasting. Alternatively, visit Fronsac, where you can taste some of the regional wines at a grand wine cellar. Evening CHAINE des ROTISSEURS Wine-paired dinner. (B,L,D)
AUGUST 28: BORDEAUX, FRANCE
The breathtaking capital of the wine world, Bordeaux, is a UNESCO World Heritage Site and classified as a "City of Art and History." You'll have an opportunity to experience much of the rich culture and architecture on a city tour followed by a visit to the Bordeaux Wine Museum, housed in an awe-inspiring building. Bike enthusiasts will wish to join a tour along the city's amazing network of bicycle paths. (B,L,D)
AUGUST 29: BORDEAUX – 8am to 10am DISEMBARKATION
Optional Millennium & Flora Springs Post Cruise August 29 – September 1: 2 Nights in Loire Valley & 1 Night in Paris, $1,899 per person
AMAWaterways Pre Cruise Option
Pre Cruise, August 18-22:
4 Nights in Spain
, $1,200 per person
Flora Springs Exclusive Post Cruise Option
Post Cruise August 29 – September 1:
2 Nights in Loire Valley & 1 Night in Paris, $1,899 per person
Optional AMAWaterways Spain Pre-Cruise: August 18-22, 2019 ($1,200 per person)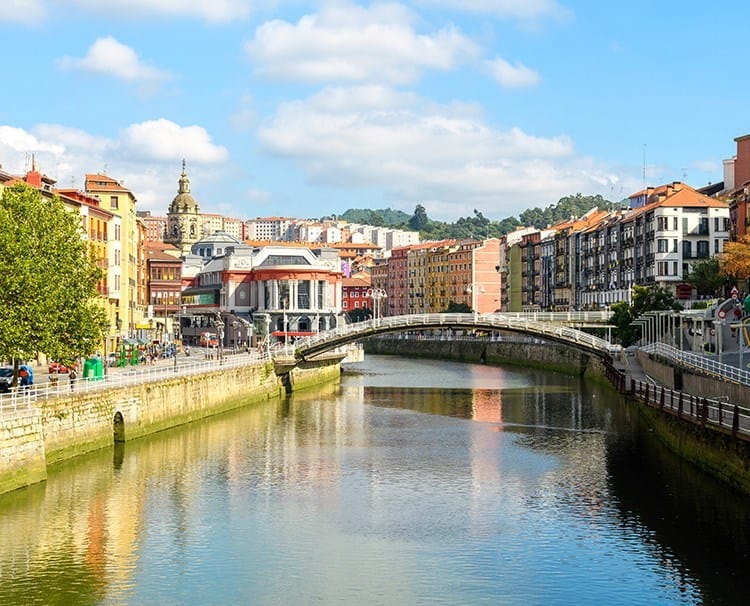 PRE CRUISE August 18: BILBAO, SPAIN – Arrive in Bilbao and check-in to your hotel.
PRE CRUISE August 19: BILBAO, SPAIN –  Bilbao is a city of contrasts as it successfully blends its traditional Basque culture with a new vision for the future, which you'll discover on your tour. Superb architecture includes the Frank Gehry-designed Guggenheim Museum; a timeless Metro system designed by Sir Norman Foster; Zubizuri, a stunning suspension cable footbridge; the Torre Iberdrola by Cesar Pelli; and Vizcaya Bridge, a World Heritage site built in 1893 and the first of its kind. The medieval part of the city, Casco Viejo, is also locally known as "las 7 calles" in Spanish or "Zazpi Kaleak" in Basque (the seven streets), since these were the seven streets that formed the original medieval town. The beautiful narrow streets are mostly pedestrian-only and are filled with an abundance of taverns offering many opportunities to sample the local fare. (B) 
PRE CRUISE August 20: BILBAO, SPAIN to SAN SEBASTIAN, SPAIN – After checking out of the hotel, you'll visit the Guggenheim Museum Bilbao, representing a magnificent example of the most groundbreaking 20th-century architecture. Of the 24,000 square meters occupied by the Guggenheim Museum Bilbao, 11,000 are reserved for exhibition spaces. Once inside the museum, visitors access the Atrium, the real heart of the Museum and one of the signature traits of Frank Gehry's architectural design. With curved volumes and large glass curtain walls that connect the inside and the outside, the Atrium is an ample space inundated with light and covered by a great skylight. The three levels of the building are organized around the Atrium and are connected by means of curved walkways, titanium and glass elevators, and staircases. The museum houses prominent modern and contemporary works. After visiting the museum, transfers to the seaside resort of San Sebastian and check into your hotel. Enjoy an evening walk through San Sebastian's Old Town, Parte Vieja, which is the heart of San Sebastian. Pedestrian-friendly streets are lined by centuries-old buildings that house numerous restaurants, shops and bars. Its main square, Plaza de la Constitución, is an old bullring converted into the perfect place to relax and absorb the city's colorful atmosphere. (B) 
PRE CRUISE August 21:  SAN SEBASTIAN, SPAIN –  San Sebastian has the longest history in the Basque Country, and proudly reigns as its capital – a "small country with a big identity," whose language and traditions are some of the oldest in Europe, and still thriving today. On your tour, you'll discover why San Sebastian is one of the world's most beautiful cities. In addition to it culinary excellence, it's home to breathtaking natural wonders, including the "shell beach," Playa de la Concha, one of the city's three beaches, and one of Europe's most beautiful urban shorelines. It's also home to an abundance of eclectic architecture with some of the finest located in the area called the New Town. Laid out on both sides of the broad Avenida de la Libertad are enchanting buildings with sprout towers and turrets, domes and steeples. Styles range from Neoclassical to French Revival to Art Nouveau—especially notable along Prim and Reyes Católicos Streets—with elaborately carved wooden doorways, stunning stained-glass panels and unusual ceramic-tile touches. (B)
PRE CRUISE August 22: SAN SEBASTIAN, SPAIN, ARCACHON, FRANCE, & EMBARKATION in BORDEAUX, FRANCE – Check-out of your hotel and board a motorcoach to the legendary land of wine, Bordeaux. En route to the ship, you'll stop in the resort town of Arcachon, one of the gems of the French Atlantic coast, offering a mix of beaches, extensive Belle Époque architecture, great atmosphere and its famous oysters. Cap the day off with a Welcome Aboard Wine Toast(B,D)
Optional Flora Springs Exclusive Loire Valley & Paris Post-Cruise: August 29 – September 1, 2019 ($1,899 per person)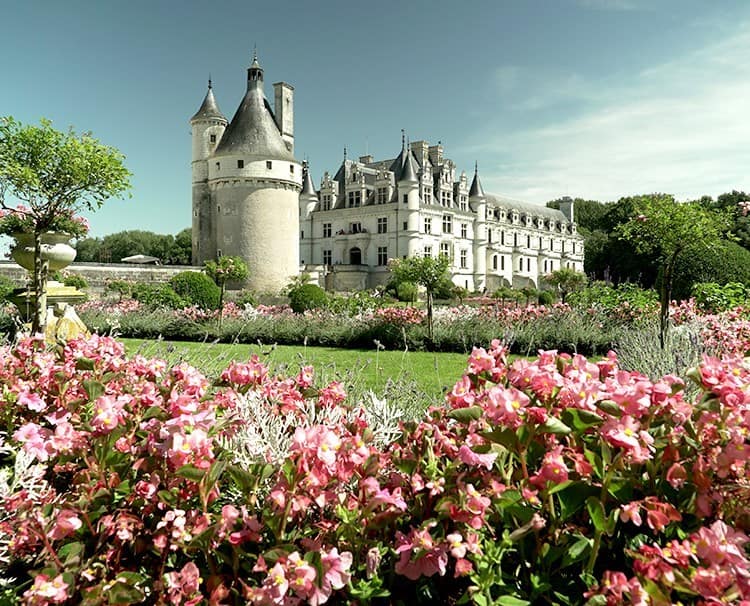 POST CRUISE August 29: AMBOISE, FRANCE – Disembark your ship in Bordeaux and continue your journey by TGV train to Tours, France—gateway to the Loire Valley châteaux. Renowned for good food and good living and teeming with art, history and lovely gardens, it's the perfect place to explore or join a walking tour. You'll then be transferred to your hotel in Amboise. (B, D)
POST CRUISE August 30: AMBOISE, FRANCE – Visit three of the Loire Valley's regal châteaux starting with the Château de Chenonceau, one of the most beautiful castles in France. This châteaux has been referred to as the "Women's Castle" since it is the only castle in the region that has been built, inhabited and saved by women during the Renaissance. Château du Close Lucé was Leonardo da Vinci's last home where he completed some of his most famous works under the patronage of the King of France. The Château d'Amboise, perched on a promontory overlooking the Loire River, was the first Renaissance château built in the Loire Valley and features extravagant residences, gardens and a Gothic chapel, where Leonardo da Vinci is buried. (B, D)
POST CRUISE August 31: PARIS, FRANCE – En route to Paris, visit two more majestic châteaux. While Château de Chambord, located at the heart of Europe's largest enclosed wooded park, began as an unassuming hunting lodge, it is now the biggest château in the Loire Valley with 426 rooms, 77 staircases and 282 fireplaces. Next, marvel at the residence of seven kings and ten queens of France at the famous Château de Blois where you'll discover the secrets of the French court. Continue to the old town of Chantilly and our 4-star Hotel Chateau de Montvillargenne (or similar estate). The Château is  surrounded by the historic and enchanting Chantilly just 30 minutes north of Paris and 25 minutes from the Charles de Gaulle Airport. (B, D)
POST CRUISE September 1: PARIS, FRANCE – Bid farewell to Paris and prepare for your flight home (or extend your time in Paris). (B)
JOHN KOMES, President & Proprietor
While John Komes will say that hard work and a stellar team are the keys to the longtime success of Flora Springs, first-hand interaction with John hints that the secret ingredient to Flora Springs' success is his charisma. John is a laugh-out-loud kind of guy, who when he smiles, his eyes dance. He teases, he jokes, he holds court in any group situation, and makes everyone in his midst feel like a member of the Flora Springs family. Yet underneath this convivial exterior is a hardworking tenacity and an enduring passion for wine.
Growing up in San Francisco in the mid-1950s, John was the son of the president of construction giant Bechtel Corporation. He graduated from Santa Clara University with a degree in Business Administration and followed in his father's footsteps in business, building a thriving construction business of his own in the East Bay of San Francisco. John's interest in wine began as a hobby in the early 1970's when his wife Carrie sent him to a wine appreciation class as a gift. Wine soon became an obsession, and he attended more and more classes. It wasn't long before he was making his own wine at home as a hobby.
In 1977 John's father and mother, Jerry and Flora Komes, retired to the Napa Valley and purchased a home that included an abandoned stone winery and vineyards. The potential of the property piqued John's interest and fueled a dream of owning his own winery in Napa Valley someday. In 1978 he took the leap and established Flora Springs with his parents, his sister, Julie Garvey, and his brother-in-law, Pat Garvey.
John eventually moved his construction business to Napa, using his enterprising ingenuity to specialize in building and renovating wineries. He also painstakingly renovated each winery building on the Flora Springs property, turning the two abandoned cellars into separate winery facilities and supervising the construction of 1,000 linear feet of wine caves. As Flora Springs took root, John left construction to devote himself full-time to the winery, overseeing production, sales and marketing. While he is quick to share the credit, it is under his watch that Flora Springs has become one of the most respected and beloved family-owned wineries in Napa Valley, producing a portfolio of wines that consistently garner critical acclaim.
Today, John sees a bright future for Flora Springs as he gears up to let the next generation – including his son Nat Komes, General Manager, and nephew Sean Garvey, Vineyard Manager — take the lead. He's also excited about the new wine project he shares with Nat called Jon Nathaniel Wines. A boutique portfolio of wines made entirely from fruit grown in John's own vineyards, Jon Nathaniel is John's way of recapturing the passion that brought him to winegrowing in the first place. "My dream has always been to sit on my front porch and taste wines with friends, family and customers. With Jon Nathaniel I'm returning to those roots."
About AMDolce: The intimate AMADolce features only 76 luxurious staterooms, most with French balconies ranging in size from 170-225 sq. ft.  You can always indulge even more in one of the suites at 255 sq. ft. The AmaDolce offers a host of added comforts and conveniences, including a sauna, whirlpool, massage and hair salon, a stylish and inviting Main Lounge, and specialty coffee station. As a member of La Chaîne des Rôtisseurs, the exclusive international culinary society, you'll be treated to exquisite, locally-inspired cuisine always paired with unlimited wine, as well as beer and soft drinks with lunch and dinner. You'll also enjoy a variety of dining venues, including The Chef's Table specialty restaurant, featuring an exquisite tasting menu prepared right before your eyes. With a walking track on the Sun Deck, a fitness room and a fleet of onboard bicycles to use on your own or on one of the many guided bike tours, as well as healthy menu choices, you'll have everything needed to stay active and healthy while sailing Europe's great rivers. 
Category E: yellow
Category D: orange
Category C: purple
Category B: green
Category A: royal blue
Suite: Pink
When you travel with AmaWaterways, you do more than simply visit a destination – you experience it in a truly authentic and in-depth way. It begins with a champagne welcome as you step aboard and meet our courteous crew and your fellow passengers, many of whom you will consider friends by the end of your journey. You will also meet a personable and knowledgeable Cruise Manager who will be with you every step of the way, even on your optional pre-cruise or post-cruise land program. It is this attention to detail that distinguishes AmaWaterways from all the rest and keeps our satisfied guests coming back again and again.
We thoughtfully plan our itineraries to maximize your enjoyment of the scenery, history and atmosphere of your chosen destination. Marvel at the ever-changing views through the panoramic windows in your ship's Main Lounge or from our expansive outdoor decks. Visit famous landmarks and explore "hidden gems." Taste bold new flavors and delicious regional specialties, with menus designed by our revered team of classically-trained chefs. And every evening, there is onboard entertainment provided by local musicians and performers for you to enjoy.
Rest assured you will have ample time for socializing and relaxation, too. Our ships feature comfortable lounges, lively bar areas, swimming pools or whirlpools, salons and fitness rooms. At the end of the day, you will be pampered with turn-down service, plush linens, and peace and quiet for a good night's sleep. Tomorrow, there is more to see and experience.
A Hotel That Travels with You: Rivers were once Europe's "highways" across the continent, serving as life-sustaining links between the continent's grandest capitals. Nowadays, your river cruise ship is a "floating hotel" that can often dock right in the heart of these historic cities, steps away from top cultural attractions and historic sites. Beautiful river views and superb locations…and you only have to unpack once! Daily shore excursions with expert guides will show you the "must see" sights of your destination, visiting famous landmarks as well as hidden gems.
An Intimate Onboard Setting: Every vessel in our luxurious European fleet has a capacity limited to no more than 164 passengers, allowing for truly personalized service in a warm and friendly atmosphere.
State-of-the-art Public Spaces: AmaWaterways' custom-designed ships offer comfortable lounges with panoramic windows, inviting dining rooms, cozy libraries stocked with books and games, and a choice of enticing dining venues.
Onboard Entertainment: Whether it's traditional Bavarian music, a "Sound of Music" sing-along, a classical quartet, or contemporary piano favorites, you will enjoy an eclectic schedule of onboard entertainment every night.
With Our Compliments: AmaWaterways offers a generous selection of complimentary amenities on all European voyages, including in-room Internet access, Wi-Fi and Infotainment (with movies, music and satellite TV). All of your onboard meals are included, along with unlimited fine wine, beer and sodas with lunch and dinner. AmaWaterways also provides complimentary 'Sip & Sail' cocktail reception each night before dinner, bottled water, specialty coffees and teas throughout your cruise. In addition, your cruise price includes enriching daily shore excursions with expert guides in every port, and bicycles for exploring on your own or on a guided bike tour.
Health & Beauty: Pamper your body and rejuvenate your spirit any time during your river cruise. Our Massage, Beauty and Hair Salon offers a variety of treatments. Your ship also has a Fitness Studio, Sun Deck walking track, sauna (select ships), and a heated whirlpool or swimming pool with swim-up bar.
To make a reservation please contact us directly at (831) 659-0151 or Cruises@MmMmTravel.com. For additional information, please fill out the form below and we will respond to your request within 1 business day. Please remember that our response to your query may accidentally be directed to your junk mail folder.