This delightful 12 day sailing begins in Lisbon, a city full of authenticity where old customs and ancient history intermix with cultural entertainment and hi-tech innovation. Then sail South to wander through cobbled streets, bask on sun filled terraces and savour delicious local cuisine. An overnight in Madeira gives you a chance to sample the eponymous wine, while the infamous Canaries, Casablanca and Cadiz add a splash of color to your cruise. Palma's pretty streets come next, before Spain's capital of cool – Barcelona – calls you home.   However you choose to fill your day understated luxury awaits on Silversea's 388 guest Silver Shadow where you will enjoy multiple restaurants, large suites, divine exclusive Lail Vineyards activities & more.  To make a reservation please contact MillenniuM Travel directly at 831.659.0151 or email us at Cruises@MmMmTravel.com.
Exclusive Savings:
Free Airfare:

Book by

March 31, 2020

 and enjoy

Free Round Trip Economy Airfare

or Business Class Airfare from $699 each way from select US airports*

Early Booking Bonus: Book and pay in full by April 30, 2020 & save 10%!
Guests of MillenniuM Travel will:  
Enjoy receptions featuring Lail Vineyards wines hosted by Robin & Jon Lail of Lail Vineyards. 
Participate in multiple Lail Vineyards wine dinners lead by Robin & Jon Lail.
Savor an included Lail Vineyards paired dinner in La Dame by Relais & Chateaux sponsored by MillenniuM Travel.
Receive added shipboard credit for guests paying with unbranded American Express Platinum or Centurion cards.
All-suite, All-inclusive 12-day Silversea Silver Shadow cruise Includes:
Exclusive Wine activities hosted by Robin & Jon Lail of Lail Vineyards (MillenniuM Travel guest Exclusive).
Spacious suites – most with private verandas aboard an intimate vessel with only 388 guests
Personalized service – nearly one crew member for every guest
Butler service in every suite – all guests are pampered equally
Open-seating dining options – dine when and with whomever you please
Diversity of dining venues – casual, romantic, regional delicacies, and gourmet cuisine inspired by Relais & Châteaux
Beverages in-suite and throughout the ship – select wines, premium spirits, specialty coffees and soft drinks, plus your own tailored mini-bar
In-suite dining and 24-hour room service – always complimentary, always available
Sophisticated entertainment from live music to production shows
Enrichment lecturers, acclaimed chefs and destination consultants
Complimentary transportation into town in most ports
Gratuities always included in your fare
Free WiFi throughout the ship (daily limit applies)
2021 Date
Port
Arrival & Departure
April 28, W
Lisbon, Portugal

Embark 1pm / sail 7pm

Lail Vineyards Welcome Reception & Wine Dinner under the stars*

April 29, Th
Day at Sea

Lail Vineyards private Wine Tasting, followed by casual group lunch*

April 30, F
Funchal Madeira, Portugal

8am / Overnight

May 1, Sa
Funchal Madeira, Portugal

–  / 2pm

May 2, Su
San Sebastian (La Gomera), Spain

9am / 6pm

May 3, M
Canary Islands (Las Palmas), Spain

8am / 11pm

May 4, Tu
Canary Islands (Arrecife), Spain

8am / 11:59pm

May 5, W
Day at Sea

Champagne Reception followed by Lail Vineyards Gala 5-course Wine 

Dinner in La Dame by Relais & Chateaux*

May 6, Th
Casablanca, Morocco

7am / 6pm

May 7, F
Cadiz, Spain

8am / 8pm

May 8, Sa
Day at Sea
May 9, Su
Palma de Mallorca, Spain

8am / 6pm

Lail Vineyards Farewell Reception & Wine Dinner in La Terrazza *   

May 10, M
Barcelona, Spain

Disembark am
*Events, times, locations subject to final confirmation once aboard ship.  All Lail Vineyards onboard wine events are included for you as a guest of Lail Vineyards and MillenniuM Travel.  A Finalized Guest Itinerary will be mailed with cruise documents. As a reminder, only guests booked through MillenniuM Travel may participate in all Lail Vineyards events. 
Exclusive Offers:
Free Airfare: Book by March 31, 2020 and enjoy Free Round Trip Economy Airfare

or Business Class Airfare from $699 each way from select US airports*

Early Booking Bonus: Book and pay in full by April 30, 2020 & save 10%!
Suites
Fares with Air
& 10% Savings* 
Cruise Only with
10% Savings (no air)* 
OWNERS SUITE 2bdrm: 1,264 ft² Midship, including veranda
$22,520
$21,620
OWNERS SUITE 1bdrm: 919 ft² Midship, including veranda
 Waitlist
Waitlist
GRAND SUITE 2bdrm: 1,286 ft² FWD, including veranda
$20,450
$19,550
GRAND SUITE 1bdrm: 941 ft² FWD, including veranda
Waitlist
Waitlist
ROYAL SUITE 2bdrm: 1,312 ft² FWD, including veranda
$19,820
$18,920
ROYAL SUITE 1bdrm: 967  ft² FWD, including veranda
Waitlist
Waitlist
SILVER SUITE: 653 ft² including veranda
$12,440
$11,540
MEDALLION SUITE: 521 ft² including veranda
Waitlist
Waitlist
Deluxe Veranda: 345 ft² including veranda
$7,850
$6,950
Superior Veranda: 345 ft² including veranda
$7,490
$6,590
Classic Veranda: 345 ft² including veranda
$7,130
$6,230
Vista Suite: 287 ft² ocean-view window
$6,140
$5,240
*MillenniuM Travel Fares are per person based on double occupancy in US dollars. Fares above include a $200 per person add-collect over Silversea's promotional cruise fares to help offset shipping and other expenses associated with getting the wines to the ship for our private events. Solo traveler fares and triple rates available upon request. Fares will increase as ship fills.  Fares shown does not guarantee availability. A 25% deposit secures you the best available pricing and suite locations. To receive American Express Amenities, guests must use an unbranded American Express Platinum or Centurion card for final payment. A reservation through MmMmTravel ensures invitations to private receptions and dinners, including a 6-course wine-paired dinner in La Dame by Relais & Chateaux. Silversea's 10% early payment savings is offered through April 30, 2020. Fares will increase as the ship fills. Minimum number of guests required for Lail Vineyards to host. Free transfers available only for guests utilizing Silversea air offer. Economy Class Air is provided on domestic US/Canada flights and intra-European flights from select US and Canadian gateways. Offer applies to new bookings made by March 31, 2020. Promotional air offer is valid only for guests from the United States and Canada. In the event economy class air is unavailable (determined at Silversea's sole discretion), a non-use Air credit in the amount of $900 per person may be applied to your booking. Silversea reserves the right to select the air carrier, routing and departure airport from each gateway city. Airline baggage fees are not included. Deviations to air travel dates are accepted at a charge of $150 per request plus all additional air costs. Due to flight schedules, some voyages may require an overnight hotel stay pre or post-cruise. This will be available for booking at an additional charge. Please call for more information. Other conditions may apply, see Silversea's Terms & Conditions for more details. CST# 1005871-40. Silversea ship's registry: Bahamas. Please call MillenniuM Travel for more details.
Spread over a string of seven hills north of the Rio Tejo (Tagus River) estuary, Lisbon presents an intriguing variety of faces to those who negotiate its switchback streets. In the oldest neighborhoods, stepped alleys whose street pattern dates back to Moorish times are lined with pastel-color houses decked with laundry; here and there, miradouros (vantage points) afford spectacular river or city views. In the grand 18th-century center, calçada à portuguesa (black-and-white mosaic cobblestone) sidewalks border wide boulevards. Elétricos (trams) clank through the streets, and blue-and-white azulejos (painted and glazed ceramic tiles) adorn churches, restaurants, and fountains. Of course, parts of Lisbon lack charm. Even some downtown areas have lost their classic Portuguese appearance as the city has become more cosmopolitan: shiny office blocks have replaced some 19th- and 20th-century art nouveau buildings.
When colonists arrived in Madeira in July 1419, the valley they settled was a mass of bright yellow fennel, or funchal in Portuguese. Today the bucolic fields are gone, and the community that replaced them is the self-governing island's bustling business and political center. Funchal is the only town of any size on the island and the base for the the bulk of its tourism thanks to the plethora of hotels, restaurants, bars, cafés, phenomenal coastal and hillside views, and—of course—Madeira wine.Despite the tropical vegetation, Funchal's center feels decidedly Portuguese, though there's a heavy British influence, which is a holdover from the mid-16th-century marriage of the Portuguese princess Catherine of Bragança to England's King Charles II. The marriage contract gave the English the right to live on Madeira, plus valuable trade concessions. Charles in turn gave Madeirans an exclusive franchise to sell wine to England and its colonies. 
Shimmering above the breathtaking Concha Bay, elegant and prosperous San Sebastián (Donostia in the Basque language) has a favored location with golden beaches, capped by twin peaks at either end, and with a cute little island in the center. A delightful beachfront promenade runs the length of the bay, with an charismatic old town at one end and a smart shopping district in the center. With a romantic setting, a soaring statue of Christ gazing over the city, and a late-night lively old town, San Sebastián has a mini Rio de Janeiro aura. Though the actual "sightseeing" isn't much, the scenic city itself provides a pleasant introduction to Spain's Basque Country. And as a culinary capital of Spain — with many local restaurants getting international attention — competition is tight to dish up some of the top tapas anywhere.
Las Palmas is a long, sprawling city, strung out for 10 km (6 miles) along two waterfronts of a peninsula. Though most of the action centers on the peninsula's northern end along the lovely Las Canteras beach, the sights are clustered around the city's southern edge. Begin in the old quarter, La Vegueta, at the Plaza Santa Ana (don't miss the bronze dog statues), for a tour of interesting colonial architecture. Then make your way into the neighboring quarter of Triana, a treasure trove of small shops and cafés and restaurants. It's quite a walk from one end of town to the other, so at any point you may want to hop one of the many canary-yellow buses. Buses 1, 2 and 3 run the length of the city.
Nestled on the east coast of Lanzarote, Arrecife takes its name from the rocky reefs and outcrops that dominate its coastline. This pretty working city has a friendly, authentic feel, and has managed to remain true to its roots as a historic fishing village. There's a lot to explore, and whether you want to lie back on long swathes of opulent golden sand, or strap on hiking boots to crunch across Lanzarote's scorched volcanic scenery, this versatile capital has so much to offer. With castles, caves, sleepy beaches, and a glittering saltwater lagoon, Arrecife is the perfect place to get acquainted with the sun-kissed appeal of the Canary Islands. Lanzarote's charcoal desert vistas radiate a remarkable luna-like quality, but dotted cacti, waving palms, and bursts of vibrant wildflowers add an accent of colour to the canvas.
Casablanca is Morocco's most modern city, and various groups of people call it home: hardworking Berbers who came north from the Souss Valley to make their fortune; older folks raised on French customs during the protectorate; devoted Muslims; wealthy business executives in the prestigious neighborhoods of California and Anfa; new and poor arrivals from the countryside, living in conspicuous shantytowns; and thousands of others from all over the kingdom who have found jobs here. There is also a fair-size expat population, including many French people. The city has its own stock exchange, and working hours tend to transcend the relaxed pace kept by the rest of Morocco.True to its name—casa blanca in Spanish (white house), which, in turn, is Dar el-Beida in Arabic—Casablanca is a conglomeration of white buildings. The present city, known colloquially as "Casa" or "El Beida," was only founded in 1912.
More than a hundred watchtowers gaze out across the waves surrounding this ancient Andalusian city. Sprinkled with evocative cobbled side streets, you'll explore 3,000 years' worth of history, while stumbling across palm-tree lined plazas of shaded coffee sippers. Cadiz claims the mantle of Western Europe's oldest city, and every piece of architecture – and every wrong turn – offers a chance to discover fascinating new tales. Founded by the Phoenicians in 1100BC, Christopher Columbus used the city as a base for his exploratory, map-defining voyages of 1493 and 1502. The port grew in importance and wealth as Cadiz's strategic location close to Africa's northern tip helped it blossom into a centre for New World trade. Catedral de Cádiz, is a display of the city's wealth and importance, looming spectacularly over the Atlantic's waves, with cawing seagulls sweeping between its twin bell towers. 
If you look north of the cathedral (La Seu, or the seat of the bishopric, to Mallorcans) on a map of the city of Palma de Mallorca, you can see around the Plaça Santa Eulàlia a jumble of tiny streets that made up the earliest settlement. Farther out, a ring of wide boulevards traces the fortifications built by the Moors to defend the larger city that emerged by the 12th century. The zigzags mark the bastions that jutted out at regular intervals. By the end of the 19th century, most of the walls had been demolished; the only place where you can still see the massive defenses is at Ses Voltes, along the seafront west of the cathedral.A torrent (streambed) used to run through the middle of the old city, dry for most of the year but often a raging flood in the rainy season. In the 17th century it was diverted to the east, along the moat that ran outside the city walls.
The infinite variety of street life, the nooks and crannies of the medieval Barri Gòtic, the ceramic tile and stained glass of Art Nouveau facades, the art and music, the throb of street life, the food (ah, the food!)—one way or another, Barcelona will find a way to get your full attention. The capital of Catalonia is a banquet for the senses, with its beguiling mix of ancient and modern architecture, tempting cafés and markets, and sun-drenched Mediterranean beaches. A stroll along La Rambla and through waterfront Barceloneta, as well as a tour of Gaudí's majestic Sagrada Famíliaand his other unique creations, are part of a visit to Spain's second-largest city. Modern art museums and chic shops call for attention, too. Barcelona's vibe stays lively well into the night, when you can linger over regional wine and cuisine at buzzing tapas bars.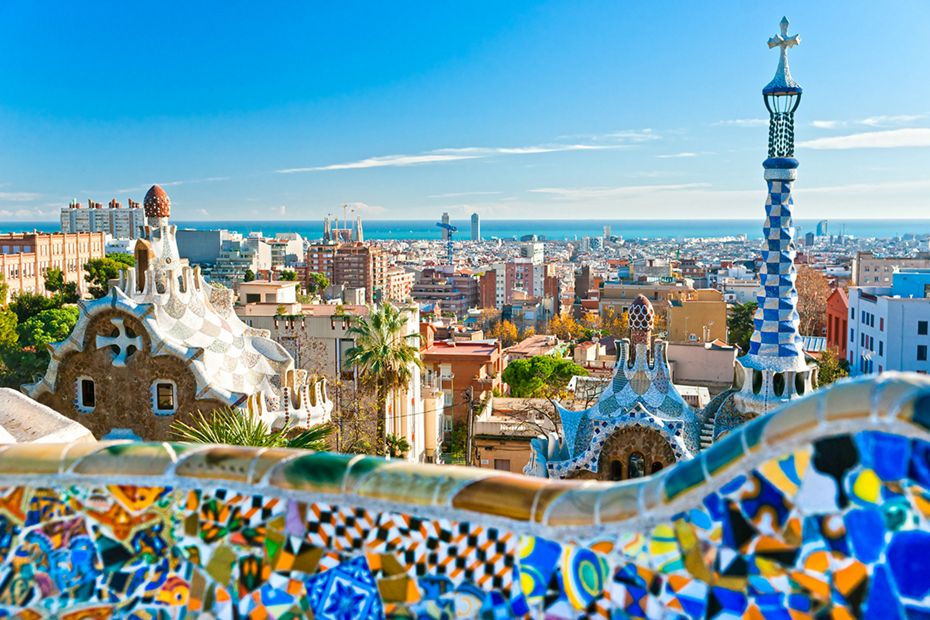 MmMmTravel can help you with more than just your cruise. We are here to assist you with all of your vacation plans including pre & post cruise hotels, transfers, tours and more to ensure you truly experience a "Taste of Life".  You can search through our luxury partnered hotel options using the links below.  If you need any assistance or have any questions regarding your pre and post cruise travel plans, please don't hesitate to contact us at (831) 659-0151 or Cruises@MmMmTravel.com. 
Robin Lail, Founder & Owner of Lail Vineyards
Robin grew up among the vineyards of Inglenook, founded in 1879 by her great-granduncle, Gustave Niebaum, who pioneered fine winemaking in the Napa Valley. Inglenook was passed down to Robin's grandfather and then to her father, John Daniel Jr., a true innovator (he was the first to put 'Napa Valley' on his labels, and pioneered varietal labeling) and wine industry leader who produced legendary wines. While Robin was not curried to work in the wine business in her youth, she was surrounded by it, and touched by her dad's passion and focus on tradition and excellence.
In 1964, two years after Robin graduated from Stanford University, her father sold Inglenook. It was not until 1970 and her father's death that she began shepherding the remaining estate vineyards. Seven years later she launched her vintner career as Robert Mondavi's personal assistant, who became her mentor in the wine business. While at Robert Mondavi Winery, she directed the creation of the first Auction Napa Valley. In 1982 Robin co-founded Dominus with Christian Moueix, and in 1983 co-founded Merryvale Vineyards with Bill Harlan, where she served as president for twelve years.
In the mid-nineties, Robin sold out of her partnerships with a vision of bringing her family's exciting legacy into the 21st Century. Her dream of creating her own extraordinary wines set flight in 1995 when she and her two daughters, Erin and Shannon, set out on their own by launching Lail Vineyards. Today, the venture carries forth the stories and patina of over 135 years of winemaking in the Napa Valley. The family continues its passionate quest to produce legendary wines from the blend of its ingredients – the land, the seasons, the team, and the spirit of the generations who led the way.
(Pictured with her husband, Jon Lail, acclaimed Napa Valley architectural designer.)
About Lail Vineyards
Robin Daniel Lail's heritage began in 1879 with the founding of Inglenook Vineyards by her great -granduncle, the iconic Captain Gustave Niebaum.  By the early 1890s, this brilliant man's obsession for achieving the pinnacle of excellence earned Inglenook wines the status of being considered by many as the finest produced in the country.
The determination to achieve excellence was carried forward through the decades following Niebaum's death in 1908, with a crescendo in the thirty years following the repeal of Prohibition under the meticulous, passionate stewardship of John Daniel, Jr., Robin's father.  The collection of Cabernets coming from his years of ownership is still celebrated today as some of the finest red wines on earth.
Although Inglenook was sold in 1964, the passion for winemaking did not fade.  Robin inherited her father's respect for tradition.  Today her family honors his legacy with their relentless pursuit to produce wines second to none.
Award winning Silver Shadow has all the hallmarks of extreme luxury at sea. With some of the largest suites at sea, and a guest to staff ratio of almost 1 to 1, Silversea prides itself on their unswerving dedication to their guests. Silversea's Silver Shadow captures the essence of Silversea Cruises, with spacious suites, an intimate number of guests (only 388), superior service – paired with a lively sophisticated atmosphere and enhanced amenities.
Headquartered in Monte Carlo,  Silversea's small luxury ships are designed for those who delight in the thrill of discovery while indulging mind and body in the most lavish surroundings imaginable. All accommodations are spacious, ocean-view suites and most  include butler service and private verandas. Silversea voyages and cruise expeditions sail to over 800 destinations on all seven continents, more than any other cruise line. Our intimate, ultra-luxury ships can sail up narrow waterways into the heart of a city, or tie up right at the pier while others must anchor off shore.   Enjoy the convenience, ease and comfort of an  all-inclusive cruise fare that includes almost all of your discretionary onboard expenses.
Intimate Boutique Ships: Our 9 small luxury ships can show you the world in a far more personal, meaningful way. They can glide into small, secluded harbors or transport you on an expedition to some of the most remote regions of the globe.  In the evening. return to gracious hospitality reflecting our Italian heritage and cherish the relaxed, friendly camaraderie  among guests in the lounges and open bars where faces quickly become familiar and conversation strikes a common chord.
Polished to Perfection: Silversea is passionate about service and profoundly committed to maintaining the highest standards. Service is richly personalized, genuine and caring, every wish, every need is discretely anticipated. With the experienced, highly trained personnel of a top luxury cruise line and a staff to guest ratio of nearly one to one, service excellence is guaranteed aboard Silversea ships.
Global Flavors for Worldly Travelers: Renowned for culinary excellence Silversea's luxury cruises offer a choice of open-seating dining options throughout the fleet, as well as several specialty venues aboard all non-expedition ships.   Silver Spirit has six restaurants to choose from; rather remarkable for a ship hosting only 540 guests.  Changing daily menus present a wide range of offerings including Continental, vegetarian and healthy selections, as well as regional specialties unique to the destination.
Your Suite is Your Sanctuary: Silversea offers one of the highest space-per-guest ratios of any luxury cruise accommodations. All of our suites feature ocean views, and many, a private teak veranda. That's why every Silversea suite is indulgently spacious, and beautifully furnished. Freshen up in your Italian marble bathroom with a choice of luxury amenities to suit your personal taste.
To make a reservation please contact us directly at 831.659.0151 or email us at Cruises@MmMmTravel.com. For additional information about this enchanting voyage, please fill out the form below and we will respond to your request within 1 business day via email. Please remember that our response to your query may accidentally be directed to your junk mail folder.