Join Ridge President, David Amadia, and Senior Vice President, David Gates, on an intimate voyage along the stunning Adriatic Sea on-board Crystal Cruises super-yacht. This sojourn along the stunning Dalmatian Coast is a breathtaking experience where majestic mountains meet crystalline sea and archaeological treasures abound. This Croatian coast is also the ancient home to Zinfandel a region very familiar to David Gates, an authority on Zinfandel. From UNESCO sites in Dubrovnik, Kotor and Split, to the flair of Zadar, and the opulence of Opatija, Piran and Venice, this voyage offers relaxation, exploration and plenty of great wine including library Zinfandel and Monte Bello. Due to the intimate size of the 62-guest yacht, early booking is necessary to confirm your space. To participate in all Ridge Vineyards events, booking through MillenniuM Travel is essential. Anyone making their reservation elsewhere (including directly with Crystal) will not be included in all Ridge Vineyards events. 
Why Crystal Cruises by MillenniuM Travel?
Exclusive events hosted by David Amadia, President of Ridge vineyards and David Gates, Senior Vice President of Ridge Vineyards include receptions, wine dinners, wine tastings and more.
MillenniuM Travel  Service: A dedicated team of professionals with  over 50 years of experience working together to plan your perfect vacation.
Crystal Cruises' all-inclusive value provides:
Pre-paid gratuities throughout for housekeeping, bar and dining staff.
Open bar with complimentary fine wines, champagne, premium spirits and non-alcoholic beverages including bottled water, specialty coffees, tea, soft drinks and fresh juices.
All meals with a diversity of dining venues including The Yacht Club Restaurant, The Terrace and Patio Café, The Grill and The Pantry.
Complimentary Shore Excursions ashore, featuring both cultural and adventurous activities, depending on the port. Bicycles for personal excursions in select ports.
Destination immersion and lectures about each port / area visited.
Cove Lounge available for viewing movies, sporting events and more.
Nightly entertainment in Cove Lounge with piano player/singer.
Gym with state-of-the-art fitness equipment.
Pool and Jacuzzi
Unlimited WiFi/Internet availability
Personal butler service 
2021 Date
Ports & Winery Events
Arrive
Depart
May 23, Sun
DUBROVNIK, CROATIA   

Embark PM

11:00 PM

Ridge Vineyards Welcome Reception & Wine Dinner*

May 24, Mon
KOTOR, MONTENEGRO   

9:00 AM

5:00 PM

Ridge Vineyards Shipwide  Wine Tasting Lecture, while sailing away from Kotor*

May 25, Tue
SPLIT, CROATIA   

9:00 AM

Overnight

May 26, Wed
SPLIT, CROATIA   

–

5:00 AM

Ridge Vineyards Shipwide Wine Tasting Lecture, before arriving in Zadar*

ZADAR, CROATIA

1:00 PM

11:00 PM

May 27, Thu
OPATIJA, CROATIA

8:00 AM

8:00 PM

Ridge Vineyards Reception  & Wine Dinner*

May 28, Fri
PIRAN, SLOVENIA   

8:30 AM

11:00 PM

May 29, Sat
VENICE, ITALY   

9:00 AM

Overnight

Ridge Vineyards Farewell Reception*

May 30, Sun
VENICE, ITALY   

Disembark AM
*Itinerary, events, times & locations are subject to final confirmation once aboard ship. Invitations will be delivered the evening prior to event to our guests and a Guest Itinerary will be mailed with your Final Cruise Documents. Throughout the voyage Crystal will serve complimentary selection of champagne, wines from around the world & open-bar cocktails.
Your Cruise-Only Yacht Fare includes Michelin inspired dining, all beverages including fine wines, champagne, premium spirits and all non-alcoholic beverages such as bottled water, soft drinks and specialty coffees; gratuities for housekeeping, spa, dining and bar staff; butler service; choice of complimentary shore-excursions available in every port and much more!
Suite
MillenniuM Travel Fares*
S4 – Yacht Suite
Deck 2 Fwd: 223 sq. ft
 $6,299
S3 – Yacht Suite
Deck 2 Aft: 280 sq. ft
$6,449
S2 – Yacht Suite
Deck 2: 280 sq. ft
$6,949
S1 – Yacht Suite
Deck 3: 280 sq. ft
$7,949
Owner's Suite
Deck 2: 515 sq. ft
$17,199
*Guests wishing to participate in all Ridge Vineyards events aboard must book through MillenniuM Travel. Guests booking elsewhere, including directly with Crystal  will be not be included in all Ridge Vineyards events. MillenniuM Travel fares are per person & based on double occupancy in US Dollars. Fares will increase as the ship fills. Pricing shown does not promise category availability at time of booking. Please note pricing  is Crystal's lowest fare but include a $150 per person service fee to offset the costs associated with safely shipping substantial amounts of wine across the globe. Solo Traveler fares are available upon request. Crystal Society Savings are per person based on double occupancy.

A 25% deposit secures you the best available rate & location. Your deposit is refundable less a $500 administrative fee if canceled 121 days prior to sailing. Pricing does not include airfare, recommended travel insurance or taxes, fees and port charges of $350 per person. Book Now Fare includes Crystal Savings and does not include Crystal Society or Early Full Payment savings. Early Full Payment saving is based on the fare after all other discounts are applied.

Optional Personal Select Air Program is available to purchase for full-fare, full-cruise guests whose travel originates from a U.S. or Canadian airport and includes all government taxes and fees. Note: Early Full Payment savings do not apply to Personal Select Air.  Optional submersible and complimentary Marina equipment use are based on destinations' local rules and regulations and offered at the discretion of the Captain due to weather and sea conditions. They may not be available in Croatia or Venice. Participation in any/all water sports activities requires a mandatory Watersports Waiver to be signed once on board the ship; other restrictions may apply.

All offers may not be combinable with other promotions, apply to first two full-fare guests in stateroom or suite, are capacity controlled, subject to availability and may be withdrawn or changed at any time without notice. For complete Cruise Fare and Promotional Information and General Ticket Terms and Conditions, click here. Crystal Cruises, LLC reserves the right to correct errors or omissions and change any and all fares, fees, promotions and programs at any time without notice.  CST1005871-40
     
  Travel Insurance is highly recommended – Ask our staff about the different options to suit your needs.
Though it has only recently re-emerged as an independent nation, Croatia is by no means a new country. There were settlements along the Dalmatian Coast before recorded time. When Slavic people migrated here in the 6th century, they converted to Catholicism and adopted the local Latin alphabet. The region eventually became part of the powerful Kingdom of Croatia. Medieval Dubrovnik, formerly the Republic of Ragusa, was one of several walled cities established in the 7th century to guard the coastal approaches. Its fortification was completed in the 13th century and has remained relatively unchanged. The city walls are in excellent condition and today prevent invasion by automobiles. Within the walls, the lovely sleek lines of Venetian-style buildings complement a wealth of ancient stone architecture. Nearby islands feature beautiful beaches & ancient ruins.
Rising above the Adriatic Sea, the town of Kotor is splendid for both its ocean views and medieval Old Town. To walk through its streets is to take a stroll through history. You'll see fortifications dating from the 9th century; the Church of Saint Ana dating from the 12th century; the Church of Saint Luke from the 13th century; the Church of the Healing Mother of God from the 15th century; the Prince's Palace from the 17th century; and Napoleon's Theatre from the 19th century. Stylish gates, enticing flights of stairs and inviting squares, all accessed via a maze of narrow lanes, make Kotor's Old Town a true delight. With your visit, you will understand why Old Town is a UNESCO World Heritage Site.
Split was first settled when, at the end of the third century AD, the Roman Emperor Diocletian built his palace in the charming city. The importance of Diocletian's Palace far transcends local significance because of its level of preservation and the buildings of succeeding historical periods found within its walls, which today form the very heart of old Split. The palace is one of the most famous and integral architectural and cultural constructs on the Croatian Adriatic coast. The seaport of Split lies on the Dalmation coast. It is the economic and administrative center of Middle Dalmatia, with about 200,000 inhabitants. Split's growth became particularly rapid in the 7th century, when the inhabitants of the destroyed Greek and Roman metropolis Salonae took refuge within its walls. The lovely ruins of Solin, located outside the city, can still be explored today. Split has a long tradition of collecting and caring for monuments. This interest appeared as early as the Renaissance. Diocletian's Palace, Mestrovic Gallery, the Archaeological Museum and the Temple of Jupiter are just a few of the impressive museums and galleries that shouldn't be missed.
Zadar is blessed with beautiful natural surroundings. The city faces an Adriatic archipelago that is one of the best sailing areas in the world. With its mild winters and warm summer, Zadar offers inhabitants and visitors an excellent environment for work and leisure. Zadar is bordered by four national parks: the untouched Kornati Islands, the breathtaking Velebit mountains, the winding Krka River and the peaceful Plitvice Lakes. Other natural sites include the canyon of the river Zrmanja and the caves at Cerovac. These places are ideal for swimming, diving, boating, surfing, tracking, climbing and even skiing.
Located on the Kvarner Gulf at the foot of the mountains and surrounded by a rocky, picturesque coast, Opatija is known for its natural beauty. Excursions treat you to glimpses of forests dense with bay laurel, hilltops crowned by storybook towns and, of course, verdant hills and colorful buildings meeting the waters of the Adriatic. Here in this Venetian-influenced region, the cities are often as captivating as the countryside, and perhaps nowhere is this more true than in Opatija. A spell as a fashionable seaside resort for the Viennese elite and under the umbrella of the Habsburg Empire has infused the city with a regal elegance. Estates and pavilions turned museums and galleries make for a pleasant way to pass the time. To pass along the sparkling Adriatic, take a stroll on the promenade that runs along the waterfront.
Combine everything there is to love about the upper reaches of the Adriatic – mild weather, the sunny disposition of the locals, Venetian architecture, traditions in olive oil and wine – and you have Piran, unfailingly billed as one of Slovenia's prettiest towns. In fact, Piran may just be one of the world's prettiest towns, as you will surely conclude as you walk along its narrow, winding streets, step into the oval-shaped main square graced by stately buildings, and enjoy a beguiling mix of cultures, abetted by Piran's location within a stone's throw of Italy and Croatia and not far from Austria and Hungary. Situated on a narrow peninsula reaching out into the sea, this well-preserved historical town is easily explored by foot, an ideal way to be lured up to the bell tower of the Church of St. George to admire the views or into a homey restaurant for a seafood meal.
Venice rests three miles off the coast of mainland Italy and is considered one of the world's most enchanting cities. Known as the "Queen of the Adriatic," it actually comprises more than 100 separate islands. Laced together by a string of 400 intricate bridges, Venice is legendary for its labyrinthine network of canals. A whimsical stroll through the city can lead one to a hidden world of ornately decorated piazzas and shops. As you explore colorful marketplaces and busy town squares, marvel at a priceless legacy of Baroque architecture. Admire the richness of St. Mark's Basilica and the lavishness of the Palazzo Ducale. Getting lost in Venice can be a truly delightful experience. The place of dreams, this romantic city will live long in your memory.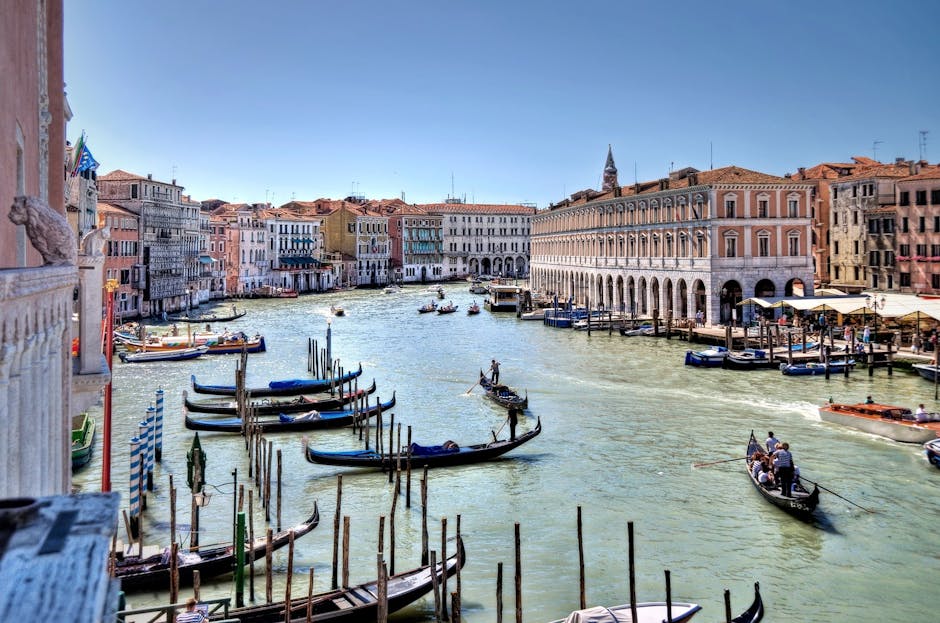 MillenniuM Travel can help you with more than just your cruise. We are here to assist you with all of your vacation plans including pre & post cruise hotels, transfers, tours and more to ensure you truly experience a "Taste of Life".  You can search through our luxury partnered hotel options using the  links below. If you need any assistance or have any questions regarding your pre and post cruise travel plans, please don't hesitate to contact us at (831) 659-0151 or Cruises@MmMmTravel.com. 
Meet Crystal Esprit—Designed for just 62 discerning individuals who seek privileged access to some of the world's most beautiful maritime destinations.  While the ultimate luxury lies in the yacht's relaxed, unregimented pace, the Crystal yachting lifestyle is enhanced with an unrivaled level of amenities and services that only the World's Most Awarded Luxury Cruise Line™ can deliver – in bold, exhilarating fashion. View & explore Crystal Esprit here.  
In addition to our Taste of Life amenities, Crystal's all-inclusive value provides:
Fine Dining
The Yacht Club Restaurant serves contemporary and classic specialties as well as innovative tasting menus created by Crystal's award-winning chefs, all using the finest and freshest local ingredients available; serving breakfast, lunch and dinner. (indoor)
The Terrace and Patio Café offers freshly prepared and, where possible, regionally inspired presentations of small plates, creative salads, gourmet charcuterie, cheeses and pastries; serving breakfast and lunch. (indoor/outdoor)
The Grill features a menu of burgers, wraps and, location permitting, "global street food" served tapas-style to reflect the destinations visited.
The Pantry is the "go-to" self-service bistro and wine bar open 24 hours a day with a curated selection of coffees, vintage wines, light snacks and freshly baked pastries; the perfect indulgence to satisfy your craving day or night. (indoor)
Complimentary select fine wines, champagne and premium spirits throughout the yacht
Open-bar service throughout the yacht
Gratuities for all shipboard staff throughout the yacht
Non-alcoholic beverages including bottled water, specialty coffee drinks, soft drinks, fresh juices and Afternoon Tea service
Welcome champagne
24-hour room service
Enrichment & Entertainment
Destination immersion and lectures about each port / area visited.
Cove Lounge available for viewing movies, sporting events and more
Nightly entertainment in Cove Lounge with piano player/singer
A dedicated fitness and activities director to assist you choose the right excursions and physical fitness activities
Crystal Adventures ashore, featuring both cultural and soft/extreme adventures, depending on the port
Special activities led by specialists, such as yoga, meditation, photography, even drone flying
Fitness
Gym with state-of-the-art Technogym ™ fitness equipment including treadmill, stationary bicycle, elliptical and Kinesis machines, as well as free weights
Mats available for outdoor stretch, yoga, mat Pilates
Pool and Jacuzzi
Bicycles for personal excursions ashore
Top-quality gear and equipment, professional instruction and guidance, and the chance to try something for the first time, or … to pursue a familiar activity important even during your holiday
Suite Services & Amenities
Personal butler service with gratuities included
Unpacking and packing upon request
Pressing and shoe shine
Stocked bar
In-stateroom satellite TV and movie choices
Twice-daily housekeeping with nightly turndown service
Complimentary soft drinks and bottled water as well as complimentary select beer, wine and spirits upon request
ETRO Bathrobes and Slippers, 100% Egyptian cotton linens, and a menu of pillow options
Self-service launderettes
In-suite iPads for entertainment, daily news, shipboard information etc.
Unlimited WiFi/Internet availability
General Yacht Specifications

Total berths: 62
Including third berths: 75
Total guest suites: 31
Owner's Suite (1) 515 square feet / 47.8 square meter
Yacht Suite (28) 280 square feet  / 26.0 square meter
Yacht Suite (2) 223 square feet / 20.7 square meter
Total crew: 91
Guest space ratio: 53.9
Guest to Crew ratio: 1.47
Three meter draft
David Amadia: President of Ridge Vineyards
David is in his 15th year at Ridge, having joined in 2005.  He has worked as a member of the Executive Team for his entire tenure and was promoted to President in 2016. David has worked diligently over his tenure at Ridge to cement the winery's international reputation as one of the world's highest quality producers of traditionally made, single vineyard wines.
David leads all of Ridge Vineyards' sales and marketing efforts including International, Direct-to-Consumer sales, and the U.S. market.  He also leads the company's Finance, IT, HR and Logistics functions.
Over the last 29 years in the wine business, David has been fortunate to work at some of the world's most iconic wineries and with many remarkable winemakers. Prior to Ridge, David worked successfully in small and large wineries, including Sutter Home (1990-1995), Penfolds (1995-2001), and Bonny Doon (2001-2005).
At Ridge, David is energized to be part of a team uniquely committed to making the highest quality single vineyard wines utilizing only traditional winemaking techniques. Ridge remains committed to the original philosophies of the founders that were carried forward by Paul Draper for nearly 50 years and have been passed to the next generation to maintain unbuoyed by outside trends and fads.
A graduate of the University of California at Davis with a B.S. in Agricultural Economics, he went on to earn his MBA at The American Graduate School of International Management (Thunderbird) in Arizona.
David is native of northern California born in San Francisco, and raised in Mill Valley just across the Golden Gate Bridge. Today he resides in the Santa Cruz Mountains above the town of Scotts Valley with his wife and his teenage twins.
David S. Gates Jr.: Senior Vice President of Ridge Vineyards
David S. Gates, Jr. is the Senior Vice President of Ridge Vineyards. David grew up on a hundred and-sixty-acre farm in central Minnesota, and decided to escape the cold winters by coming to California for school. His love of plants and agriculture led him to UC Davis, where he received his bachelor's and master's degrees in Viticulture, and met and married his wife, Donna. After an obligatory stint in Napa Valley he made his way to Ridge in 1989. David's duties include managing the historic Monte Bello vineyard in the Santa Cruz Mountains, the Whitton Ranch at Geyserville, and the Lytton Estate vineyards at Healdsburg, as well as monitoring and helping all Ridge growers in the Sonoma, Napa, Santa Clara, and San Luis Obispo counties.
About Ridge Vineyards
The history of Ridge Vineyards begins in 1885, when Osea Perrone, a doctor who became a prominent member of San Francisco's Italian community, bought 180 acres near the top of Monte Bello Ridge. He terraced the slopes and planted vineyards; using native limestone, he constructed the Monte Bello Winery, producing the first vintage under that name in 1892. This unique cellar, built into the mountainside on three levels, is Ridge's production facility. At 2600, it is surrounded by the "upper vineyard", now referred to as the Perrone Ranch.
In the 1940s, William Short, a theologian, bought the abandoned winery and vineyard just below the Perrone property; he replanted several parcels to cabernet sauvignon in the late 1940s. From these vines — now the "middle vineyard" and referred to as the Torre Ranch — new owners Dave Bennion, Hew Crane, Charlie Rosen, and Howard Ziedler, all Stanford Research Institute engineers, made a quarter-barrel of "estate" cabernet. That Monte Bello Cabernet was among California's finest wines of the era. Its quality and distinctive character, and the wines produced from these same vines in 1960 and '61, convinced the partners to re-bond the winery in time for the 1962 vintage. Dave Bennion left his role at S.R.I. to oversee winemaking duties full time.
The first zinfandel was made in 1964, from a small nineteenth-century vineyard farther down the ridge. This was followed in 1966 by the first Geyserville zinfandel. The founding families reclaimed the Monte Bello terraces, increasing vineyard size from fifteen to forty-five acres. Working on weekends, they made wines of regional character and unprecedented intensity. By 1968, production had increased to just under three thousand cases per year, and in 1969, Paul Draper joined the partnership. A Stanford graduate in philosophy—recently returned from setting up a winery in Chile's coast range—he was a practical winemaker, not an enologist. His knowledge of fine wines and traditional methods complemented the straightforward "hands off" approach pioneered at Ridge. Under his guidance the old Perrone winery (acquired the previous year) was restored, the finest vineyard lands leased or purchased, the consistent quality and international reputation of the wines established. Cabernet and Zinfandel account for most of the production; Syrah, Grenache, Carignane, and Petite Sirah constitute a small percentage. Known primarily for its red wines, Ridge has also made limited amounts of chardonnay since 1962.
Lytton Springs, in Sonoma County, became part of the Ridge estate in 1991. A quarter century's experience with this vineyard had convinced us that it was an exceptional piece of ground. Forty consecutive vintages of Geyserville attest to yet another stunning combination of location and varietals. Though born in the early sixties to the post-Prohibition world of modern California winemaking, Ridge relies on nature and tradition rather than technology. Our pre-industrial approach is straightforward: find intense, flavorful grapes; intrude upon the process only when necessary; draw the fruit's distinctive character and richness into the wine.
To make a reservation please contact us directly at 831.659.0151 or email us at Cruises@MmMmTravel.com. For additional information about this enchanting voyage, please fill out the form below and we will respond to your request within 1 business day via email. Please remember that the email response to your query may accidentally be directed to your junk mail folder.